South Korea Travel Blog - A Secret Crush?
Pre Trip Preparation for South Korea

Hi everyone, we are doing something new here. A travel blog about my upcoming journey to South Korea in a couple of days.
It is just my second time travelling to an Asian country. My first travel to Asia was Japan in 2018. So I am excited!
My itinerary for Korea is Busan and the capital Seoul. And I want to visit the DMZ the border between the North and the South. In the next couple of weeks, the articles on TripGazer will focus on this beautiful country. Also of course on our Instagram accounts and my personal account. And I will update this blog article with interesting things that happened during my adventure in South Korea.
Things to know before travelling to South Korea
Travelling to South Korea can be an exciting and rewarding experience, but there are a few things you should know before you go.
Apply for a K-ETA visa in advance. This will allow you to enter the country legally and stay for up to 90 days.
Get a T Card this is a prepaid card that can be used for public transportation, such as buses and subways.
It is useful to download some helpful apps Korea such as maps and transport guides that can make navigating South Korea easier.
But why South Korea?
I actually don't even know why I didn't already travel to Korea before. My love for that country began with a K-Drama "Alone in Love" 연애시대. A friend (ex girlfriend) of mine recommended it to me. And I started watching more of them. Firstly because they showed me this new country, culture and they were fun to watch. The stories are built so that you have to binge-watch them, featuring numerous storylines that captivate your interest and are exquisitely written.
Here is a list of some of my favourite K-Dramas I watched:
Descendants of the Sun 태양의 후예
My Love from the Star 별에서 온 그대
Squid Game
Secret Garden 시크릿 가든
Reply 1988 응답하라
Start-Up 스타트업
Extraordinary Attorney Woo 이상한 변호사 우영우
So my interest in that country started. I found a Korean TV-Channel airing in Germany ArirangTV. So I explored more Korean content. K-pop and ESports. And I notice this Asian country is already living in the future. Fast Internet and an E-Sports culture. Which was at that time in Germany still in the beginning. StarCraft and later StarCraft 2 got my attention and they growth actually also into the western culture. So I followed the North American and European Tournaments on Twitch.
On Twitch I also found a category IRL. People live stream were life's and create content to entertain viewers. The first IRL streamers I watch were a young couple from South Korea EXBC. They showed me Korea thru the view of a local couple. That woke my explorer and adventure instincts. The daily life, struggles, attractions and the blooming night live of South Korea. Thru them, I got introduced to streams of a whole group/world of Korean streamers. Hachubby a grocery market employee streaming from her workplace and later owning a whole store. Sora a former K-Pop Idol bringing her talent to the world on her Twitch streams. And the talented Yunicorn19 a creative master mind. Bringing Live-Streaming on another level with professional studio streams, great collaborations and always new content ideas. They all show how talented and creative this country is.
So after I travelled to North America, Europe and Japan. I am really excited about the journey to my secret crush South Korea! Will it be a great romance or a wild adventure?
Day 1 - Busan Beaches
First city I decided to checkout is Busan (Pusan). Busan is South Koreas second largest city and located at the south coast. Busan is famous from the movie "Train to Busan" also for the Busan international Film Festival, which is held every year. After arriving in Busan I went to check out the Beaches at night. The most famous beach in Busan Haeundae beach and is neighbor beach Gwangalli.
As I strolled along Haeundae at night, it was light up and covered with Led Lights. I stumbled on a breathtaking light show. In Germany everyone was worried about electricity cost because of the Ukraine war. But here it seem no one worries. So acctually a realxing start of my vacation. As I made my way to the night market, I found a stand run by a friendly lady who spoke fluent English. She recommended some of her dished, and I couldn't resist trying a little bit of everything. The Korean fish cakes and sausage sticks were especially delicious.
The lady struck up a conversation with me, curious about my background and travels. I shared my past experiences and travels with her, which she found surprising. As we chatted, another lady joined us, and the first lady introduced me not as a tourist but as a traveler. I even managed to impress them with my chopstick skills. It was a heartwarming and memorable experience, and I felt grateful for the chance to connect with locals and learn more about their culture.
As I continued my exploration of Busan, I discovered that Gwangalli Beach was just a short distance away from Haeundae Beach. At night, it was an incredible sight with a magnificent view of the Gwangandaegyo Bridge. I was impressed by the abundance of restaurants and bars that filled the area. And, as it turns out, one of Busan's secret bars was also hidden here. It was my first time experiencing of a speakeasy bar, and I had to walk a little ways to find it. The entrance was cleverly concealed behind a bookshelf, adding to the excitement of the discovery. Once inside, I was taken aback by the stunning decor that transported me to the United States in the 1920s. In the background, the classic movie Casablanca was playing, making the experience all the more surreal.
Day 2 - GSTAR
GSTAR Korea biggest Gaming and Cosplay Convention. Located at the BEXCO. Busan Exhibition and Convention Center.
There, I had a surreal encounter with a real Korean KPOP Idol, Minjoo (민주) from Two X. I lucked into the creators lounge at GSTAR.
While I was sitting there Minjoo entered the room and took a seat right in front of me. And started streaming on Twitch. So I figured out why not say Hi to her and her chat.
Minjoo turned out to be incredibly friendly and approachable. She even helped me take a fantastic selfie. Little did I know, until a few months later, that she was actually a Kpop Idol in the group Two X. It was a delightful surprise, and meeting her added an unexpected highlight to my time in Korea.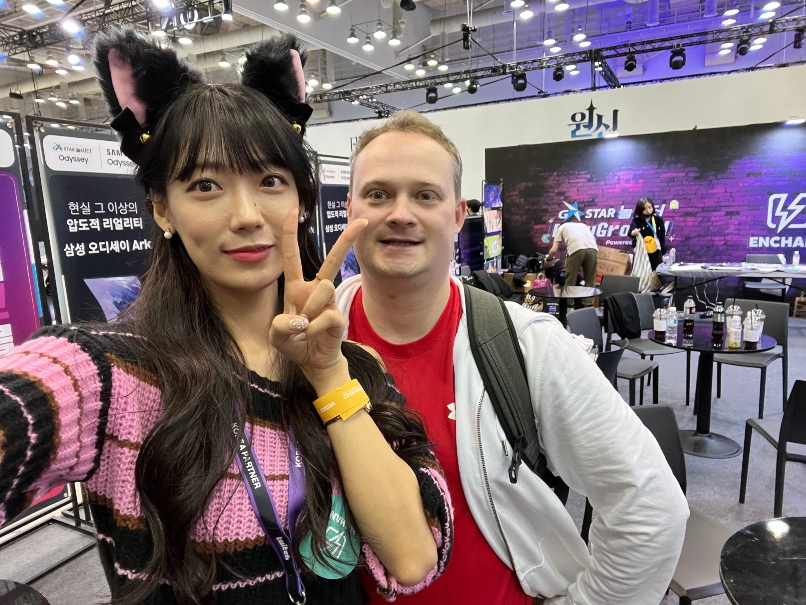 Day 3 - South Busan - Gamcheon Culture Village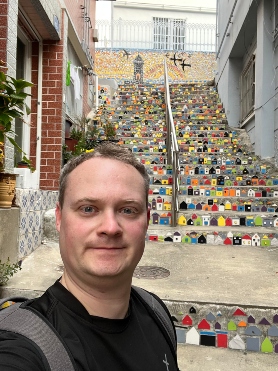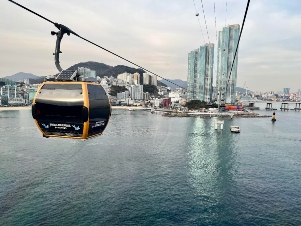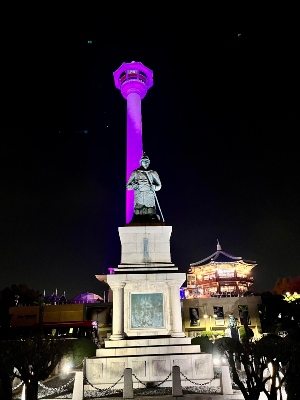 Gamcheon Culture Village is a community of Korean people that settled on a mountain after the second world war. They decided to build each house in a way it wouldn't bother the neighbour's view. This reminds me so much of this caring and sharing culture here. That I experience this since day one here.
On my first day right after stepping off the train at Busan and entering the metro station, I was a little overwhelmed by the crowds and the noise. I had two heavy suitcases with me, and I wasn't sure how I was going to get it through the gates. But before I even had a chance to worry, two kind strangers came to my aid. They saw my predicament and offered to help me carry my bag through the gates. I was so grateful for their kindness and generosity, and it set the tone for my entire visit to South Korea. While exploring the streets of Busan Everyone seemed to be on a mission here, rushing to and from, but there was a sense of community and camaraderie that permeated the air. I felt like I was part of something bigger than myself, and it was a wonderful feeling. I was stunned by the energy and vitality of the people around me.
My journey to Gamcheon was an adventure in itself. I got off at the wrong bus stop and found myself lost. I tried to use Google Maps to find my way, but it was no use. The directions were confusing, and the streets were not marked very well. But I refused to give up. I knew that Gamcheon had to be close, and I was determined to find it.
Having walked in the geographic direction of Gamcheon, I eventually reached a parking space. And no way further I could go. So I was about to turn back when an old woman approached me. She started speaking to me in Korean, and I couldn't understand a word she was saying. But then she pointed to a small path behind the parking space, and I understood. She was showing me the way to Gamcheon.
As I walked down the path. The trees and bushes formed a canopy overhead, and the air was cool and fresh. I could hear birds singing and smell the forrest. And then, suddenly, I emerged from the forest and saw it. Gamcheon Culture Village.
The village was like nothing I had ever seen before. The houses were painted in bright colors, and there were murals and art installations everywhere. It was like walking through an open-air art museum. I spent hours wandering around the narrow alleys, taking in the sights and sounds of this unique community
Leaving Gamcheon I knew I had to come back to this wonderful place. And I felt a deep sense of gratitude for the kindness and generosity of the people I had met along my journey.
As I continued my adventure, I made my way to the Songdo Bay Cable Car. The cable cars were a great way to experience the beauty of the beach from up high. I highly recommend the crystal floor cable car, as it not only adds a unique touch to the experience but also has a shorter waiting line compared to the regular ones. Once I got off at the other side, I discovered a breathtaking park that was perfect for hiking.
As the day came to an end, I headed to the Busan Tower to witness the city's nightlife from above. The view from the tower was simply stunning, with the city lights illuminating the entire skyline. It was the perfect way to end my day.
Day 4 Rainy Day - Shinsegae Centum City Department Store
On a rainy day, I decided to switch things up and explore indoor activities in Busan. I headed straight to the Shinsegae Centum City Department Store, which boasts the largest department store in the world. There, I was amazed to see a whole range of unique attractions, including the world's largest movie screen, an ice rink, and even a mini airport for kids.
My next stop was the Museum of Contemporary Art Busan. The museum features a stunning light show that makes you feel like you're in a virtual reality room. It's definitely a must-see attraction for anyone interested in modern art.
Just a short walk from the museum, I stumbled upon the Busan International Movie Theater, which had a large outdoor screen showing classic films.
Day 5 - Coastline Adventure Haeundae
As I arrived at Haeundae Beach in the morning, I was eager to explore and see what this popular spot had to offer during the day. I made my way to the LCD tower, which I had seen in a K-Drama, to enjoy the view of Busan from above. It was stunning to see the city from that height.
Afterwards, I took the Sky Capsule to Cheongsapo and was in awe of the beautiful coastline. Once I arrived at Cheongsapo, I discovered an observation deck overlooking the vast ocean.
From there, I took a taxi to visit the Haedong Yonggung Temple, the most beautiful Buddhist temple in Korea. The temple was located directly at the ocean, and the view was simply magnificent. It was the most beautiful temple I had ever seen and it was an experience I will never forget.
Day 6 - Hiking Hwangnyeongsan mountain and Diamond Boat Tour
The next day, I decided to go on a hike up to the Busan Fire Station, which sits atop the beautiful Hwangnyeongsan mountain. As I made my way up the winding paths and steep hills, I thought about how this fire station must have served a very different purpose in the past. It was originally built as a watchtower to warn Busan citizens of invading Japanese troops, and would alert everyone with smoke signals if danger was near.
But all thoughts of danger were soon forgotten as I reached the top and took in the breathtaking view of Busan below me. It was truly a sight to behold. I marveled at how this city has so much to offer – parks, mountains to hike, beaches, and the bustling city life – all within easy reach.
Feeling rejuvenated from my hike, I made my way back down to Haeundae beach and decided to take the Diamond Bay boat tour along the coast of Busan. As I boarded the boat, I noticed that it was full of locals, with only myself as the lone foreign tourist. But that didn't bother me – in fact, it made the experience even more special.
As we sailed along the coast, a group of grandmas started to sing beautiful old Korean songs. It was a truly unique and unforgettable experience, and I felt lucky to have stumbled upon it. I couldn't help but feel grateful for the opportunity to explore this beautiful country and it's people.
Day 7 - Rest and Research
This day was actually my last full day in Busan so I went out to take some night shots. And research for my next destination Seoul.
To take night shots I went back to Gamcheon Culture Village. At night the vibrant colors of the buildings were replaced by the soft glow of street lamps, casting long shadows across the narrow streets. It was a stark contrast to the bustling crowds and souvenir shops of the daytime.
As I took photos of the illuminated buildings and winding staircases, I couldn't help but reflect on my time in Busan. Tomorrow I would be leaving for Seoul. But for now, I was content to soak in the calm and quiet of Gamcheon at night, enjoying the solitude and beauty of this charming village.
Day 8 - Traveling to Seoul
Took the bullet train to Seoul just a 2,5 h ride. What I had to get used to is that you have to reserve a seating place in Korea. So a train can be full and you can not take it. So reserve early to get a spot on the train. Luckily I did that on the day before. Arriving in Seoul I tried to get a Taxi, but unlucky none were available so I took the subway to Gangnam. Somewhere between Seoul Station and Gangnam I had to transfer and thought to get something to eat.
I stumbled upon a small restaurant run by two elderly women. They led me to a table and handed me a piece of paper with Korean writing on it. Unfortunately, there was no English menu available, and the women didn't speak English either. I felt helpless staring at the paper in front of me, unsure of what to do. After attempting to communicate with them, I finally resorted to pointing at the pictures on the wall and saying, "I would like to have that." It took some time, but they eventually understood my order. When I asked for a coke, however, they simply replied with a "no."
Despite the language barrier, I was able to enjoy my meal, although it didn't quite match the picture on the wall. This experience marked my first encounter with the unique challenges of traveling in South Korea. Later that day, I visited the stunning Bongeunsa Temple and the famous Gangnam Statue, continuing my exploration of Seoul.
Day 9 - Lotte World
As I wandered through the bustling streets of Gangnam, my eyes were immediately drawn to the towering Lotte World Tower in the distance. I had heard that it was the highest building in Korea, soaring an incredible 550 meters into the sky. With my curiosity piqued, I decided to venture closer and see it for myself.
As I arrived at the base of the building, I noticed a sign advertising the SEOUL SKY observatory on the top floor. Without a second thought, I purchased a combi ticket that also granted me access to the Aquarium located underneath the tower. I had never been to an underground aquarium before, and I was excited to see what it had to offer.
As I descended into the depths of the aquarium, I was awestruck by the sheer size of it all. 650 different species of marine life called this place home, including a majestic beluga whale that seemed to glide effortlessly through the water.
Later that night, as I roamed the city in search of new adventures, I stumbled upon a hidden gem - a speakeasy bar with an "Alice in Wonderland" theme. As I entered the establishment. The barkeeper, a master mixologist with a wall full of trophies (including the coveted "Best Barkeeper in Korea" award), served up a concoction of delicious cocktails that tantalized my taste buds.
Day 10 - National Museum
As a curious traveler, I decided to spend my day exploring the history of Korea at the National Museum. Upon entering, I was amazed by the advanced technology utilized to present the exhibits. Rooms were filled with projectors, creating an immersive experience where I felt as touhough I was living in the past. It was truly a unique and captivating way to learn about the rich culture and history of Korea.
Day 11 - Hanok Village and War Museum
I went to the Namsangol Hanok Village, a Korean traditional village with old buildings and people dressed in traditional clothing. I was excited to explore the village and take some amazing pictures for my Instagram feed. The ambiance was so authentic that I felt like I had traveled back in time.
After my visit to the village, I made my way to the War Museum. The museum was simply astounding, with an incredible display of vehicles that included entire ships and planes. It was a great opportunity to learn more about the Korean War and the history of the country, including the splitting of the two Koreas. The museum also had a portion dedicated to ancient Korean history, which was equally fascinating. Overall, it was a great experience and I left the museum feeling enlightened and inspired.
Day 12 - Seoul City Center
I found that the city was so vast that it was a good idea to stay in different areas throughout my trip. So I booke a Hotel in Seoul City Center for the last part of my journey. After checking in, I decided to explore the Deoksugung Palace, which was conveniently located right across the street from my hotel. The palace was stunning, featuring a beautiful garden and multiple buildings that varied in architectural style. Some structures were western-style buildings reminiscent of the White House, while others were traditional, old Korean buildings. I also visited the small but impressive arts museum located inside the palace.
The next stop was the Seoul City History Museum. The museum gives you a good impression of how quickly this city developed. From old buildings in medieval times to the Japanese occupation to the Skyscrapers, you see in the modern Seoul city view. They even build an old apartment in the museum. At night I went to Hongdae a famous nightlife area. To experience Karaoke and the bar scene.
Day 13 - DMZ
What is a Korea Trip without visiting the DMZ (Demilitarized Zone). Actually, the DMZ just open again in May 2022 for the first time since the the outbreak of coronavirus. And is now limited to 600 people a day. So my tour guide told us to get up early so we would be able to enter. So I learned a lesson Koreans are more punctual than Germans. The tour should start at 6 am in the morning, and I was told to be ready 10 minutes earlier. My tour guide texted me at 5:43 am "I am at the lobby where are you?". A few minutes later I also arrived at the lobby.
The DMZ is actually the opposite of demilitarized, probably the most militarized area in the world. With army bases and 2 million mines laying around. But also a tourist attraction and a place on earth where people from two hostile nations can meet and interact with each other peacefully.
Our tour had 3 stops the Imjingak Park with the DMZ Museum, the 3rd Infiltration Tunnel and Dora Observatory. At the Imjingak Park I learned something about the history of the DMZ. The 3rd Infiltration Tunnel was more of an exercise you actually walk down the tunnel, you can go under the DMZ inside the tunnel and then have to climb up again. A little strange was that everywhere were also soldiers. So walking down on the right side was a group of tourists and on the left side soldiers walking up. The last stop was the Dora Observatory where you could view through binoculars North Korea. You can actually see the soldiers on the other side patrolling. Despite the serious topic the tour was actually quite fun, especially because of the great tour guide also with the name Dora.
The tour bus dropped us off at the city center and was close to the Gyeongbokgung Palace. The main royal palace in Seoul and the largest palace. So I gave it a visit. As I walked through the grand gates of Gyeongbokgung Palace, I felt as though I had been transported back in time to ancient Korea. The palace was bustling with tourists, all dressed in hanbok, the traditional Korean clothing. It was a beautiful sight to see so many people embracing their culture and heritage.
Day 14 - Seoul City Center / World Cup
I woke up and was amazed at how quickly the weather changed here. On Monday we had 20 degrees and now minus 6 degrees and snowing. But anyway I dare to go outside and visit one of the famous Hanok villages in Seoul. The Bukchon Hanok Village is one of the largest and oldest in Seoul. Also actually people are still living here in the Hanok buildings. So we had to be quiet. Around the village, there are many small stores and street food stands. I actually fall in love with the Korean Ice Cream there. Inside the village, the streets are busy with tourists taking pictures. The village is on a hill so I went up the hill to get a better view of it and found a great tea spot with a balcony not disappointing me of the great view I was looking for. The fee for entry was just a cup of tea, which was worth it.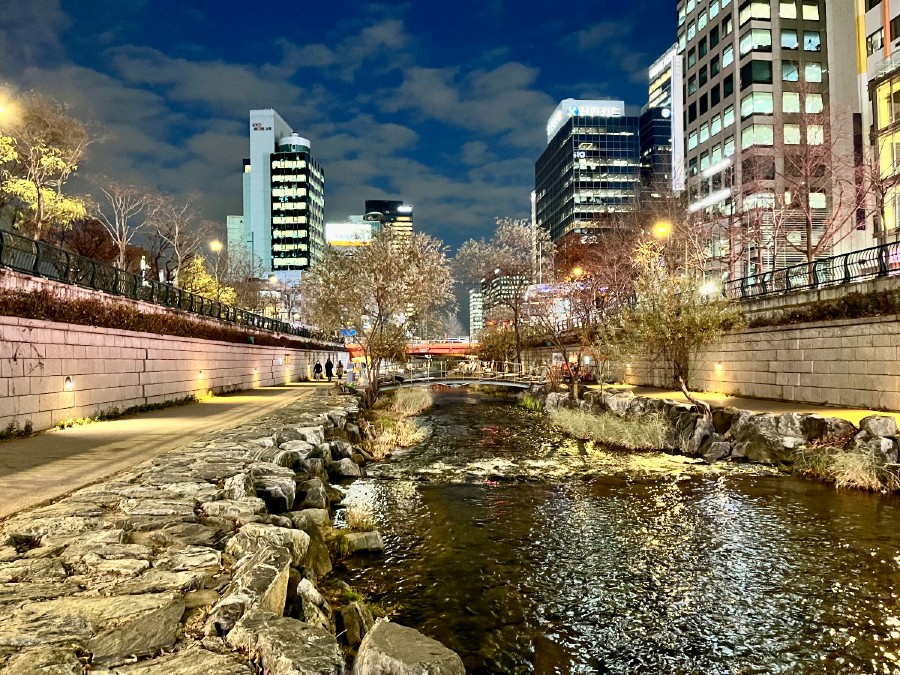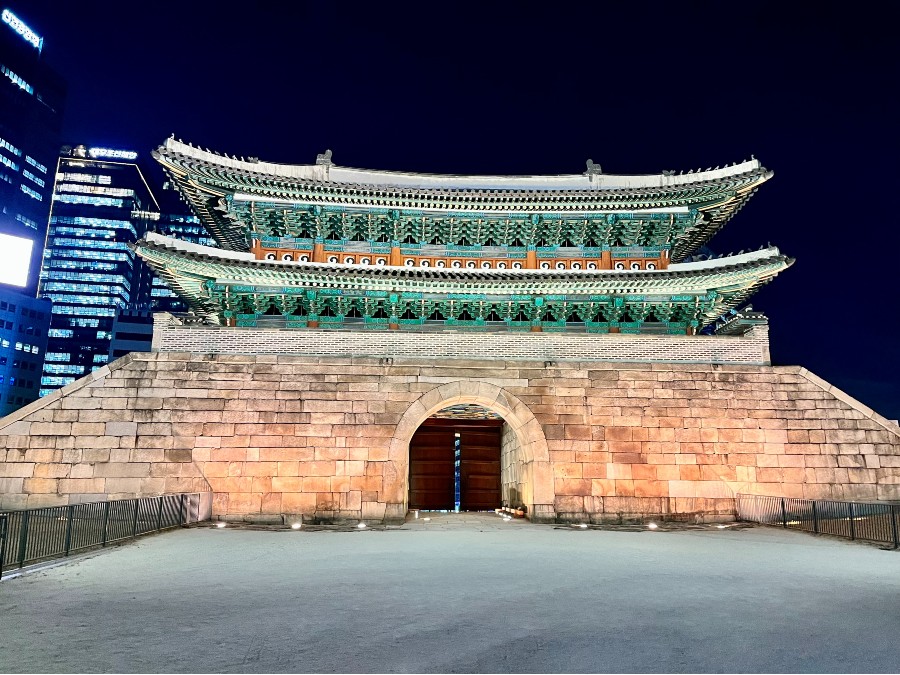 After the Hanok village, I went back to the Seoul City Center to the Korean Contemporary History Museum. A small museum covering the modern history of Korea. It had exhibitions about Korean advertising thru the ages and about the pandemic. On the outside, it had an epic 3D projection. Later that day I discover the famous sharing and caring culture South Korea is so famous for. At the time of my visit, the World Cup was going on and South Korea played really well in it. So I went to a public viewing at midnight with freezing temperatures. But despite this circumstance, the public viewing was full of people. On around 6 large screens you could watch the game. Sitting on the cold ground two teenagers ask me from where I am from and offer me a bag to warm my hands. Sharing is Caring. South Korea won the match.
Day 15 Hongdae / Shopping / Bank of Korea Money Museum
My last day in South Korea and I couldn't help but feel a tinge of disappointment. I had come to South Korea with high hopes of experiencing the country's vibrant street art and entertainment scene. Yet, despite my best efforts, I had failed to catch a glimpse of any of the famous dance performances or live musicians that I had heard so much about.
Undeterred, I decided to give it one last shot and headed to Hongdae once again, this time during the day. As I walked down the colorful alleyways, I kept my eyes peeled for any sign of street performers. But once again, I was met with disappointment.
Feeling a little down, I decided to do some shopping for my loved ones back home. My sister had asked me to bring back some Korean beauty products, so I made my way to one of the K-Beauty stores in Hongdae. I was amazed by the sheer variety of products on offer and ended up picking out a lovely face cream set for her.
With my shopping done, I decided to spend the rest of the day exploring a museum. I had heard about the Bank of Korea Money Museum and was curious to learn more about the country's banking system and currency.
As I walked through the museum's halls, I was fascinated by the history of the Korean won and the process of manufacturing the currency. I saw examples of national coins from around the world and learned about the evolution of banking in South Korea over the years.
As I made my way out of the museum, I couldn't help but reflect on my trip to South Korea. Although I had not experienced the street art and entertainment scene that I had hoped for, I had discovered so much more about the country's rich history and culture.
Conclusion - Reflecting back ony my South Korean Adventure
As I reflect on my trip to South Korea, I am overwhelmed with gratitude for the amazing experiences I had. The country has a rich history and culture, which is still very much alive in the streets of Seoul and the serene temples in Busan. From the bustling streets of Gangnam to the peaceful Hanok villages, every corner of the country offers something unique and exciting.
I was amazed by the modernity of the country, with cutting-edge technology and contemporary architecture, but at the same time, I was fascinated by the traditions and customs that have been preserved over the centuries. The Korean people were incredibly hospitable and friendly, making me feel at home from the moment I arrived.
I will never forget the breathtaking views from Hwangnyeongsan mountain and the delicious street food I tried at the stand in Gwangalli Beach. I learned so much about the history of Korea by visiting the DMZ and the Korean Museums.
Overall, my trip to South Korea was an unforgettable experience, filled with adventures, new discoveries, and lasting memories. I can't wait to go back and explore even more of this beautiful country in future adventures.
It is really a destination that offers something for everyone, whether you're interested in history, food, nature, or just a fun time.
Post Last Updated