15 Things To Do In Gangnam, Seoul (2023)
Gangnam is a famous district in the city of Seoul, South Korea. The district is known for its upscale shopping and dining establishments, as well as its lively nightlife scene. Gangnam is also home to many of the city's most popular tourist attractions. There are also a number of parks and museums to visit. If you want to experience traditional Korean culture, you can visit one of the many palaces or temples in the area. Let's go on an adventure through Gangnam!
1. Statue of Gangnam Style
-Exit 6 of Samsung Station, Exit 7 of Bongeunsa Station-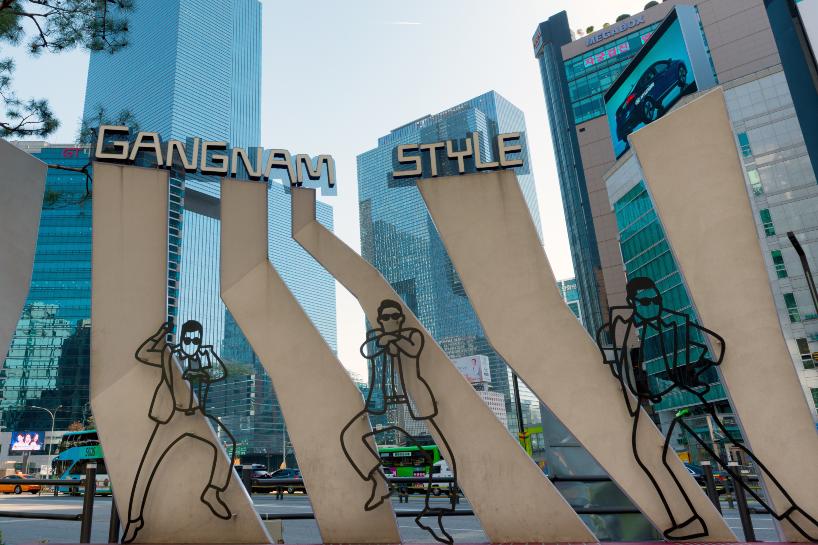 The Statue of Gangnam Style is a public artwork in Seoul, South Korea that celebrates the global phenomenon of the viral music video by Korean pop artist PSY. The life-size bronze statue was installed in December 2012 in the district of Gangnam, made famous by the song, and has become a popular tourist destination. The statue depicts PSY in his now-iconic pose from the music video, with his arms crossed and his hips thrust to the side. Visitors to the statue can take photos and even dance along to the song, which plays on a loop nearby.
2. Bongeunsa Temple
-531, Bongeunsa-ro, Gangnam-gu, Seoul-
Bongeunsa Temple is one of the most popular tourist destinations in Seoul, and for good reason. The temple features beautiful architecture and stunning views of the cityscape. Visitors can explore the temple grounds, take in the sights and sounds of traditional Korean culture, and even participate in Buddhist rituals. Whether you're looking to learn more about Korean history and culture, or simply want to enjoy a beautiful day out, Bongeunsa Temple is definitely worth a visit.
The temple also offers an overnight stay, where you can be educated about the teachings of Buddha. The surrounding area is peaceful and quiet, you won't even notice that you're in the middle of a bustling city.
3. Coex Mall
-513 Yeongdong-daero, Gangnam-gu, Seoul, South Korea-
Coex Mall, located in the heart of Gangnam, is one of Seoul's most popular shopping destinations. The mall is one of the largest underground shopping areas in the world. With an area of over 70,000 square meters. The mall has over 500 stores and restaurants, a multiplex cinema, an aquarium, a food court and a convention center.
Also, it is home to the Kimchi Museum, a museum dedicated to the country's national dish. The museum was opened in 2005 and features interactive exhibits on the history and culture of kimchi. Visitors can learn about the different types of kimchi, how it is made, and their nutritional value. The museum also has a kimchi tasting room where visitors can sample different varieties of the dish.
4. Starfield Library at the COEX Mall
The Starfield Library in Seoul is one of the most beautiful libraries in the world. It is situated in an old building that has been renovated and it has a very modern and unique design. The library has a lot of books, magazines and newspapers, as well as a cafe and a bookshop. It is a great place to visit if you are looking for a quiet place to read or study.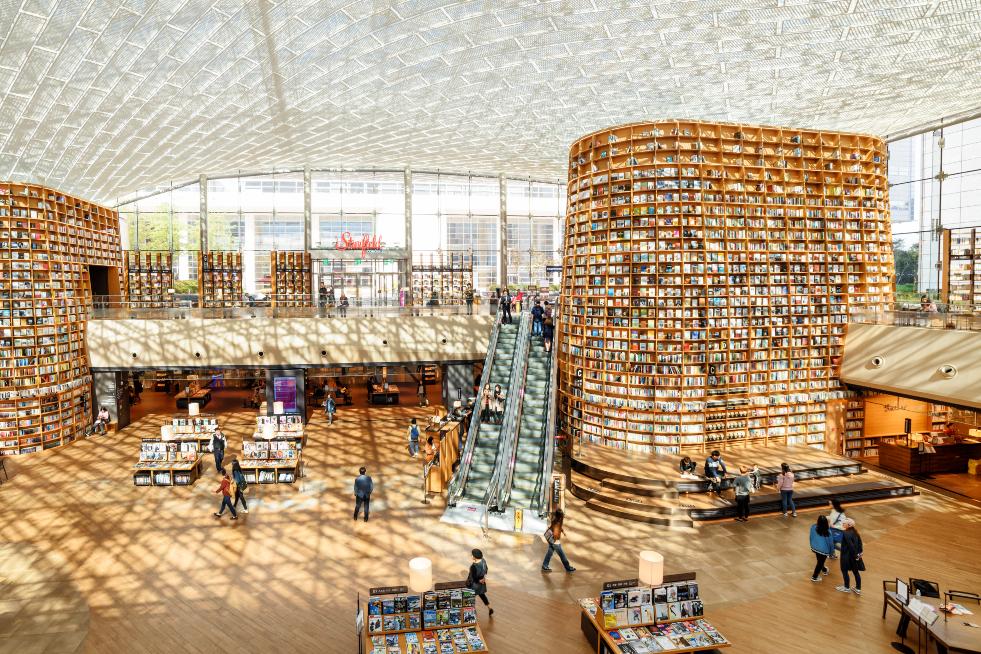 5. Seoul Museum of Art (SeMA)
-61, Deoksugung-gil, Jung-gu, Seoul, Korea-
The Seoul Museum of Art is a world-class museum that houses some of the most important art collections in Korea. The museum has a wide variety of exhibitions and programs that cater to both local and international audiences. Also, the museum cafe is great to relax.
6. Banpo Han River River Boat/Yacht Ride
Banpo han river is one of the most popular tourist destinations in South Korea. A river boat or yacht ride is the best way to see the sights and sounds of the city. You can sit back and relax while you take in the beautiful scenery.
(Bonus) Banpo Han River Park Night Market
Banpo Han River Park is a popular night market in Seoul, Korea. The park is located on the banks of the Han River and is open every night from sunset to midnight. There are over 100 stalls selling a variety of goods, including clothes, food, and souvenirs. The market is also a great place to enjoy the river views and watch the sunset.
7. Seoul Tower
-105 Namsangongwon-gil, Yongsan-gu, Seoul, South Korea-
Seoul Tower is one of the most popular tourist destinations in Seoul. Located in the heart of Gangnam, it offers stunning views of the cityscape. Visitors can take a cable car up to the observatory deck, where they can enjoy panoramic views of Seoul. The tower also has a restaurant and a cafe, where visitors can relax and take in the spectacular views.
8. Banpo Bridge Rainbow Fountain
-Banpo 2(i)-dong, Seocho-gu, Seoul, South Korea-
The Banpo Bridge Rainbow Fountain is a must-see attraction in Seoul, South Korea. The bridge spans the Han River and is decorated with over 10,000 LED lights. The lights create a rainbow that is illuminated at night. The fountain runs for about 20 minutes and is synchronized to music. This fountain is the longest in the world, spanning 570 metres on both sides.
Banpo Bridge is located in the center of Seoul, connecting the districts of Seocho in the south to Yongsan in the north. The south end is where most of the action is, with green space for picnicking, places to sit and watch the Banpo Bridge Rainbow Fountain show, and access to the Some Sevit Floating Islands.
9. Samneung Park
-89 Samneung-ro, Jori-eup, Paju-si, Gyeonggi-do, South Korea-
The park is home to three royal tombs, which date back to the Joseon dynasty. A beautiful spot for taking photos for Instagram. The park is filled with lovely flowers and greenery, and there's also a lake where you can take stunning reflections shots. So be sure to visit Samneung Park when you're in Seoul!
10. Apgujeong Rodeo Street
Apgujeong Rodeo Street is a trendy shopping district in Seoul, South Korea. The street is lined with luxury brand stores, cafes, and restaurants. It is a popular destination for both locals and tourists.
11. Aquarium at COEX Mall
It is one of the largest aquariums in Asia and home to over 30,000 marine animals. The Aquarium COEX Mall features a wide variety of exhibits, including a shark tank, a jellyfish exhibit, and a penguin exhibit. Visitors can also take part in educational programs, such as feedings and behind-the-scenes tours.
12. Cheongdam Fashion Street
The street is lined with high-end fashion boutiques, department stores, and restaurants. Cheongdam Fashion Street is a great place to find designer clothes, shoes, and accessories at a fraction of the price you would pay in Western countries. The major brands – such as Louis Vuitton, Burberry and Prada – are meshed comfortably with Korean and avant-garde shops and designers, including the Son Jung Wan and Martin Margiela.
Different major brands - such as Louis Vuitton, Burberry, and Prada - are situated comfortably with Korean and avant-garde shops and designers, including Son Jung Wan and Martin Margiela.
13. Jamsil Lotte World
Jamsil is a mere two stops from the COEX shopping mall, and it is home to the Lotte World.
Jamsil Lotte World is a large shopping and entertainment complex. It consists of two main sections: an outdoor amusement park and an indoor shopping mall. The amusement park features a variety of rides, including roller coasters, water slides, carousels, and more. There is also a large lake with boats for visitors to enjoy. The indoor mall has over 500 stores, restaurants, and cafes offering everything from clothing to electronics to food. Additionally, there are several theatres showing movies and musical performances. The Jamsil Lotte World Tower is the highest (555 meters high) skyscraper in Seoul and has a stunning view of the city. On my trip I spent a whole day in Jamsil and enjoyed it more than the COEX mall. Especially I was stunned by the Aquarium which is located under the mall. The Aquarium features over 400 species of marine life from around the world.
14. Gangnam Station
If you looking for a vibrant nightlife go to Gangname Station. It is home to dozens of clubs, bars, and restaurants that offer a variety of entertainment options. From underground nightclubs to luxurious lounges, there is something for everyone here. And belongs with Hongdae and Itaewon to the top 3 party districts in Seoul.
With its diverse range of venues, it's no wonder why this area is one of the most popular places for clubbing in Seoul.
15. Seoul Olympic Park
Just one station away from the COEX mall you find the Seoul Olympic Park. The park originated when Seoul was hosting the Olympic games in 1988 .
It has an Olympic Museum and you can take part in exciting events like the K-Pop Concerts, to simply stroll around the beautiful grounds and admire the sculptures. Those who are looking for some adventure can also take part in activities such as bungee jumping or zip-lining. There are also plenty of cultural attractions such as an outdoor amphitheatre, an art gallery, and an exhibition hall. The landscape is beautiful and serves as a great place to get away from all the cars and polluted air of the most crowded part of the city.
Where to Eat in Gangnam Seoul
If you're looking for a great place to eat in Gangnam, Seoul, you'll have plenty of options to choose from. Whether you're craving Korean food, Japanese cuisine, or something else entirely, you'll be able to find it in Gangnam. Some of the best places to eat in Gangnam include Samcheonggak, Ojangdong Heungnamjip, and Myeongdong Gyoja. No matter what your budget is, you'll be able to find a great place to eat in Gangnam that suits your needs.
Samcheonggak Dawon | Expensive | located at 3, Daesagwan-ro, Seongbuk-gu, Seoul 02822 South Korea | It has an excellent Dinner and a great location
Ojangdong Heungnamjip | Cheap |located at 101-7 Ojang-dong, Jung-gu, Seoul South Korea | Great place for lunch after climbing Gwanaksan mountain
Myeongdong Gyoja | Normal prices | located at 29-1, Myeongdong 10-gil, Jung-gu Myeongdong Kyoja #1, Seoul South Korea | Best noodles and dumplings
Post Last Updated