10 Best Things to do in Haeundae Beach, Busan
If you're looking for a great beach destination with plenty of things to see and do, then Haeundae Beach in Busan, South Korea is the perfect place for you. Located on the southeastern coast of the country, this stunning beach boasts crystal-clear waters and golden sand making it an ideal spot for swimming and taking photos. With plenty of attractions nearby, the famous beach will surely provide you with a fun-filled day of activities. From watersports and shopping opportunities to restaurants and outdoor recreational activities, there's something here for everyone. Read on as we explore some of the best things to do in Haeundae Beach so you can make the most out of your visit!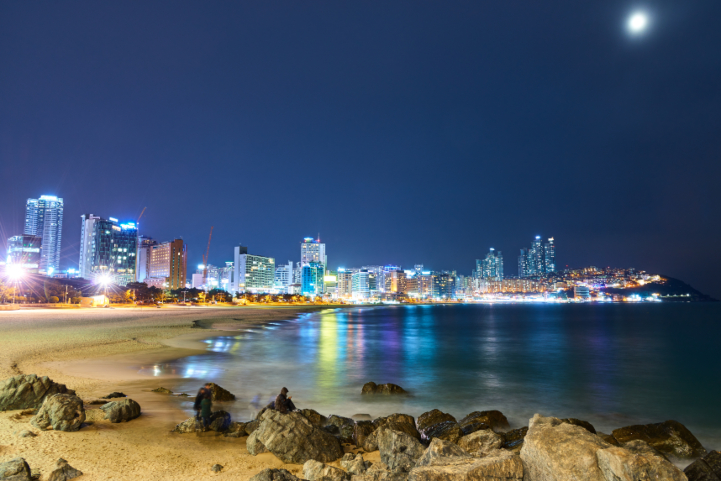 Here I have 10 things you should do near Haeundae Beach.
1. Exploring the Beach
The beach is known for its vibrant nightlife, but also for its incredible natural beauty. Whether you want to spend some quality time relaxing on the beach or exploring the surrounding area, there are plenty of options for enjoying your time here. Watching the sunset from Haeundae Beach is a magical experience as the sun glistens off the sea and bathes everything in a golden light. The soft sand beneath your feet completes this dreamy atmosphere and makes it an unforgettable experience.
2. Enjoying the Street Food at Haeundae Beach
Haeundae Beach Traditional Market is one of the most popular street markets in South Korea. The local speciality is definitely fish cake. It's made with fresh seafood caught off the coast and served with a delicious spicy sauce. From grilled seafood to spicy ramen noodles, there's something for everyone at the market.
There are also food stalls that offer local culinary treats like bibimbap, tteokbokki and japchae, all prepared using traditional cooking methods. The market atmosphere is amazing as people wander around trying different snacks and buying souvenirs to remember their time at Haeundae Beach Traditional Market.
3. Haeundae Sky Capsule (My favorite)
The Haeundae Sky Capsule has become a popular photo spot for locals and tourists alike, as it provides breathtaking views of Busan's coastline. Each capsule is brightly colored and has large windows that provide an amazing view of the beach below. The ride is quite popular among tourists and locals alike, as it provides an excellent photo spot to take pictures of the stunning scenery. The capsules are equipped with air-conditioning and audio systems for passengers to enjoy during their journey.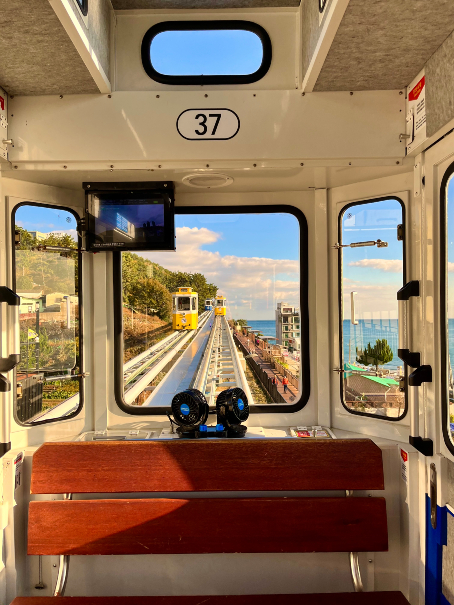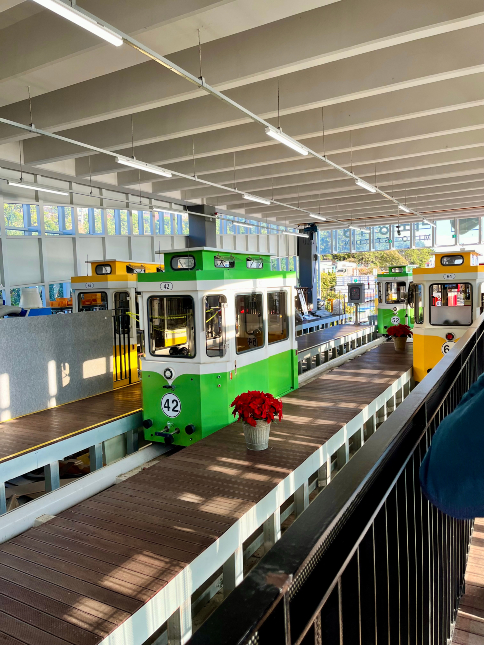 With its bright colors and unique design, it is no wonder that this capsule has become such an iconic landmark in Busan. You should book it in advance as it is quite popular waiting time for a ride is hours.
4. Explore the Wonders of the sea at the Busan Aquarium
The Busan Aquarium is an amazing place to experience the beauty and diversity of marine life. It features over 35,000 species of fish and other aquatic creatures from around the world, as well as interactive exhibits that allow visitors to learn more about the ocean and its inhabitants. You can also observe various sea animals such as dolphins, seals, penguins and sharks up close. With its unique underwater tunnel, visitors can get a 360-degree view of the aquarium's inhabitants while enjoying a relaxing stroll along the path. The aquarium also offers educational programs for kids and adults alike. Whether you're looking for a fun day out or an educational experience, the Busan Aquarium is sure to provide it!
5. Go visit the Yeonggusa Temple - Korea's beauty at the ocean
Located near Haeundae Beach, it is one of the most beautiful places to visit in the country. The temple is situated atop a hill, surrounded by lush greenery and overlooking the ocean. From its vantage point, you can take in the stunning views of the ocean and surrounding landscape. You can also explore its many ancient structures, including pagodas, pavilions, and stone lanterns. Inside the temple grounds, you will find a peaceful atmosphere that encourages contemplation and relaxation. A visit to Yeonggusa Temple will be an unforgettable experience that will stay with you for years to come. Whether you are looking for a spiritual journey or simply want to enjoy some of Korea's beauty at the ocean from Haeundae Beach, this temple is certainly worth exploring.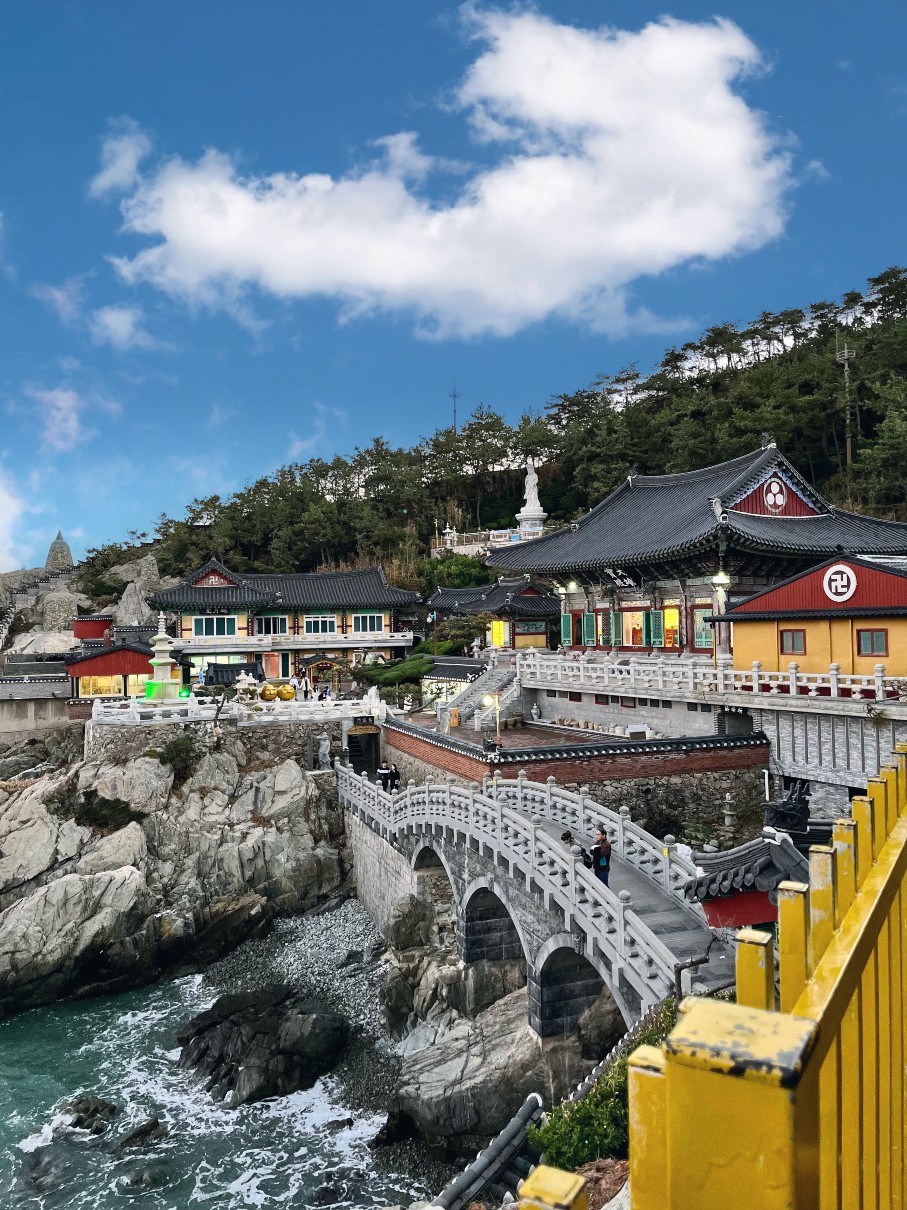 How to get to Yeonggusa Temple from Haeundae Beach
If you're looking to get from Haeundae Beach to Yeonggusa Temple, one of the most convenient ways is by taking a train. From Haeundae Station, take the Busan Metro Line 2 and get off at Jangsan Station. From there, you can take a taxi or bus to the temple. Taking a taxi is usually the fastest option; it should only take about 15 minutes and cost around 10,000 won. If you'd like to save some money, however, you can also take bus number 33 which will drop you off right outside the temple gates. The ride takes about 25 minutes and costs 1,200 won per person. Whichever method you choose, getting from Haeundae Beach to Yeonggusa Temple is easy and relatively inexpensive!
6. Go up the LCT The Sharp Tower Busan
The tower stands at 246 meters tall, making it one of the tallest structures in South Korea. It is also featured in many Kdramas and films, so you may recognize it even if you have never been there before. The observation deck gives visitors a 360-degree view of Busan's skyline and coastline, with views that stretch out over Gwangalli Beach and beyond. On clear days, you can even see Japan's Tsushima Island in the distance. It's definitely worth taking a trip up the LCT Tower Busan for some amazing views!
7. Stroll along Haeundae Cinema Street
You will find yourself in the heart of KDrama culture. This street is lined with shops, cafes, and restaurants dedicated to the popular Korean dramas that have become so popular around the world. You can find everything from posters of your favourite actors and actresses to DVDs of classic shows. Just steps away from Haeundae Beach, this street offers a great way to spend an afternoon exploring all that Korean drama has to offer. There are plenty of opportunities to take pictures with life-sized cutouts of your favorite actors and actresses, or buy souvenirs from the many shops that line the street. Whether you're a fan of Kdrama or just looking for something fun to do in Busan, Haeundae Cinema Street is worth checking out!
8. Cheongsapo Daritdol Skywalk
This incredible skywalk offers breathtaking views of the surrounding area, and it is an experience that should not be missed. The entire structure is made entirely of glass, allowing visitors to enjoy unobstructed views of the sea, mountains and nearby islands. You find the Skywalk along the route of the Sky Capsule train. So combining those two attractions is a perfect fit. Or take a stroll to it from Haeundae Beach along the coastline.
9. Haeundae Beach Sand Festival
Haeundae Beach Sand Festival is an annual event held in Busan, South Korea. It takes place on the last weekend of July every year and attracts thousands of tourists from all over the country. During this festival, participants create amazing sand sculptures that reflect local culture and traditions. There are also various competitions for sandcastle building and sculpting, as well as exciting shows featuring traditional dances, music and other performances. The festival also provides a great opportunity to relax by the beach and enjoy the beautiful scenery along with delicious local food. With its incredible sand sculptures and fun activities, Haeundae Beach Sand Festival is a must-see for anyone visiting or living in South Korea.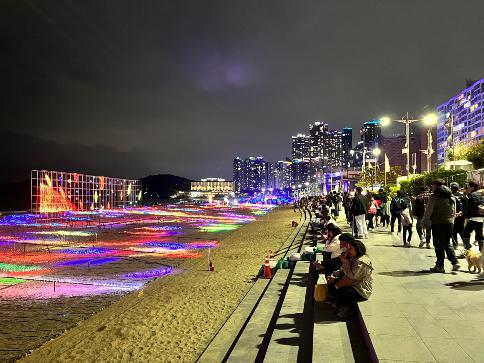 At winter time there is the Haeundae Light Festival with a beautiful LED lighting display show.
Haeundae Sand Festival (Late May)
Haeundae Lights Festival (mid-late Nov to Late Jan)
10. CAFE ROOFTOP Haeundae
Cafe Rooftop Haeundae is a stunning cafe located in Busan, South Korea. With its amazing view of the Pacific Ocean and the beautiful city skyline, it's no wonder why it's so popular among locals and tourists alike. The cafe offers a wide selection of delicious food and drinks such as traditional Korean dishes, fresh seafood, Western-style cuisine, and more. The interior is modern yet cozy with elegant wooden tables and chairs. There's also an outdoor terrace where you can enjoy your meal while taking in the breathtaking views. Whether you're looking for a romantic dinner or just want to relax with friends over coffee, Cafe Rooftop Haeundae has something for everyone. With its attentive service, delightful atmosphere, and exquisite cuisine, this cafe will make every visit unforgettable and a perfect Instagram spot.
How to get to Haeundae Beach
How to get to Haeundae Beach from Busan Station?
HGetting to Haeundae from Busan Station is easy and convenient. The most popular way to get there is by taking the subway. First, take the subway line 1 at Busan Station and get off at Jangsan Station. From there, transfer to the subway line 2 and get off at Haeundae Station. The entire journey takes about 40 minutes and costs around 1,400 won. Alternatively, you can also take a bus from Busan Station to Haeundae Beach. Take bus number 88 or 1003 from the station and get off at Haeundae Beach. This journey takes about an hour and costs around 1,500 won.
How to get to Haeundae Beach from Namhae International Airport?
Haeundae Beach is a popular tourist destination located in Busan, South Korea. Getting to Haeundae Beach from Namhae International Airport is relatively easy and can be done by bus or taxi. The most convenient way to get there is by taking the airport limousine bus which departs every 30 minutes from the airport and takes about 1 hour and 10 minutes to reach Haeundae Beach. Alternatively, you can take a taxi which will cost more but will get you there faster. The journey time by taxi is approximately 45 minutes depending on traffic conditions. Once you arrive at Haeundae Beach, you can enjoy the beautiful scenery of the beach, explore the nearby attractions such as shopping malls, restaurants and cafes, or simply relax on the beach and soak up some sun.
Can you swim at Haeundae Beach?
The water temperature is usually warm enough to swim in during the summer months, so if you're looking for a place to take a dip and cool off from the hot weather, Haeundae Beach is an ideal choice. There are also lifeguards on duty at all times to ensure safety while swimming. So yes, you can definitely swim in Haeundae Beach!
---
Post Last Updated