9 Essential Apps for your South Korea Travel
Are you planning a trip to South Korea? Whether it's your first time or you're a seasoned traveller, having the right apps can make your experience much more enjoyable. From transportation to food delivery, there are plenty of apps designed specifically for travellers visiting South Korea. Here are nine essential apps that you should have on your smartphone while travelling in South Korea.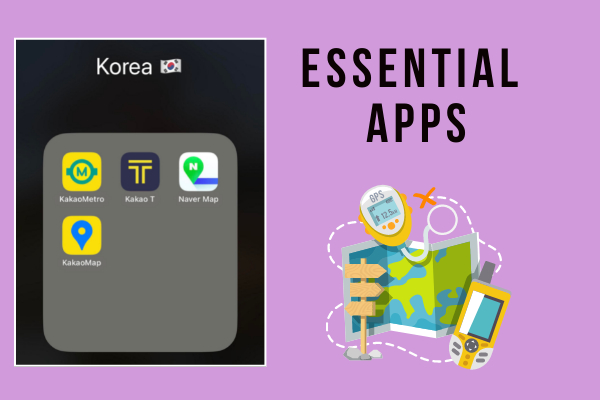 I firmly urge you to investigate these apps and download them before your journey to South Korea so they are prepared when you arrive. All the Apps are available for Android and iPhones.
MangoPlate
K-ETA
Yogiyo
Kakao Talk
Kakao Metro
Kakao Taxi
Papago
Kakao Map
Naver Map
1) Mango Plate
With Mango Plate, you can easily find the best places to eat nearby with just a few taps on your phone. The app allows users to search for restaurants by cuisine type and price range, as well as filter options like open now, delivery, take-out and more. You can also read reviews from other users who have tried out the restaurants listed in Mango Plate.
2) K-ETA
K-ETA Korea is an app that makes applying for a visa to South Korea much easier for you. It allows you to quickly and easily complete the application process and submit your documents in just a few steps. The app also provides comprehensive information about the required documents, eligibility criteria, and other important information related to the Korean visa application. Also it is nice that you can use the app to track the application status in real-time and receive notifications when their visa has been approved or rejected.
3) Yogiyo App
Yogiyo is a mobile food-delivery app that provides users with an easy and convenient way to order food. The app can be used to explore restaurants in your area, browse menus, read customer reviews, place orders, and even track deliveries.
4) Kakao Metro App
Kakao Metro App is an easy-to-use, convenient transportation app developed by Kakao Corp. It provides real-time information about the metro system in South Korea, allowing you to easily plan your travel route and check train schedules. With this app, you can quickly access the estimated arrival times of the trains and buses, plan their routes accordingly, and even find alternative means of transport. The app also allows you to purchase tickets for your desired destinations using a credit card or other payment methods. Additionally, Kakao Metro App features a variety of useful features such as maps of nearby attractions, searching for nearby restaurants, and providing general information about Seoul's subway lines.
5) Kakao Taxi App
Kakao Taxi App is a practical mobile application that makes it easy to book a taxi or car service. It has useful features like estimating the fare, altering pick-up time, and displaying the driver's details. Furthermore, this app gives you the ability to track your driver in real-time and find out when they will arrive. Payment can be done with either cash or credit card.
6) Kakao Talk
Kakao Talk is a complimentary mobile messaging service akin to WhatsApp or Line. The program is greatly popular in South Korea and is indispensable for communication with the inhabitants. Additionally, Kakao Talk integrates with a number of other Kakao services, such as Kakao Map and Kakao Pay, making it a convenient one-stop-shop for all their communication and transportation needs.
7) Papago
The Papago Translator App is a great resource for travellers who are looking for a free, easy to use and reliable translation service. It is similar to Google Translator in that it can translate between multiple languages and supports both text input and voice input. Papago even allows users to download language packs so they can access translations offline without an internet connection.
8) Kakao Map App
Kakao Map is a must-have app for navigating South Korea and exploring all that the country has to offer. With real-time traffic information, 3D maps, and comprehensive search capabilities, you can easily find your way to your destination and discover new places of interest along the way. Whether you're looking for restaurants, hotels, or shops, Kakao Map has detailed information and reviews to help you make informed decisions. The app also provides estimated time of arrival and public transportation routes, making it a convenient tool for getting around South Korea. Overall, Kakao Map is an essential app for anyone looking to make the most of their travel experience in South Korea.
9) Naver Map App
Naver Map, similar to Kakao Map, offers accurate maps and directions for South Korea. The app provides you with turn-by-turn voice guidance, real-time traffic information, public transportation routes, and points of interest such as restaurants, tourist attractions and more. Naver Map also offers detailed 3D map views, street view images and satellite imagery to help users better understand their surroundings. With its comprehensive functionality and reliable navigation features, the Naver Map App is an invaluable tool for both travellers and locals alike.
Why use Naver Map or Kakao Map instead of Google Map in South Korea?
Localized information: Both Naver Map and Kakao Map offer more localized information and features specific to South Korea, such as detailed information on local businesses, public transportation routes, and real-time traffic updates.
Language support: Naver Map and Kakao Map are available in Korean, which may be more convenient for users who are not fluent in English.
Integration with other services: Both Naver Map and Kakao Map integrate with other popular services in South Korea, such as Naver Search and KakaoTalk, respectively. This can make them more convenient for users who are already using these services.
Data privacy: Some users in South Korea may prefer to use Naver Map or Kakao Map over Google Map due to concerns about data privacy and the potential for Google to collect and use their personal data
Why doesn't Google Maps work well in South Korea?
Google Maps does not work well in South Korea due to the country's stringent security policies and restrictions. Under the provisions of the Korean Spatial Information Management Act, the export of internal Korean geographic data to foreign countries is prohibited. Google had not declared their intention to comply with this stipulation, so the Korean Government refused to provide complete local geographic information to them. As a result, Google cannot access the necessary GIS data in order to create a detailed map of South Korea.
Additionally, Google Maps requires an internet connection to operate, but South Korea has some of the strictest online censorship laws in the world. This limits access to certain websites, such as Google Maps, that are deemed inappropriate or dangerous by the government. Furthermore, many users have reported slow loading times and difficulty accessing certain features when using Google Maps in South Korea due to limited bandwidth availability and blocked servers.
---
Post Last Updated