12 Family Things To Do in South Florida (SFL)
Welcome to the Sunshine State! South Florida is a radiant paradise boasting miles of golden beaches, lush landscapes, and inviting tropical weather all year round. While countless visitors are drawn to this region to bask in its sun-kissed beauty, South Florida (SLF) also offers an abundance of thrilling and fun-filled activities that cater to family members of all ages.
From exhilarating amusement parks and interactive wildlife encounters to captivating explorations of the area's rich cultural heritage, there's no shortage of unforgettable experiences waiting for you and your loved ones. So, gather the family, pack your bags, and get ready to embark on an extraordinary journey filled with laughter, adventure, and excitement as we uncover the best family-oriented activities South Florida has to offer!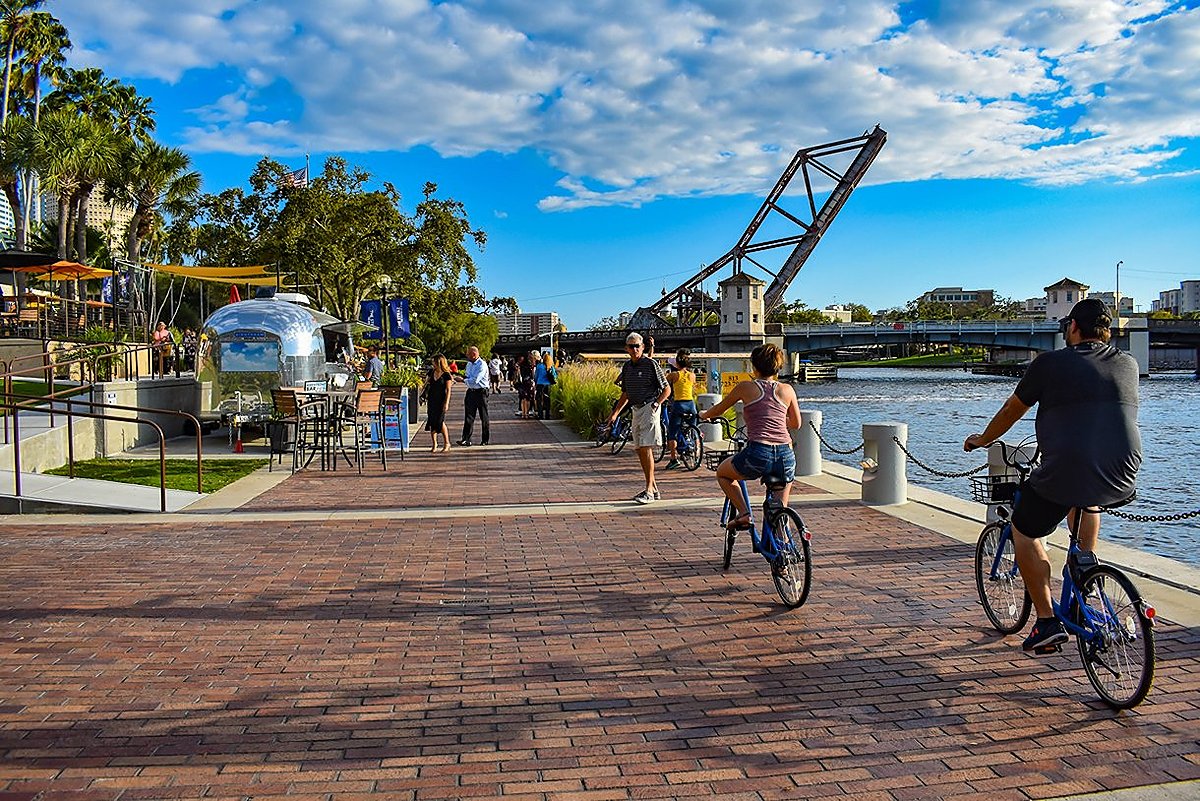 1. Fairchild Tropical Botanic Garden
Nestled in the heart of South Florida, Fairchild Tropical Botanic Garden is a magical haven for families seeking to explore and appreciate the natural world. This enchanting oasis boasts an array of stunning gardens, lush vegetation, a mesmerizing butterfly garden, and an assortment of fascinating wildlife.
As you wander through the captivating landscapes of Fairchild Tropical Botanic Garden, you'll be treated to an array of flora, ranging from vibrant flowering plants to towering tropical trees. Kids will delight in exploring the whimsical Children's Garden, where they can learn about different plant species, wander through a butterfly-shaped hedge maze, and engage in interactive exhibits designed to spark their imagination.
The Botanic Garden offers a wide range of educational programs, workshops, and special events aimed at inspiring a love for nature in visitors of all ages. Participate in hands-on workshops, such as gardening or art classes, that allow the whole family to unleash their creativity while learning about the natural world. Keep an eye out for special events like the International Orchid Festival, the Chocolate Garden, or the Mango Festival, which showcase the garden's unique horticultural treasures.
A visit to Fairchild Tropical Botanic Garden is a fantastic way to spend quality time with your family while immersing yourselves in the splendor of nature. With its diverse array of captivating gardens, engaging activities, and opportunities for relaxation, this enchanting oasis provides the perfect backdrop for a memorable day of exploration and discovery.
What Visitors say about Fairchild Tropical Botanic Garden:
Visitors have high praise for Fairchild Tropical Botanic Garden in Florida, describing it as a spectacular and peaceful destination. Guests enjoy spending hours exploring the park, with highlights including the butterfly exhibit, the vast array of orchids, frequent iguana sightings, and the well-maintained paved trails that meander through manicured landscaped gardens.
The garden boasts eight beautiful acres of walking paths, tropical gardens, ponds, and educational exhibits. Visitors appreciate the nice café with both air-conditioned indoor seating and ample outdoor covered seating. The garden also offers plenty of benches for resting, free walking tours, and opportunities for bird-watching. While the admission price may be on the higher side, discounts are available for military personnel, students, and seniors.
Guests enjoy the stunning Chihuly glass sculpture installations and the extraordinary cloud forest. The garden's location in the Miami area, surrounded by beautiful architecture and Banyan trees, adds to its charm.
Visitors recommend booking online ahead of a visit and emphasize the garden's worth as a must-visit destination in the Miami area. The two distinct sections of the garden, featuring a concentrated area with diverse flora and a more open area with small lakes and an American crocodile, make it a unique and memorable experience. Overall, Fairchild Tropical Botanic Garden is highly recommended for those visiting the Miami area.
Recommended Age: 3+
2. Butterfly World in South Florida
Butterfly World Florida is a great family activity to enjoy together. Located in Tradewinds Park in Coconut Creek, this incredible attraction is home to thousands of beautiful butterflies from around the world. Families can explore the park's lush gardens and aviaries, where they can observe and learn about these amazing creatures. In addition to the butterflies, Butterfly World also has a variety of other animals such as parrots, flamingos, and many more. There are also educational programs available for those who want to learn more about the life cycle of butterflies and their importance in our environment. With its breathtaking beauty and educational opportunities, Butterfly World in Florida is sure to be a memorable experience for everyone in the family!
What Visitors say about Butterfly World:
Visitors generally have a positive experience at Butterfly World Florida, despite some finding it a bit pricey. The beautiful birds and butterflies create a captivating environment for guests of all ages. Though some visitors noticed a slight decrease in the number of butterflies compared to previous visits, the overall experience remained enjoyable.
The serene atmosphere is perfect for relaxation, with plenty of benches catering to older guests and soft music playing in the background. This makes it an ideal destination for families with small children, who will be delighted to watch the butterflies flying overhead. Visitors also love the additional option to feed birds by hand for an extra fee.
Butterfly World Florida offers an amazing experience with stunning butterflies, lush tropical gardens, and unique birds. The friendly staff and well-maintained gardens enhance the feeling of being in a tropical paradise. Despite the higher price, many visitors find the experience to be well worth it and look forward to returning for another visit in the future.
Recommended Age: 3+
3. Museum of Discovery and Science: This interactive museum in Fort Lauderdale
The Museum of Discovery and Science in Fort Lauderdale, Florida is an interactive museum that offers a wide range of activities for all ages. With over 200 interactive exhibits, the museum has something to offer everyone. From exploring the Everglades to discovering how electricity works, you can learn something new every time you visit. The museum also features a 3D IMAX theater, educational programs, and special events throughout the year.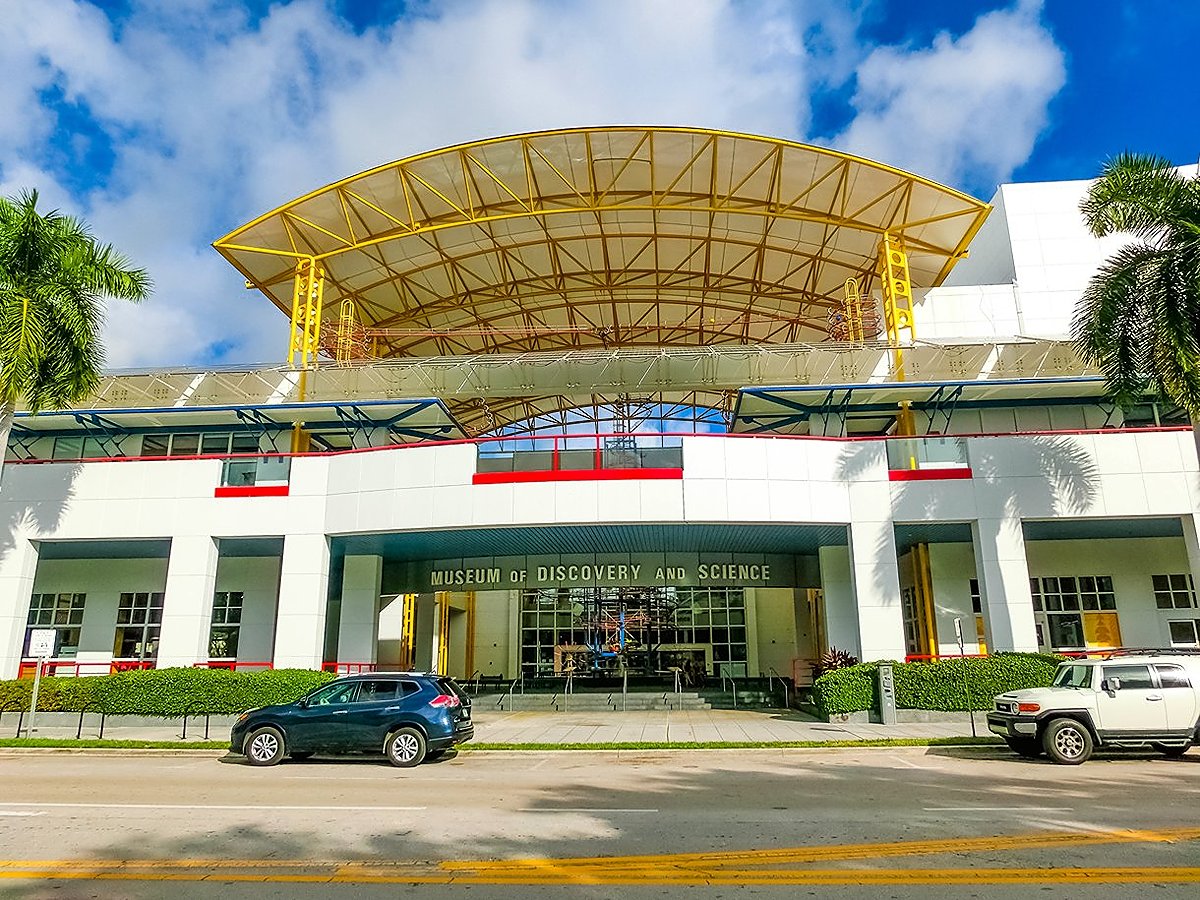 Discover the wonders of the human body at the Powerful You! exhibit. Kids will be fascinated as they learn about the body's major systems, from the nervous system to the digestive system. With hands-on displays and educational games, this exhibit offers a fun and interactive way to explore the science of health and wellness.
The Museum of Discovery and Science is the perfect destination for families seeking an educational and entertaining experience in Fort Lauderdale. With its array of interactive exhibits and engaging activities, visitors of all ages are sure to leave with a newfound appreciation for the wonders of science, technology, and the natural world. So gather your loved ones and set out on a journey of discovery that will ignite your curiosity and inspire your imagination!
Recommended Age: 8+
Tip: Pack snacks or a lunch to enjoy at the on-site cafeteria or outdoor picnic area, allowing for a well-deserved break between exhibits and activities.
4. Lion Country Safari: Experience a drive-through safari park in West Palm Beach
Embark on an unforgettable journey through the wild at Lion Country Safari, West Palm Beach's premier drive-through safari park. It is the only drive-through safari park in Florida. Offering an unparalleled opportunity to observe exotic animals up close, this extraordinary attraction is perfect for families and wildlife enthusiasts alike.
As you enter Lion Country Safari, you'll be greeted by the park's knowledgeable staff who will provide you with a guide to help you navigate the seven distinct sections of the park, each representing a different global region. These areas showcase a variety of habitats and house over 1,000 animals, including lions, giraffes, rhinos, and zebras.
As you slowly drive along the winding roads of the park, you'll be amazed by the close encounters with the animals, who roam freely within their expansive enclosures. Keep your eyes peeled for the majestic lions lounging in the shade or the curious giraffes reaching for leaves with their long necks. Remember to stay in your vehicle and adhere to the park's safety guidelines to ensure a safe and enjoyable experience for both you and the animals.
While you marvel at the incredible wildlife, tune in to the park's audio guide, which offers fascinating facts and stories about the animals you'll encounter. This educational component adds depth to your adventure, allowing you to appreciate the unique behaviours, habitats, and conservation efforts associated with each species.
In addition to the drive-through safari, Lion Country Safari offers a variety of other attractions to enhance your visit. Stretch your legs at Safari World, an expansive walk-through area featuring animal exhibits, interactive experiences, and rides. Here, you can hand-feed the friendly giraffes, watch entertaining animal shows, or cool off at the Safari Splash water play area.
What visitor say about the Lion Country Safari:
Visitors have high praise for Lion Country Safari, describing it as a fantastic, unforgettable, and fun experience for all ages. They appreciate the well-cared-for animals and the opportunity to see them up close without cages. The drive-through safari is particularly praised, with visitors enjoying the informative and entertaining audio tour and the close encounters with zebras, giraffes, and ostriches.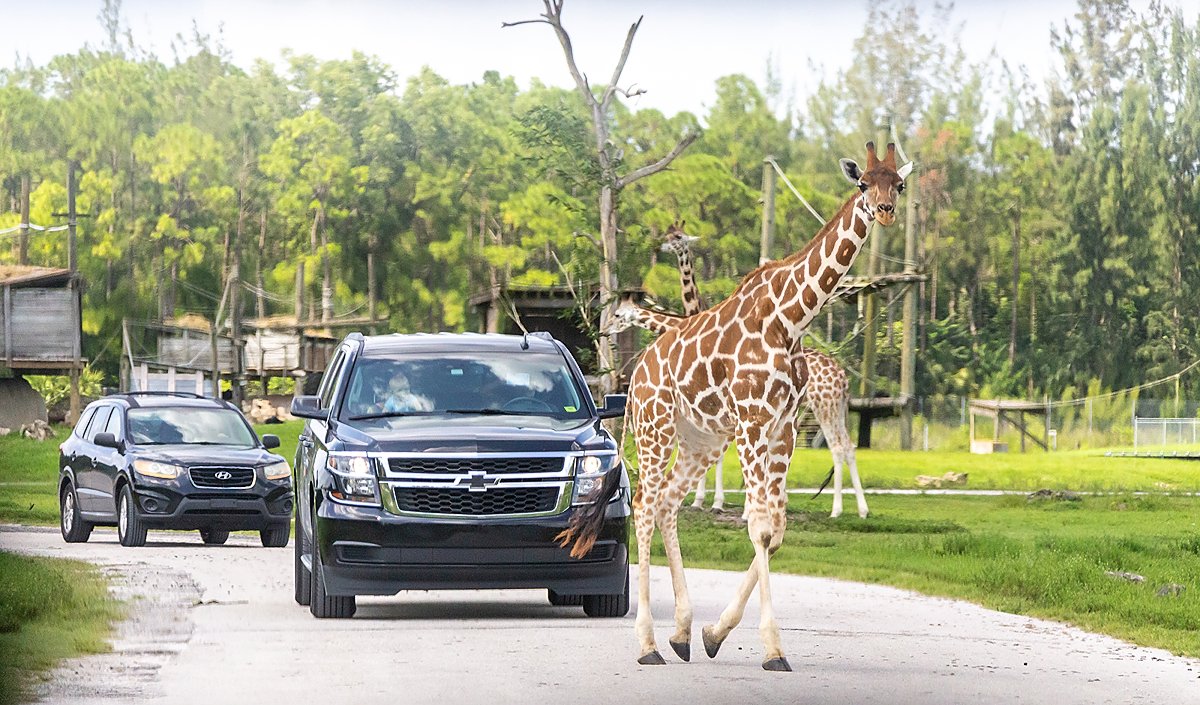 Families with children find Lion Country Safari to be an excellent value for the price, offering a variety of activities such as water slides, feeding giraffes, a petting zoo, and more. Guests recommend bringing bathing suits to enjoy the water park, as the weather can get quite hot.
The park is recognized for its cleanliness and friendly staff, with many visitors recommending the resident pass for $100 as an incredible deal. Overall, Lion Country Safari is a must-visit attraction that leaves guests with lasting memories and a desire to return for more adventures.
Recommended Age: 3+
Tip: Capture the incredible wildlife encounters with your camera, but remember to stay in your vehicle and follow the park's guidelines for a safe experience.
5. Rapids Water Park — West Palm Beach
Prepare to make a splash at Rapids Water Park, West Palm Beach's ultimate family-friendly water park! With over 30 acres of water attractions, Rapids Water Park offers a delightful mix of exhilarating slides, relaxing pools, and engaging activities for kids of all ages. Enjoy a day of sun-soaked fun and create memories that will last a lifetime at this Florida oasis. It is the ultimate destination for a day of family fun in the sun. With a wide variety of kid-friendly attractions and thrilling slides, everyone in the family will leave with unforgettable memories and smiles on their faces. Pack your swimsuits and towels, and dive into a world of aquatic adventure at Rapids Water Park! Kids love its 35 water slides.
Recommended Age: 8+
Tip: Also be sure to pack sunscreen, hats, and sunglasses to protect your family from the Florida sun.
6. Everglades Alligator Farm — West Palm Beach
Is a thrilling and educational wildlife park located just outside West Palm Beach, Florida. Home to over 2,000 alligators, crocodiles, and other native species, this unique destination offers fun, excitement, and learning experiences for visitors of all ages.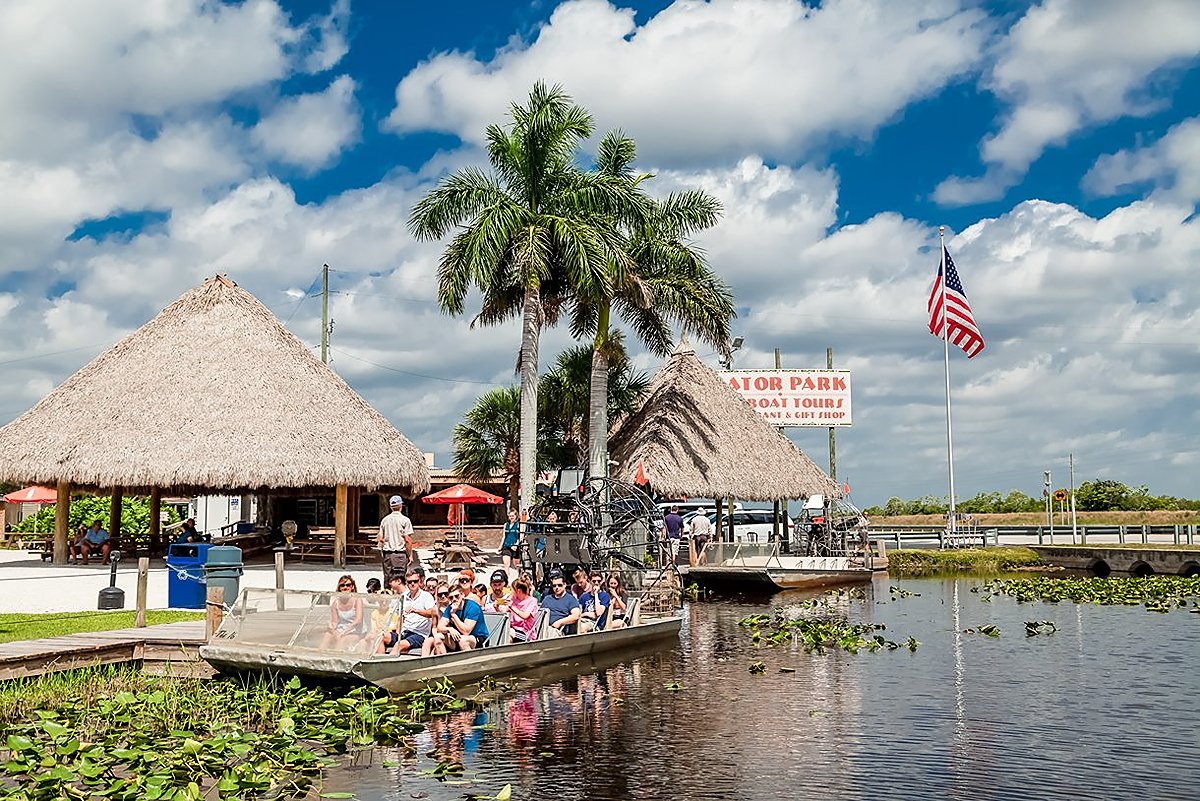 Witness the incredible power and agility of Florida's most famous reptile at the alligator shows. Experienced handlers demonstrate the fascinating behaviors and natural abilities of these creatures, providing a rare opportunity to observe alligators up close. Kids will be both amazed and educated, as they learn about the biology, behavior, and conservation of these ancient reptiles.
Alligator feeding at the Everglades Alligator Farm is a captivating spectacle that leaves a lasting impression on its visitors. As the staff members prepare the food, guests gather around the designated feeding area, where they can observe these powerful reptiles in their natural habitat. As the alligators sense the imminent meal, they become more active, eagerly anticipating the feast.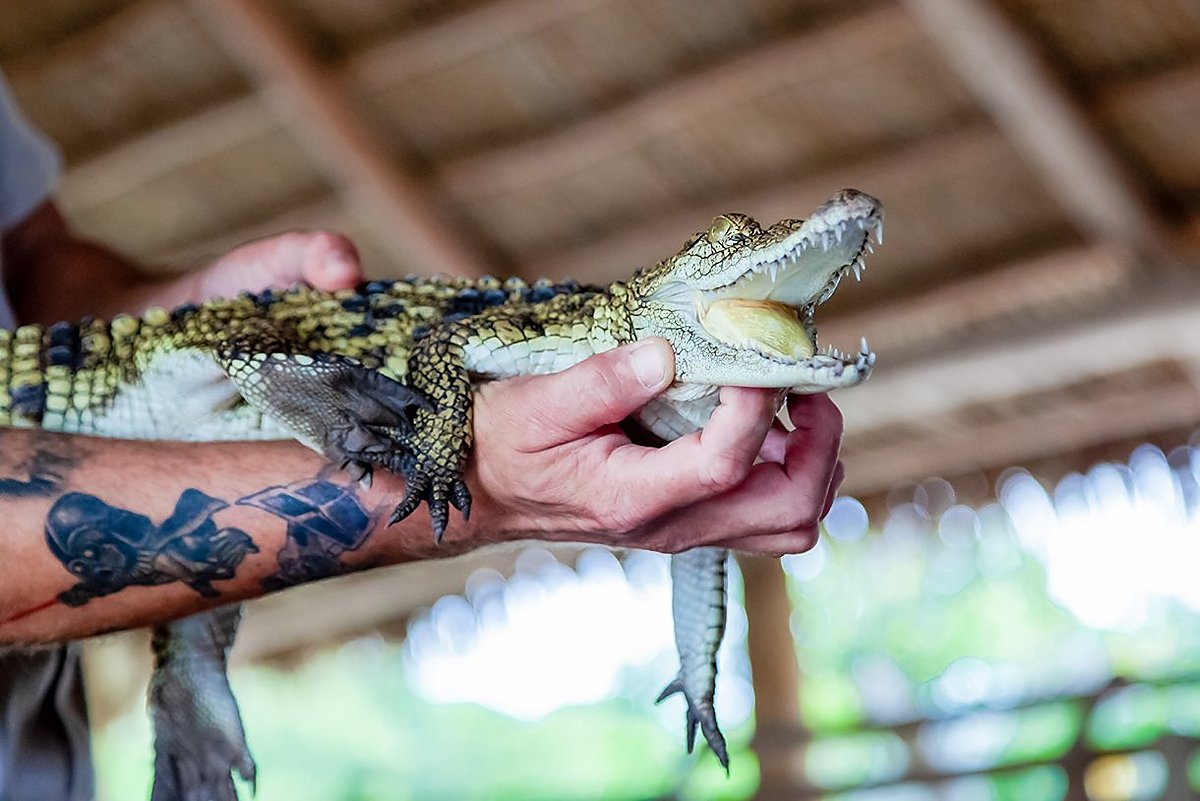 What visitors say about Everglades Alligator Farm:
Visitors have mixed opinions about the Everglades Alligator Farm in Florida. Some guests found the staff friendly and enjoyed the airboat ride, informative shows, and the opportunity to hold a baby alligator. They appreciated the well-maintained grounds and the presence of other animals on site, as well as the gift shop and snack bar. Many families with teens enjoyed their visit, finding the park small enough to explore quickly yet large enough to have a good time.
However, some visitors were concerned about the conditions in which the animals were kept, with reports of alligators piled up and other animals in dirty, cramped enclosures. This led to distress for some guests and their children, who felt compelled to leave the park.
Overall, while many visitors had a positive experience at Everglades Alligator Farm, the welfare of the animals and the ethics of the park remain a concern for some.
Recommended Age: 10+
Tip: Capture your family's adventure with plenty of photos to remember the day. Don't forget to snap some shots during the airboat ride and animal encounters!
7. Mega Jump Trampoline Park
Get ready to jump, flip, and soar at Mega Jump Trampoline Park, Florida's ultimate indoor playground for the entire family. With a wide range of thrilling activities and attractions designed for all ages, this exciting destination offers endless entertainment and a perfect escape from the Florida heat.
At the heart of Mega Jump Trampoline Park is the massive Open Jump Arena, where you can experience the exhilaration of weightlessness as they bounce, flip, and twist on wall-to-wall trampolines. This spacious area offers endless possibilities for jumping fun, ensuring a thrilling experience for first-timers and experienced jumpers alike.
For those looking to test their agility and reflexes, the high-energy Dodgeball Court is the perfect place to be. Team up with friends and family or join other park-goers for an epic game of trampoline dodgeball. The bouncy playing field adds a unique twist to this classic game, providing non-stop action and entertainment for both players and spectators.
Mega Jump Trampoline Park offers a thrilling and unforgettable experience for families in search of fun and adventure in Florida. With its diverse range of attractions and activities seamlessly integrated into the park's layout, there's something to keep everyone entertained and engaged, regardless of age or skill level.
Recommended Age: 6+
Tip: Non-slip jump socks are required for all jumpers. These special socks provide grip and help prevent accidents on the trampolines.
8. Zoo Miami, South Florida
Get ready for a day of discovery and excitement at Zoo Miami, Florida's largest and oldest zoological garden. Home to over 3,000 animals from all corners of the globe, this sprawling wildlife park offers a unique opportunity for families to embark on a fun-filled, educational adventure. With immersive exhibits, engaging animal encounters, and exciting activities, a visit to Zoo Miami promises to be a memorable experience for kids and adults alike.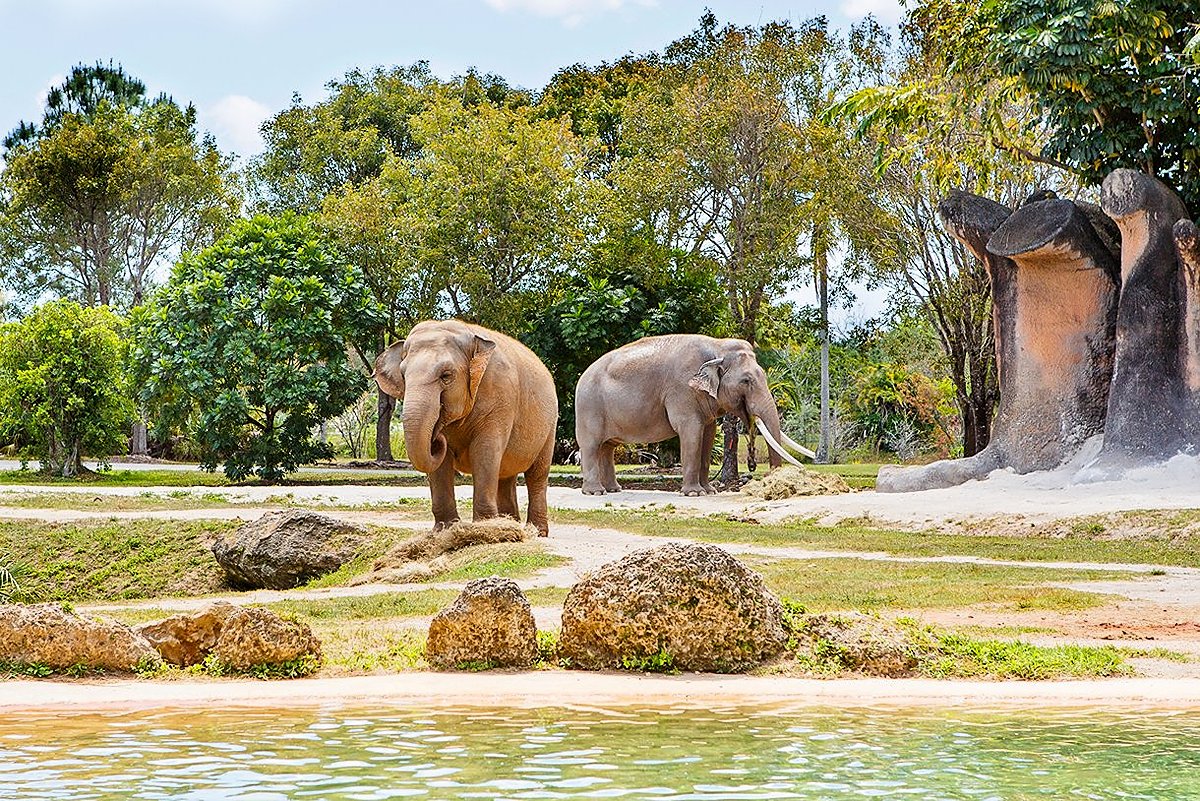 Designed specifically with young visitors in mind, the Children's Zoo offers a range of interactive activities that promote learning and play. Kids can get up close with friendly animals, such as goats and llamas, at the petting zoo, or explore the whimsical playground, complete with rope bridges, slides, and a splash pad.
Zoo Miami offers a variety of animal encounters, providing unique opportunities for children to interact with their favorite creatures. From hand-feeding giraffes to getting up close with rhinos, these experiences foster a deeper connection with the natural world and inspire a love for wildlife conservation.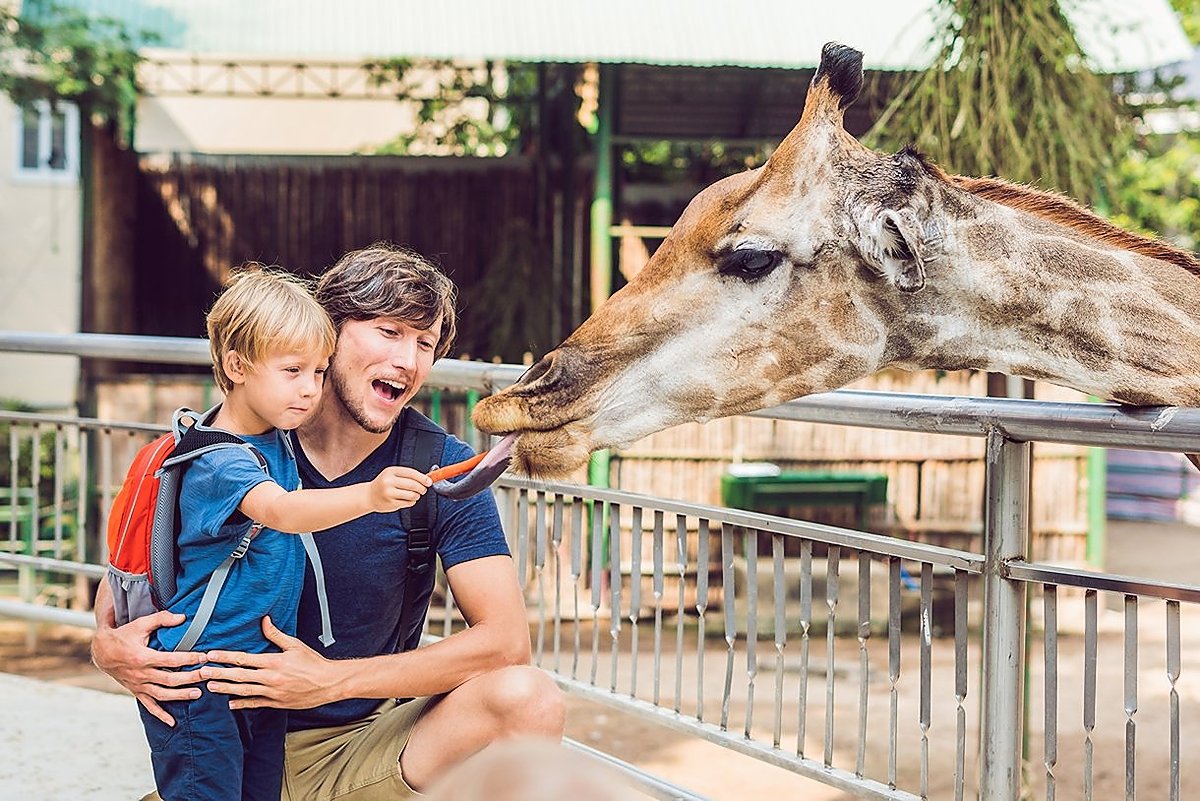 Zoo Miami offers an unparalleled family adventure, with its diverse range of exhibits, interactive experiences, and activities designed to entertain and educate children of all ages. So, gather the family and head to Zoo Miami for a day of wildlife exploration, where memories and newfound knowledge will be cherished for years to come.
What visitors say about Zoo Miami:
Visitors to Zoo Miami have many positive things to say about their experience. They appreciate the beautiful, relaxing environment and the well-kept animals in large, open habitats, many without cages and bars. The zoo is large enough that even on busy days, it doesn't feel overcrowded. Guests also mention clean restrooms and air-conditioned rooms for when they need a break from the heat.
Families enjoy the variety of animals, habitats, and experiences available, with the crocodile tunnel being a highlight for many children. The dining options receive good reviews, catering to all ages and tastes, with meal and souvenir packages available for kids.
Some visitors opted for the VIP Zoo Tour, which they found to be an excellent experience. The knowledgeable and friendly guides, comfortable golf carts, and the opportunity to see many exhibits in a shorter time make the VIP tour a popular choice. Guests compare Zoo Miami favorably to other renowned zoos, praising its cleanliness, well-maintained exhibits, and friendly staff.
Overall, Zoo Miami offers an enjoyable and educational experience for visitors of all ages, with many planning to return for future visits.
Recommended Age: 2+
Tip: To help little ones navigate the zoo comfortably, consider renting a stroller or wagon for the day.
9. John Pennekamp Coral Reef State Park
Venture into the captivating realm of John Pennekamp Coral Reef State Park, an extraordinary underwater sanctuary nestled in Key Largo, Florida. As the first undersea park in the United States, established in 1963, this awe-inspiring location spans more than 70 nautical square miles of coral reefs, seagrass beds, and mangrove forests. With its thriving marine ecosystem, John Pennekamp Coral Reef State Park invites you to grab your snorkel gear and dive into the vivid underwater world that awaits.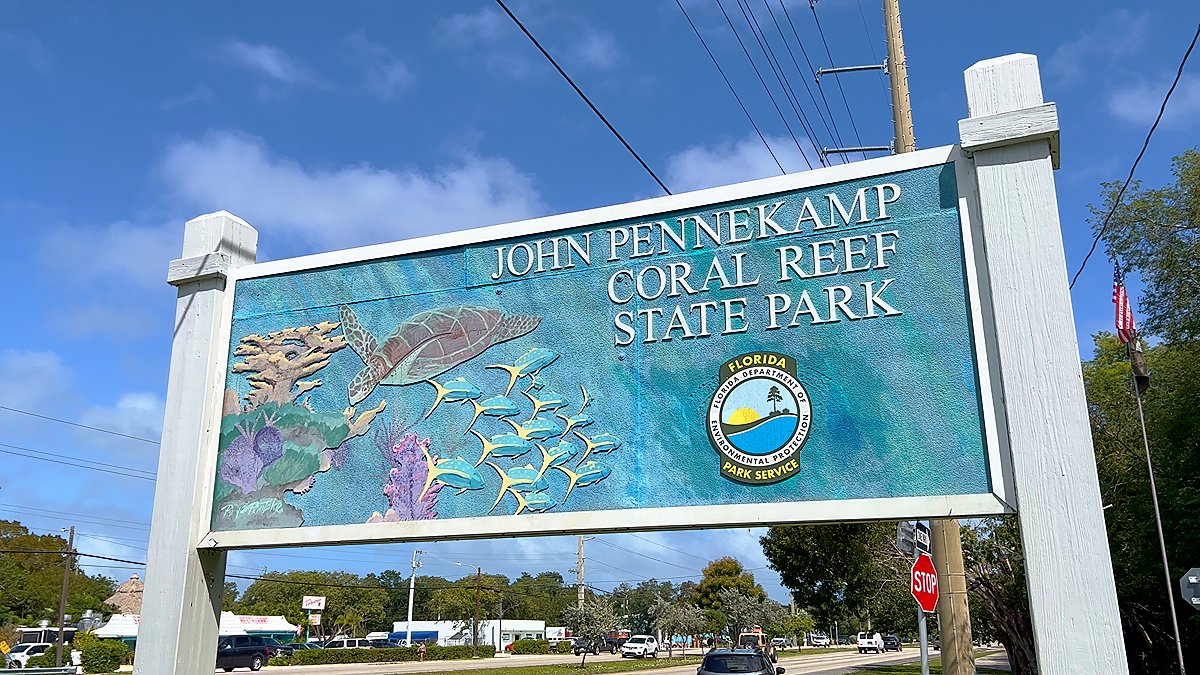 The crown jewel of John Pennekamp Coral Reef State Park is undoubtedly its vibrant coral reefs, which host a diverse array of marine life. From vivid tropical fish and elegant sea turtles to the delicate corals themselves, the park's underwater marvels offer a dreamlike experience for snorkelers and divers alike. Visitors can embark on guided snorkeling or scuba diving excursions, which depart from the park's visitor center daily.
For those who'd rather stay on the surface, the park provides glass-bottom boat tours, offering an exceptional perspective into the mesmerizing marine world below. As the boat glides across the pristine waters, passengers can admire the striking coral structures and the myriad of aquatic species that inhabit them.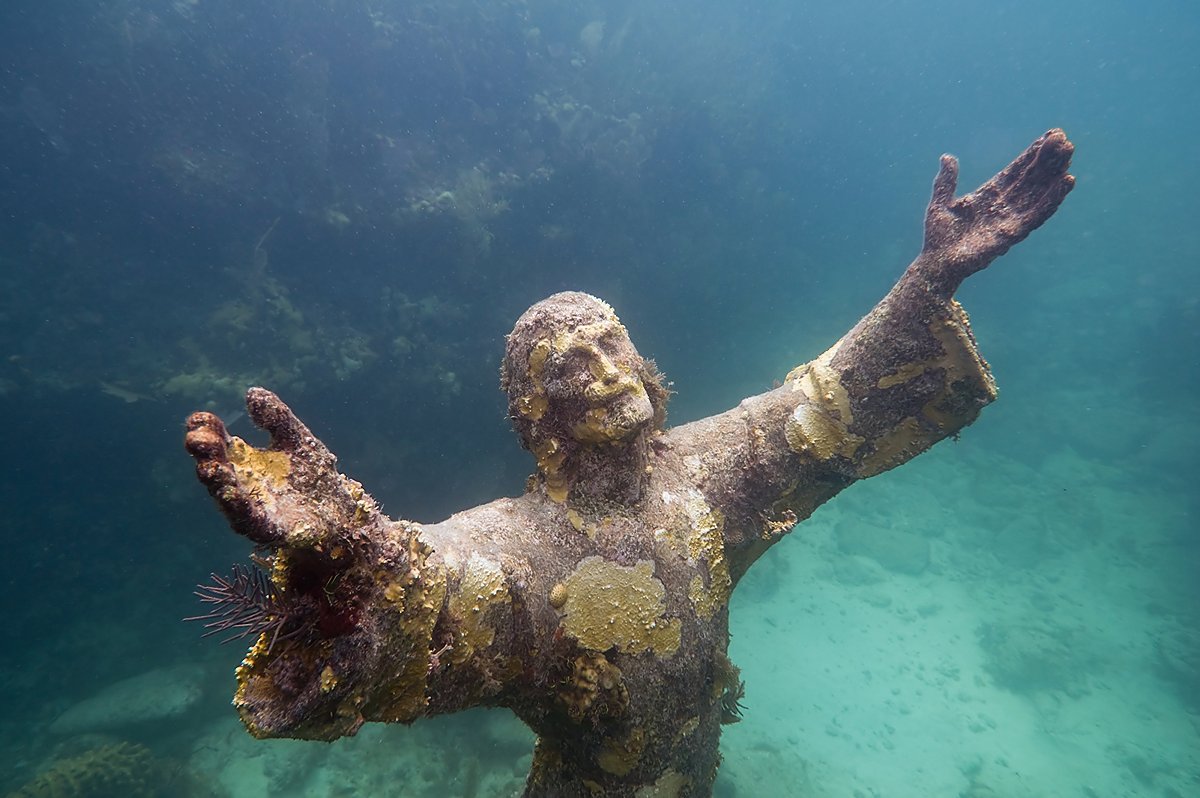 For a more leisurely experience, the park is home to two stunning beaches, Far Beach and Cannon Beach. These picturesque spots are perfect for swimming, sunbathing, or enjoying a scenic picnic. Make sure to visit the park's visitor center, which houses interactive exhibits, aquariums, and informative displays about the park's history and ecology.
Tip: If you're planning to snorkel or dive, remember to bring or rent the necessary equipment, such as masks, fins, and wetsuits if required.
10. Jungle Island — Miami
Discover a tropical paradise in the heart of Miami at Jungle Island, an extraordinary eco-adventure park that celebrates the beauty and diversity of nature. Nestled between downtown Miami and South Beach, this lush oasis offers a unique blend of thrilling animal encounters, engaging exhibits, and immersive experiences for the entire family.
As you meander through the winding paths of Jungle Island, you'll encounter an incredible array of animals from around the world. The park is home to a diverse collection of species, including majestic tigers, vibrant parrots, and playful lemurs. Be sure not to miss the park's famous winged wonders, like the Andean condor and the rare cassowary. With expert animal keepers on hand to share fascinating facts and stories, you'll gain a deeper understanding of these remarkable creatures and the importance of conservation efforts.
At Jungle Island, immersive experiences abound. Get up-close and personal with friendly Australian red kangaroos at the Kangaroo Konnection, or marvel at the intelligence of primates in the park's Orangutan School. For a truly memorable encounter, sign up for one of the park's VIP animal tours, where you'll have the chance to interact with some of the most beloved residents, such as the adorable two-toed sloths.
For thrill-seekers, Jungle Island offers an array of adrenaline-pumping activities. Test your balance and agility at the Tree Walk Village, an aerial adventure course featuring rope bridges, zip lines, and climbing nets. Or take a leap of faith on the SuperFlight, an exhilarating wind tunnel experience that simulates the sensation of skydiving.
Jungle Island is not just about the animals. The park also boasts lush botanical gardens filled with vibrant tropical plants, cascading waterfalls, and scenic trails. As you stroll through these enchanting spaces, you'll be transported to a world of tranquility and natural beauty.
Recommended Age: 2+
Tip: Wear comfortable walking shoes and weather-appropriate clothing. The park's lush environment can be hot and humid, so lightweight, breathable clothing is recommended.
11. Miami Children's Museum
Located on beautiful Watson Island, the Miami Children's Museum is a treasure trove of engaging, hands-on exhibits designed to spark the curiosity and imagination of young minds. This vibrant, interactive space offers 56,000 square feet of exploration, learning, and fun for children and families alike. With a wide array of exhibits, activities, and special events, the Miami Children's Museum is a must-visit destination that guarantees a memorable and educational experience for children of all ages.
Innovative Exhibits and Interactive Play: The Miami Children's Museum features a variety of interactive exhibits designed to entertain, educate, and inspire. From exploring the wonders of the ocean in the Ocean Odyssey exhibit to discovering the world of art in the Art Studio, there is something to captivate every child's interests.
At the Health & Wellness Center, kids can learn about the importance of maintaining a healthy lifestyle, while the Construction Zone offers an opportunity to try their hand at building structures using various materials. The Pet Central exhibit introduces children to the responsibilities of pet ownership, and the Sketch Aquarium allows kids to design their own sea creatures and watch them come to life on a digital screen.
For younger visitors, the museum's Mini-Me exhibit offers a specially designed, safe space for infants and toddlers to play and learn. In this area, little ones can enjoy age-appropriate toys, sensory experiences, and an interactive, child-sized village.
Recommended Age: 6+
12. Miami Seaquarium
Embark on a thrilling aquatic adventure at Miami Seaquarium, South Florida's premier marine-life park. Situated on the picturesque island of Virginia Key, this 38-acre oceanarium offers a fun-filled, educational experience for the entire family. With a diverse range of marine species, interactive exhibits, and exciting shows, Miami Seaquarium promises an unforgettable journey into the captivating world of marine life.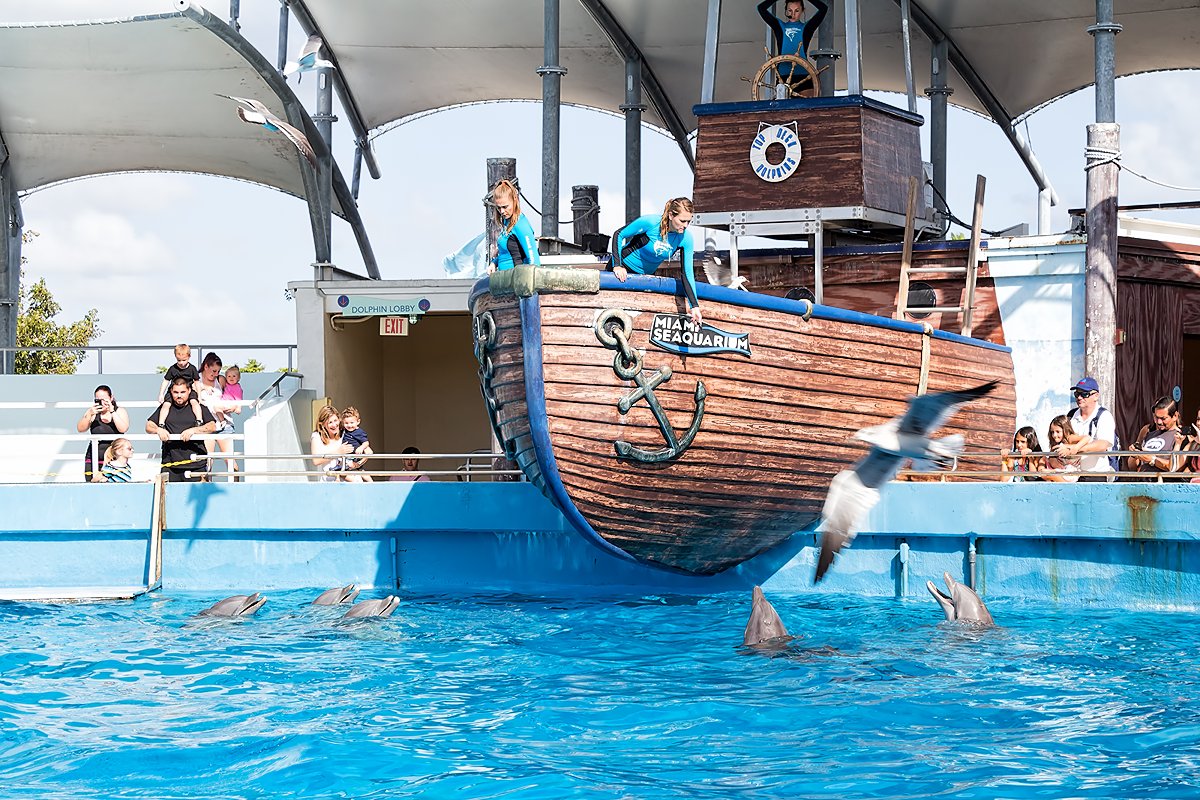 At Miami Seaquarium, visitors have the opportunity to get up close and personal with a variety of amazing marine creatures. From playful dolphins and majestic sea turtles to graceful stingrays and vibrant tropical fish, the oceanarium is home to a wide array of marine life waiting to be discovered. Don't miss the chance to see Lolita, the park's resident orca, who has been delighting audiences for decades with her incredible performances and undeniable charisma.
The park offers an array of interactive exhibits that allow you to learn more about the fascinating creatures that inhabit our oceans. Explore the tropical reef exhibit, where you can admire the stunning coral formations and colorful fish that thrive in these delicate ecosystems. In the Shark Channel, you can witness the awe-inspiring power of these misunderstood predators during feeding sessions.
Miami Seaquarium also features a lineup of spectacular shows, starring its talented marine residents. Be amazed by the acrobatics of the dolphins at the Top Deck Dolphin Show, or laugh along with Salty the Sea Lion and his friends during their entertaining and educational performances.
For an even more immersive experience, Miami Seaquarium offers a range of animal encounters and interactive programs. Sign up for a Dolphin Encounter, where you can wade into the water and interact with these intelligent and friendly creatures. Alternatively, join the Sea Trek Reef Encounter, which allows you to don a diving helmet and walk along the bottom of the park's coral reef exhibit, surrounded by a myriad of tropical fish.
Recommended Age: 6+
Which Part of Florida Is Best for Families?
When it comes to Florida, there are plenty of amazing locations for families to choose from. Among them, Tampa and Clearwater, which are situated on the west coast of Florida, feature some of the best beaches in the state. Clearwater boasts a family-friendly atmosphere and a wealth of activities to do for kids of all ages.
Meanwhile, Tampa, with its sea life aquarium and amusement parks, offers something unique for families. On the other hand, Orlando is another great location for families. As the home to iconic theme parks such as Disney World, Universal Studios, and SeaWorld, Orlando provides plenty of fun and entertainment options. However, families looking for more of a city vibe should consider Miami. With its vibrant culture, gorgeous beaches, and various museums and attractions, Miami offers families the ultimate city break. Overall, families can't go wrong with any of these cities, depending on what type of vacation they are looking for.