Best Hilton Beach Resorts in Florida 2023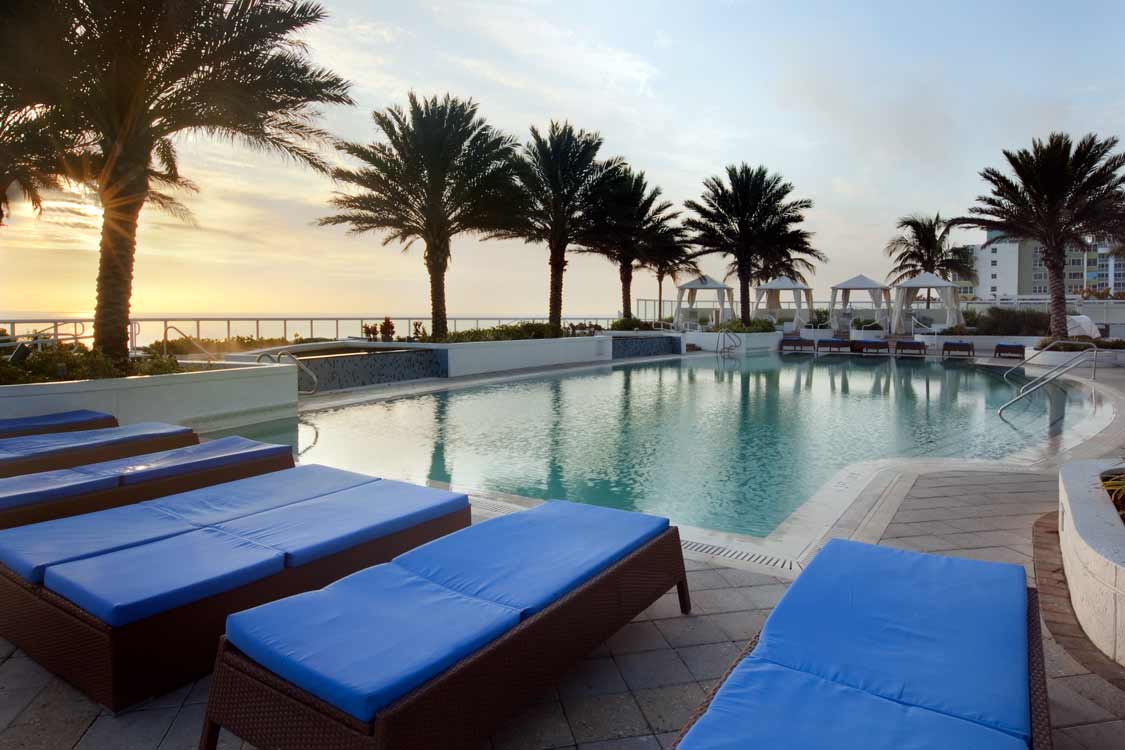 Fort Lauderdale Beach Resort - Photo courtesy of Hilton
Florida always makes for a great beach vacation. There's nothing like escaping the brisk cold and taking a trip to the Sunshine State. If you're loyal to the Hilton brand, you may be in search of a Hilton beach resort on the beautiful Florida coast. Whether you're looking to spend points or cash, there are plenty of great beachfront options to choose from. So grab your shades and a swimsuit and visit one of the lovely Hilton locations in Florida.
11 Incredible Hilton Beach Resorts in Florida
1. Casa Marina - A Waldorf Astoria Resort
Key West, Florida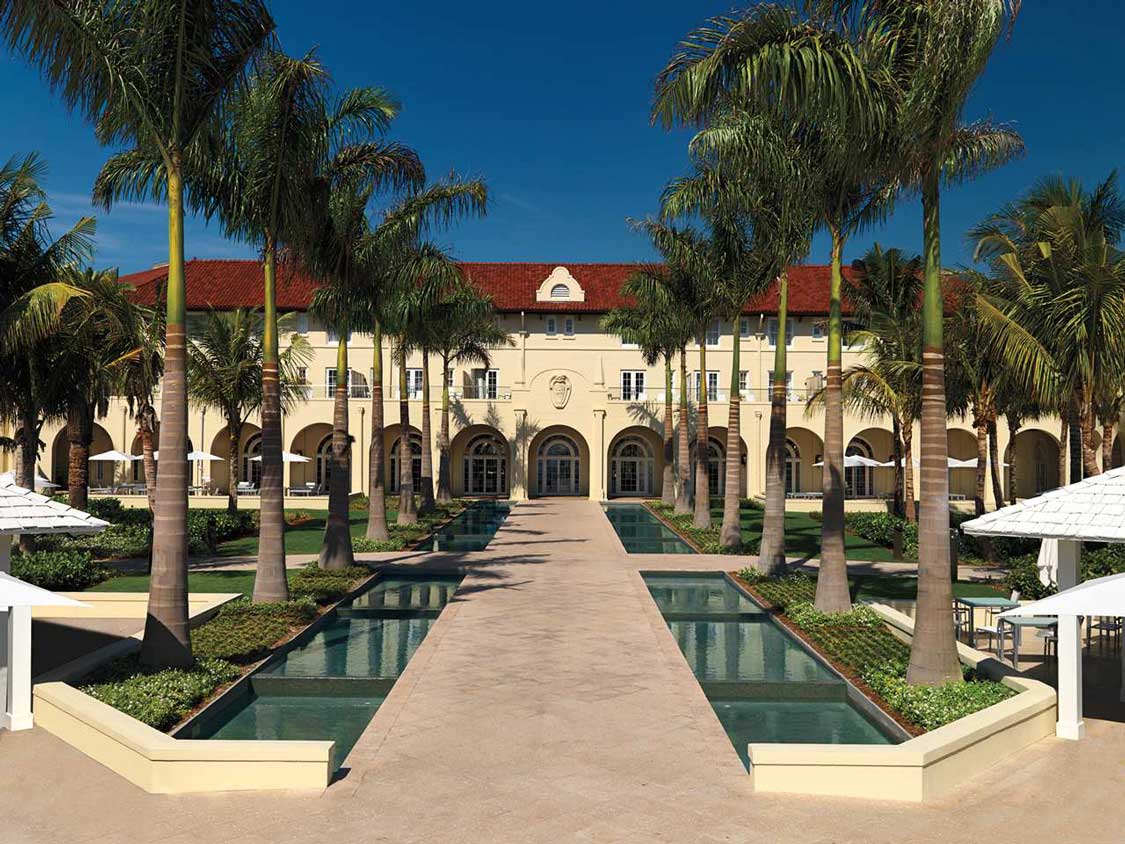 The Casa Marina is a Mediterranean inspired luxurious hotel built in the 1920s. This property is full of rich history. The grounds that surround the hotel are gorgeous and well-manicured. This property is a quick ten-minute walk to Duval street where all the action is. The hotel also boasts a full-service spa where guests can enjoy massage treatments and other relaxation therapies. Casa Marina provides an ideal setting for romantic getaways or family vacations with its warm hospitality and top-notch service.
Two outdoor pools, Spa services, Water sports, Private beach area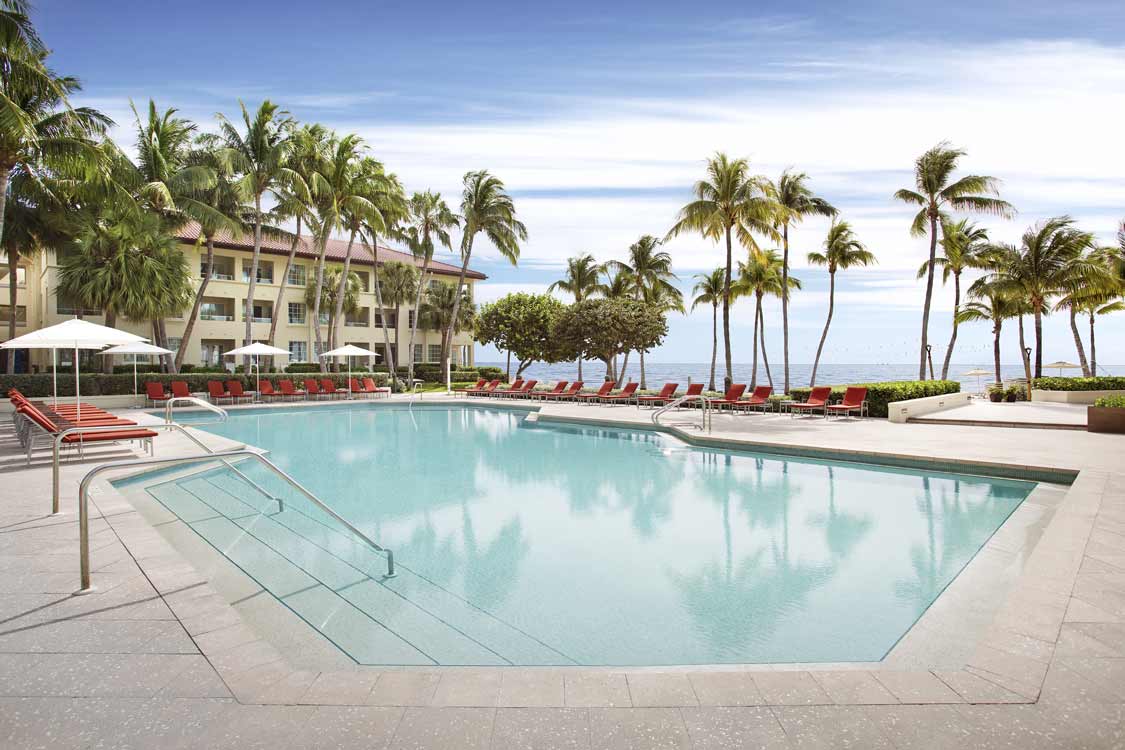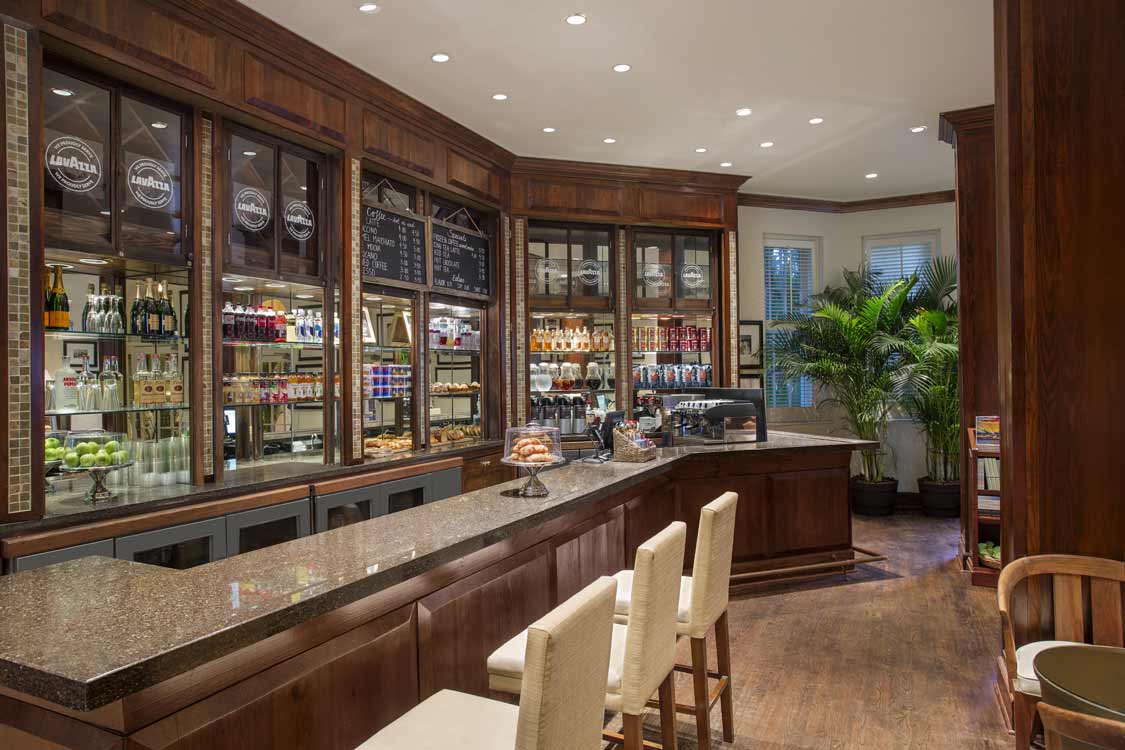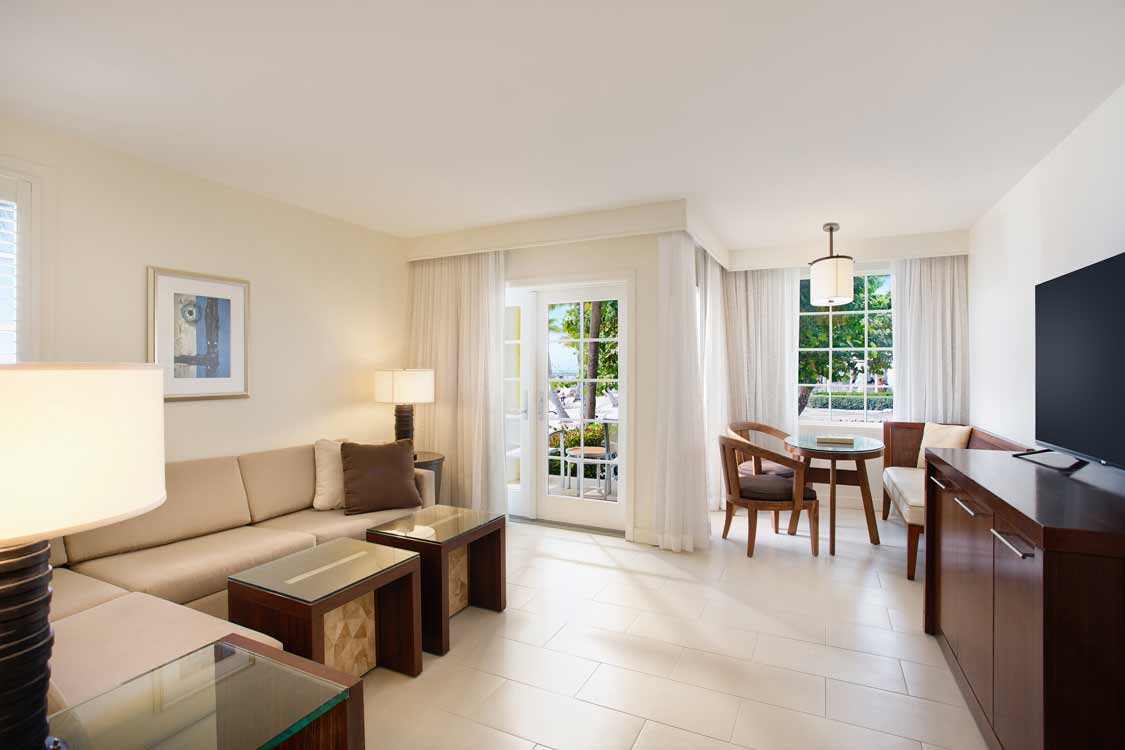 Photos courtesy of Hilton
2. The Diplomat Beach Resort - Curio Collection
Hollywood, Florida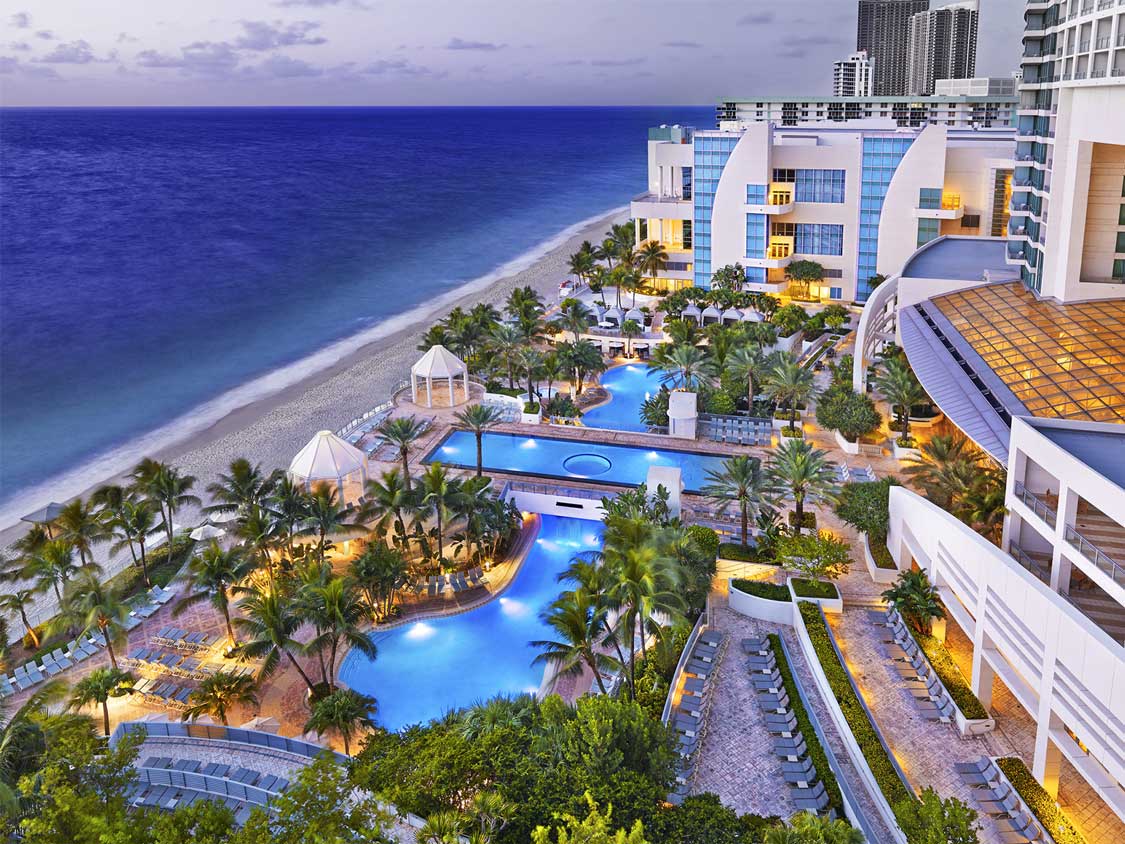 With a Kids Club and water park on site, The Diplomat is a great resort for traveling families. An easily accessible trolley stop outside the hotel will whisk you up and down the boardwalk to see nearby attractions. If you're not looking to go far, relax and enjoy a poolside beverage.
Beachfront pools, Spa services, Water sports available, Fitness Center, Kid's Club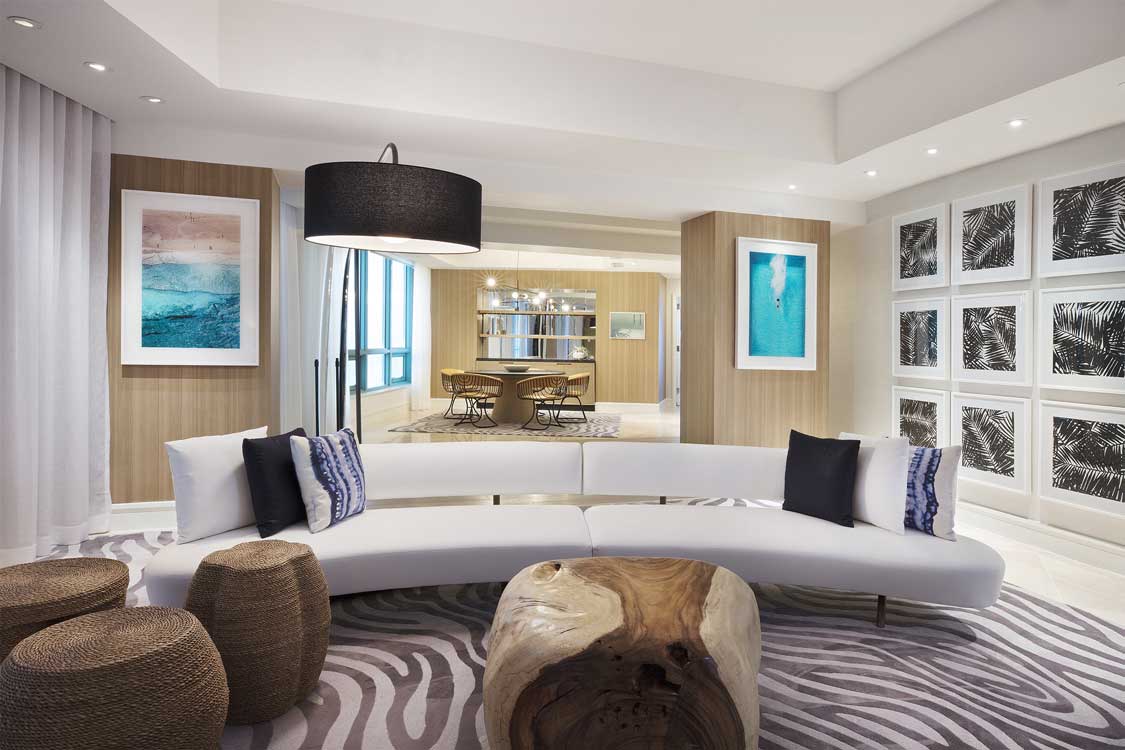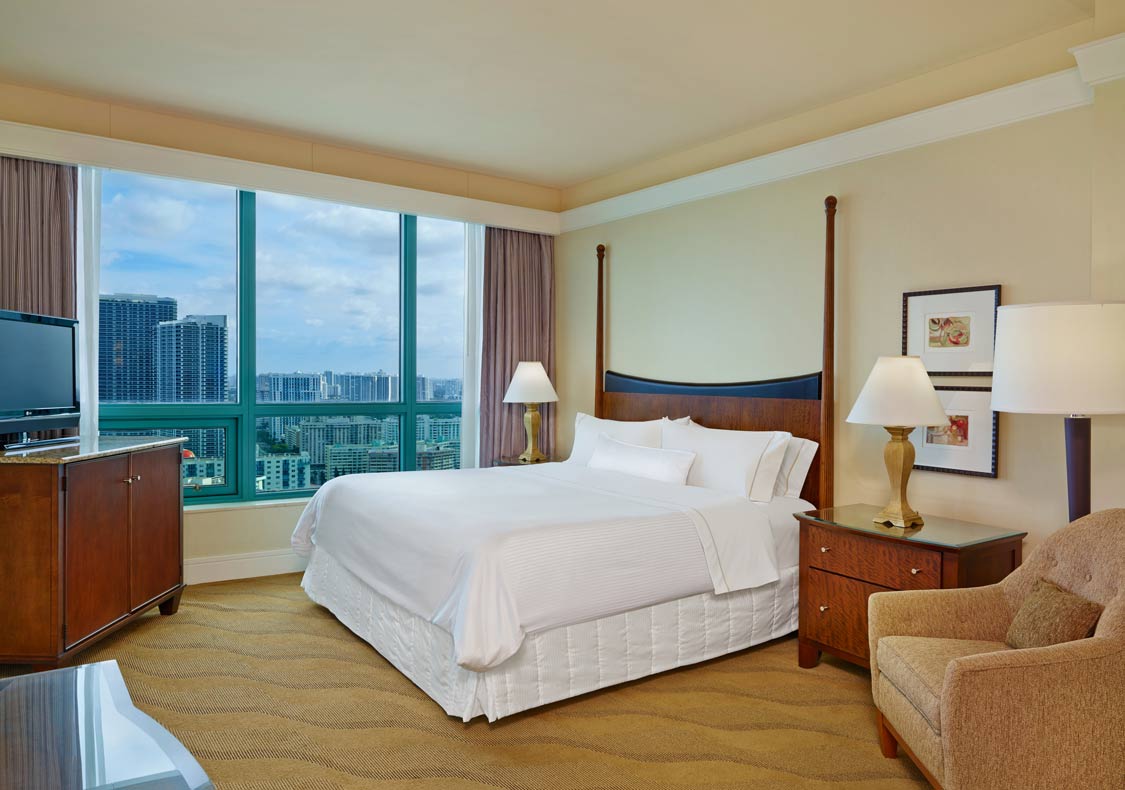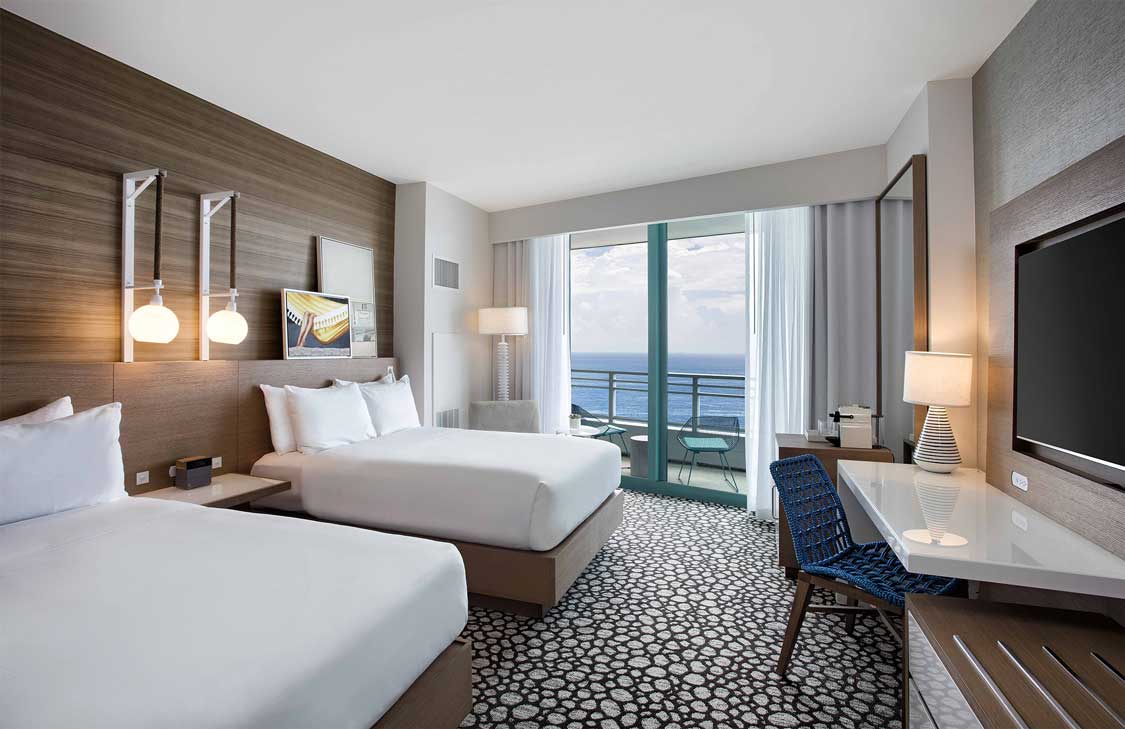 Photos courtesy of Hilton.com

3. Doubletree Hollywood Beach Resort
Hollywood, Florida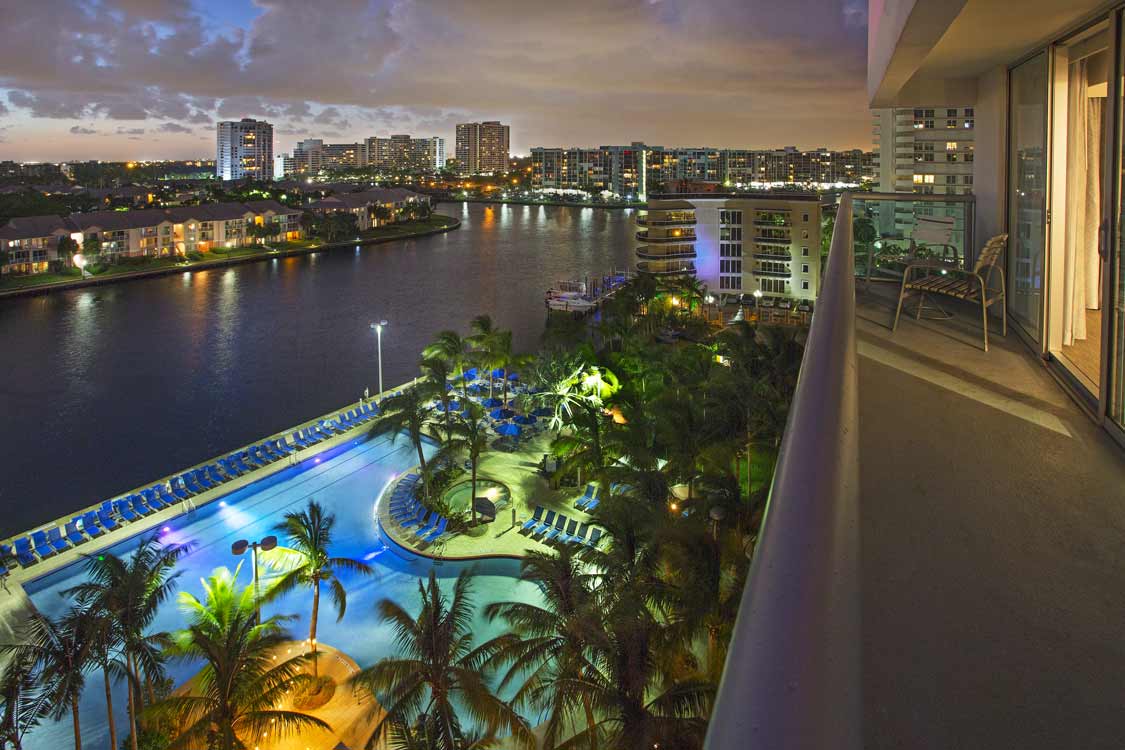 This Doubletree Resort on Hollywood Beach sports a large pool and generous sized rooms with furnished balconies. A convenience store is located right next to the property which is quite handy. The resort has a great gym, equipped with everything you wish.
With searching, I was able to find rooms for as low as 28,000 Hilton points a night. Of course, rates are subject to change. Breakfast is included for Hilton Gold and Diamond members.
Fitness Center, Infinity Pool, Tiki Bar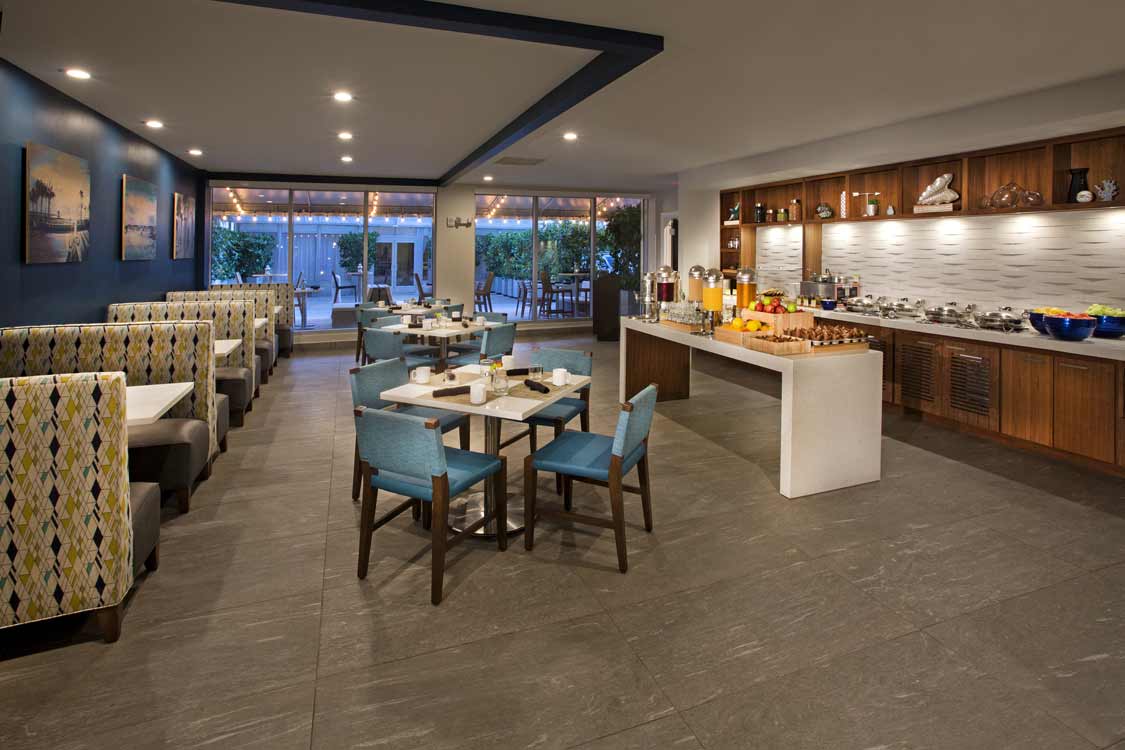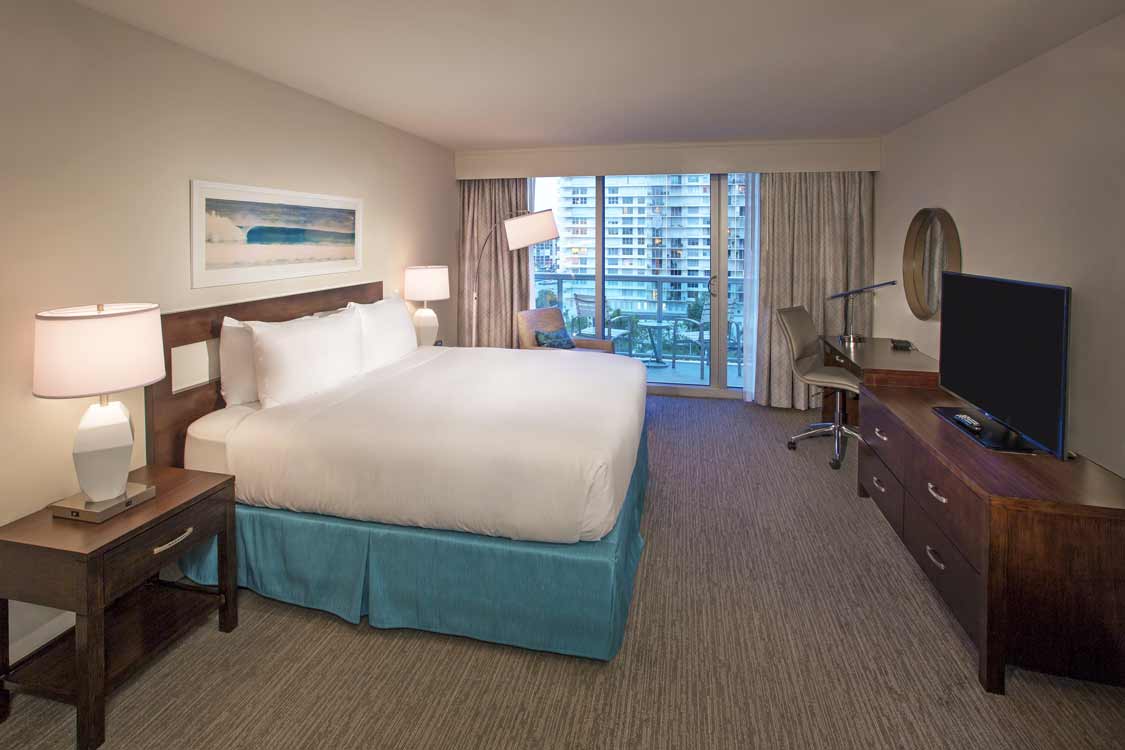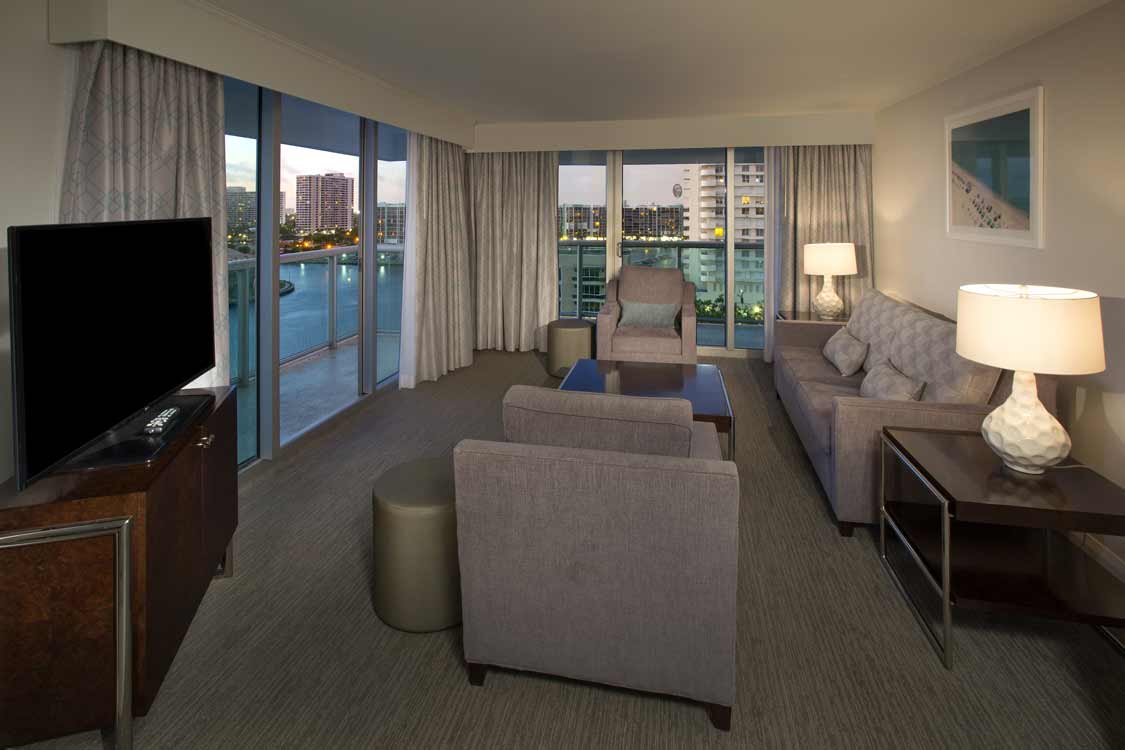 Photos courtesy of Hilton

4. Hilton Fort Lauderdale Beach Resort - With a great Ocean View
Fort Lauderdale, Florida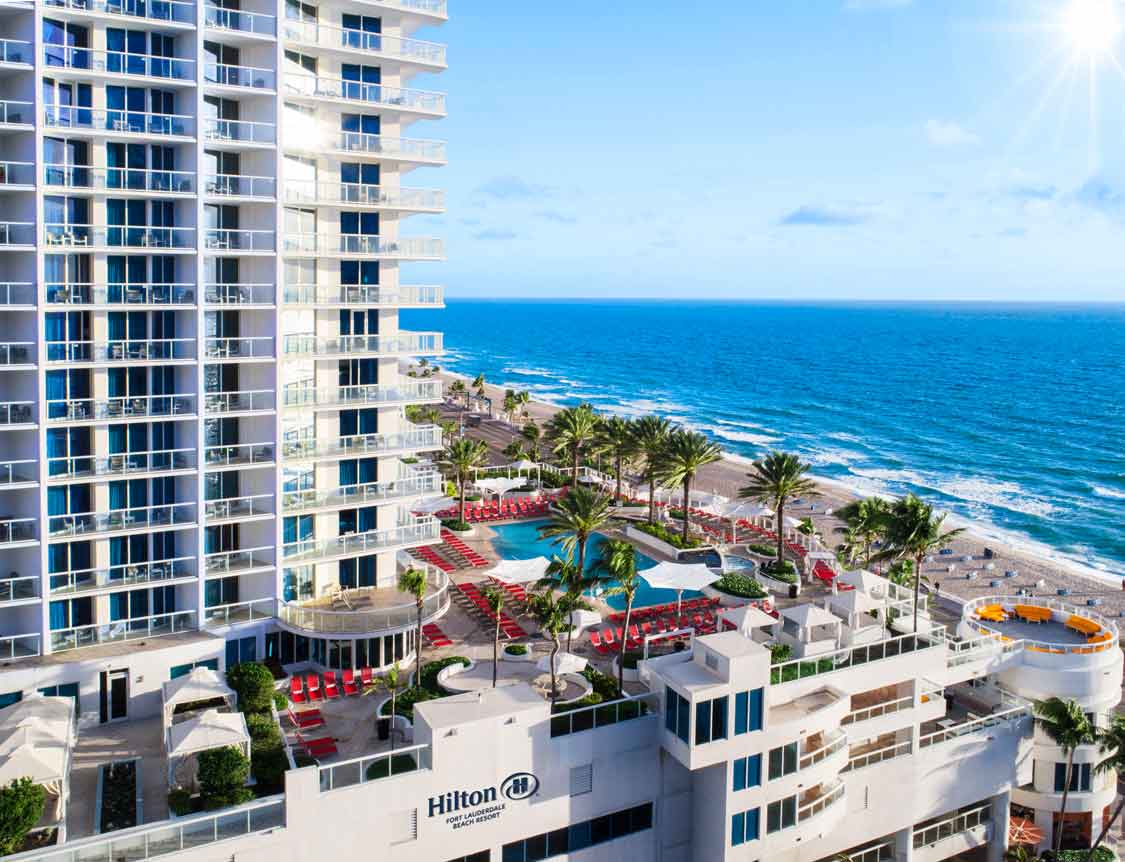 This property features larger guest rooms and suites. You can enjoy views of the ocean or Intercoastal Waterway from a furnished balcony. Some rooms even have spacious, fully equipped kitchens. There's no need to worry about beach chairs or towels, they're included with your resort fee. Continental breakfast is offered to Hilton Gold and Diamond members. In my experience, the service here has been exceptional.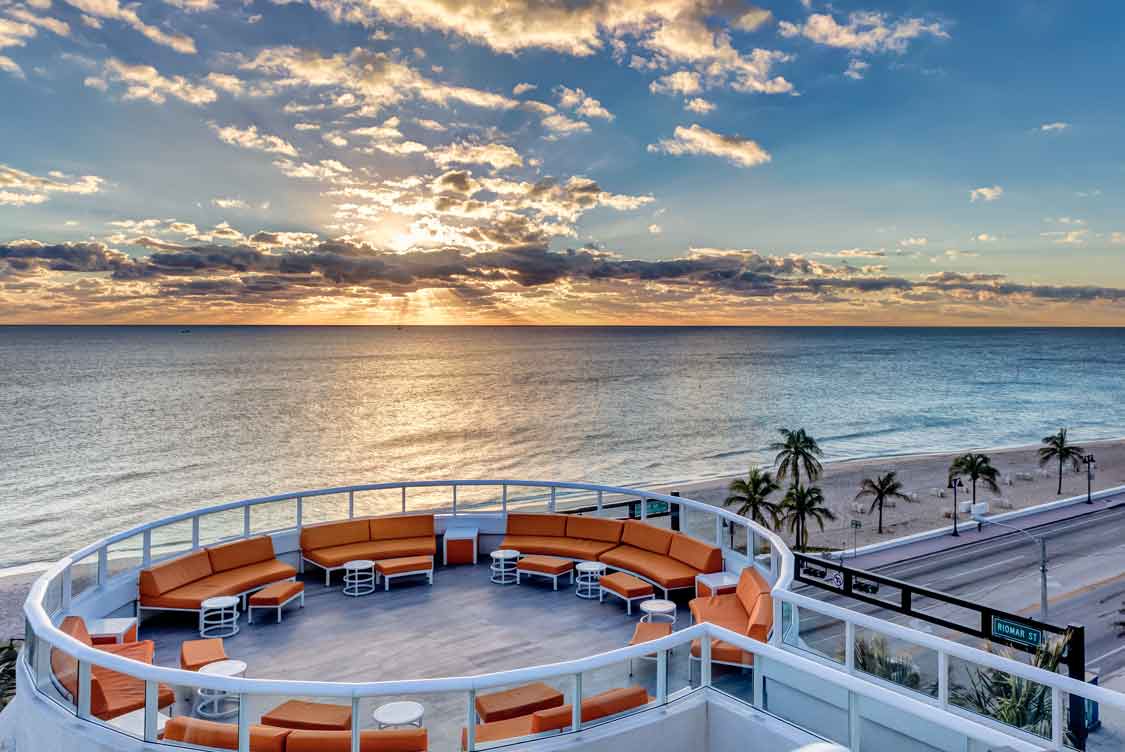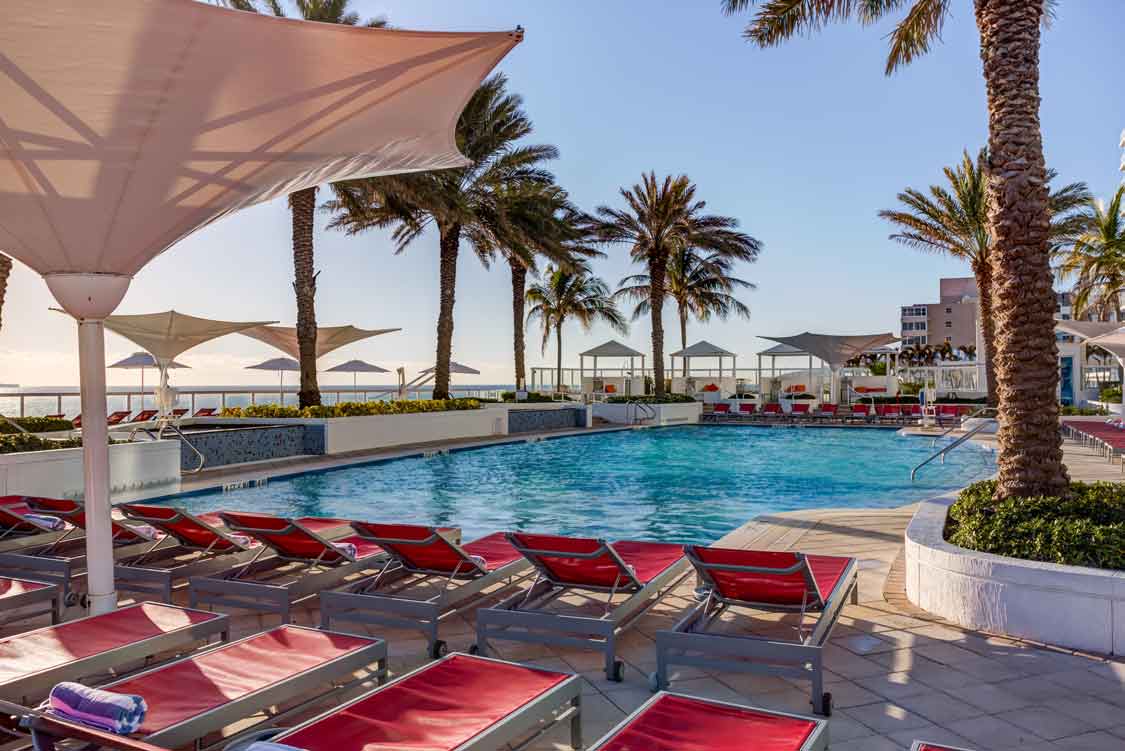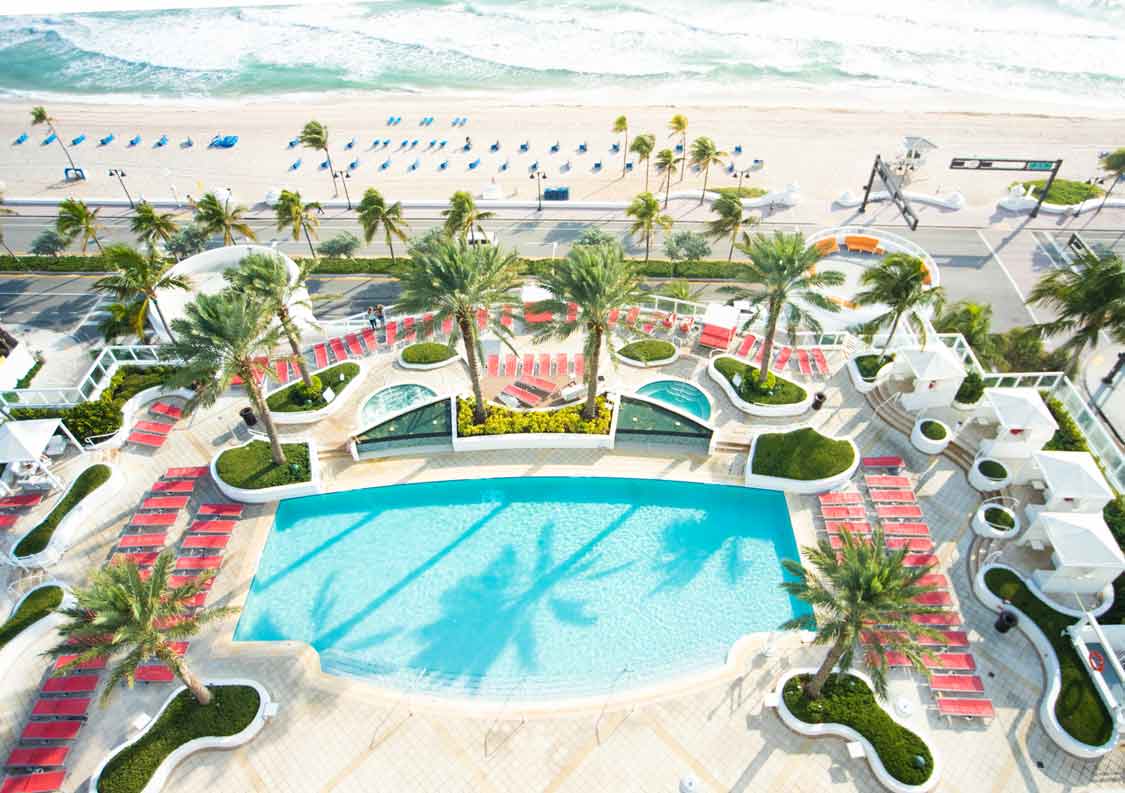 Photo courtesy of Hilton

5. Conrad Fort Lauderdale Beach - Luxurious Resort - Worthy Five Stars
Fort Lauderdale, Florida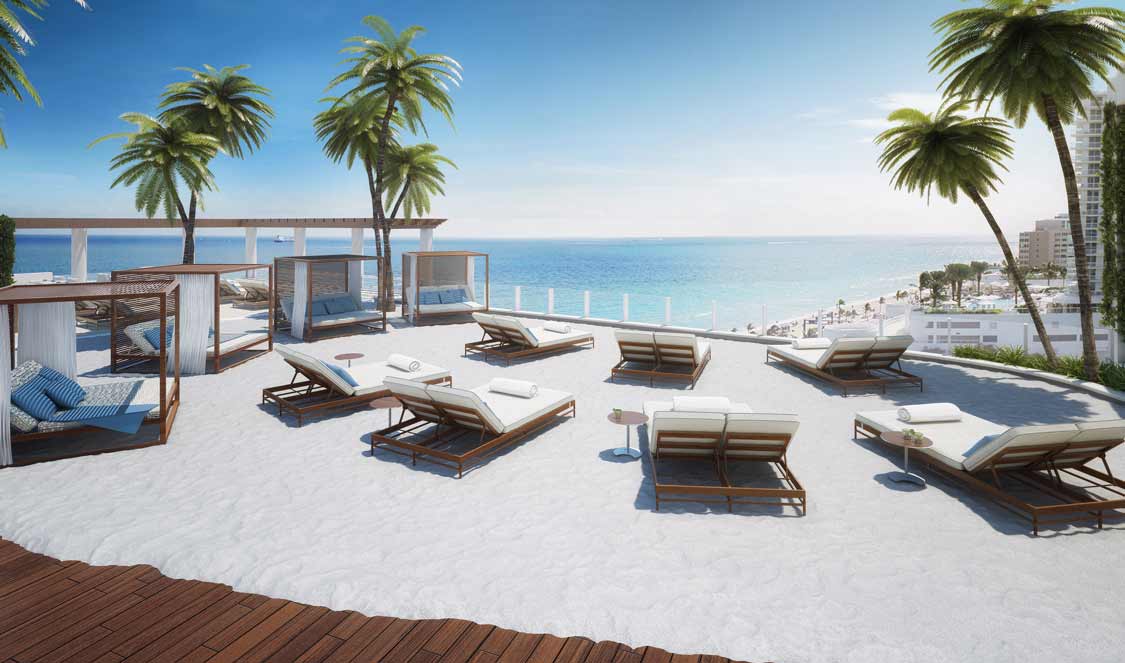 The Conrad is an elegant, luxurious resort in Fort Lauderdale. At the Conrad you'll enjoy large rooms, deep soaking tubs, and gourmet kitchens. The rooms are modern and thoughtfully designed. This is a great resort for couples seeking a romantic getaway. The included beach chairs and umbrellas are a nice perk as the sun gets very hot in Florida. Hilton Gold and Diamond members are offered a $20 food and beverage voucher per guest each day.
Spa Services, Jacuzzi, Luxury Hotel, Beach Umbrella/Chairs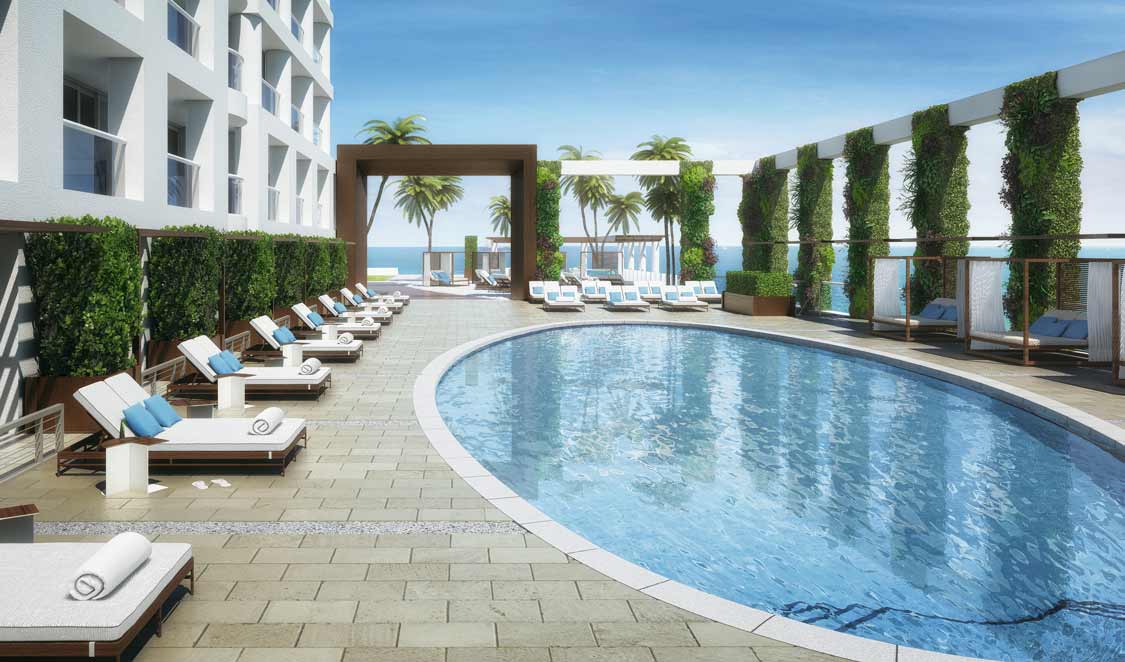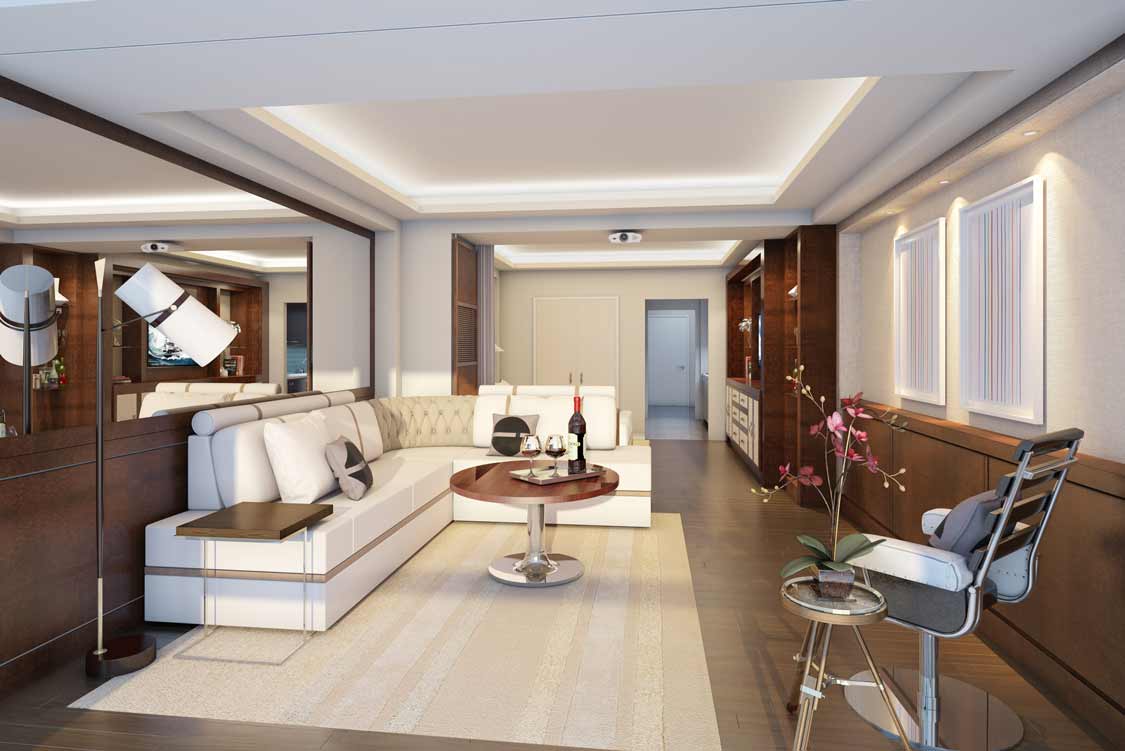 Photo courtesy of Hilton

6. Boca Raton Beach Club - A Waldorf Astoria Resort
Boca Raton, Florida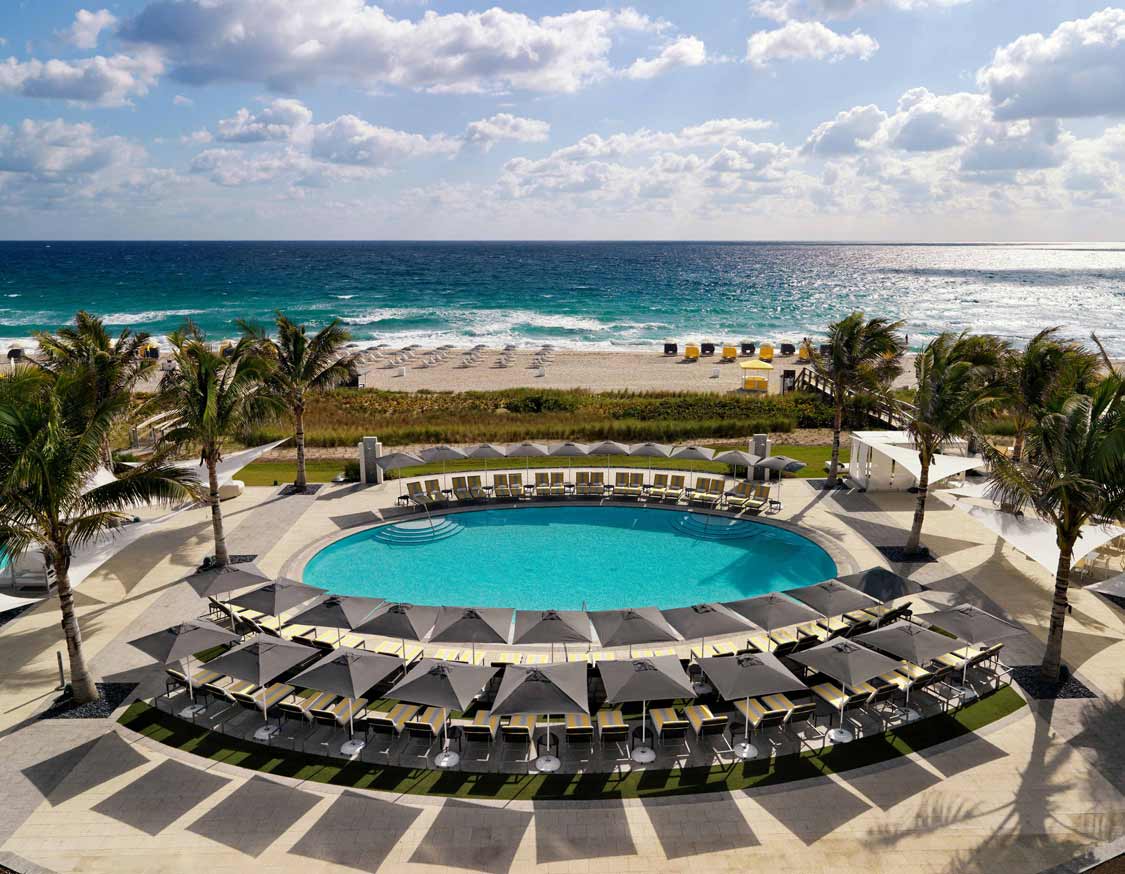 The Boca Raton Beach Club features a top-rated spa, gorgeous rooms, golf, and several swimming pools. You'll have plenty to do on this beach escape in Florida. Rates for this resort tend to be a bit higher than the other properties. The Boca Raton Beach Club is a highly rated resort with everything you need for a fantastic vacation.
Top-rated Spa, Luxury, Golf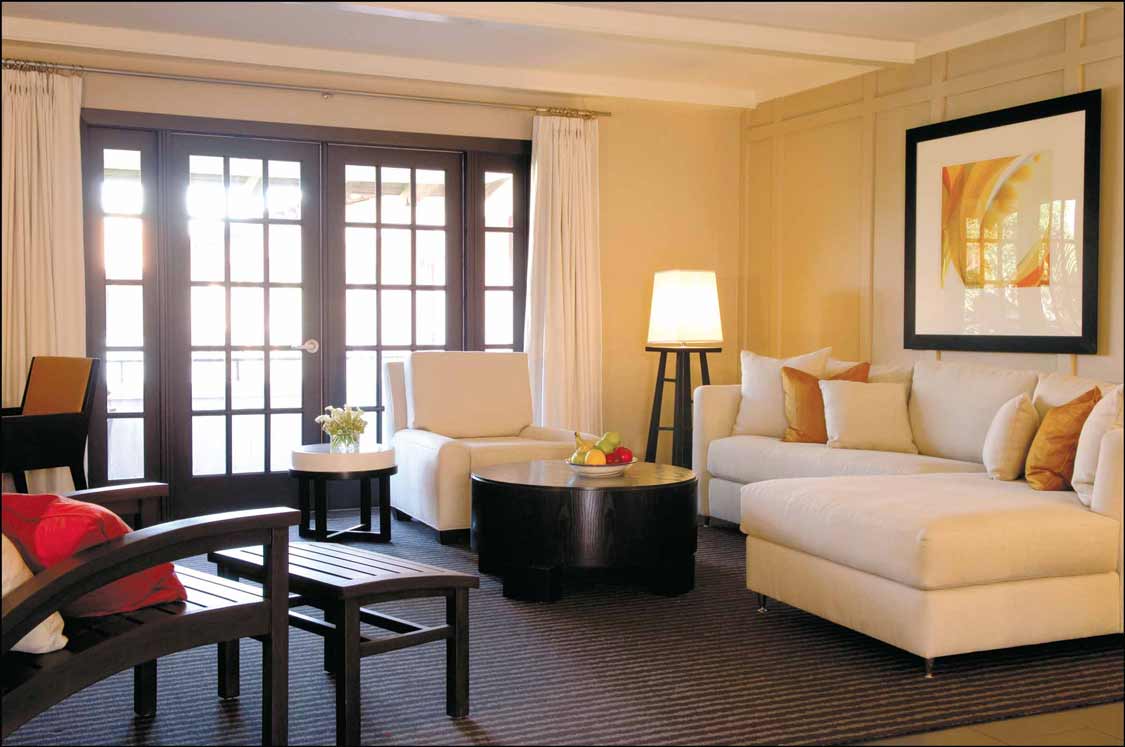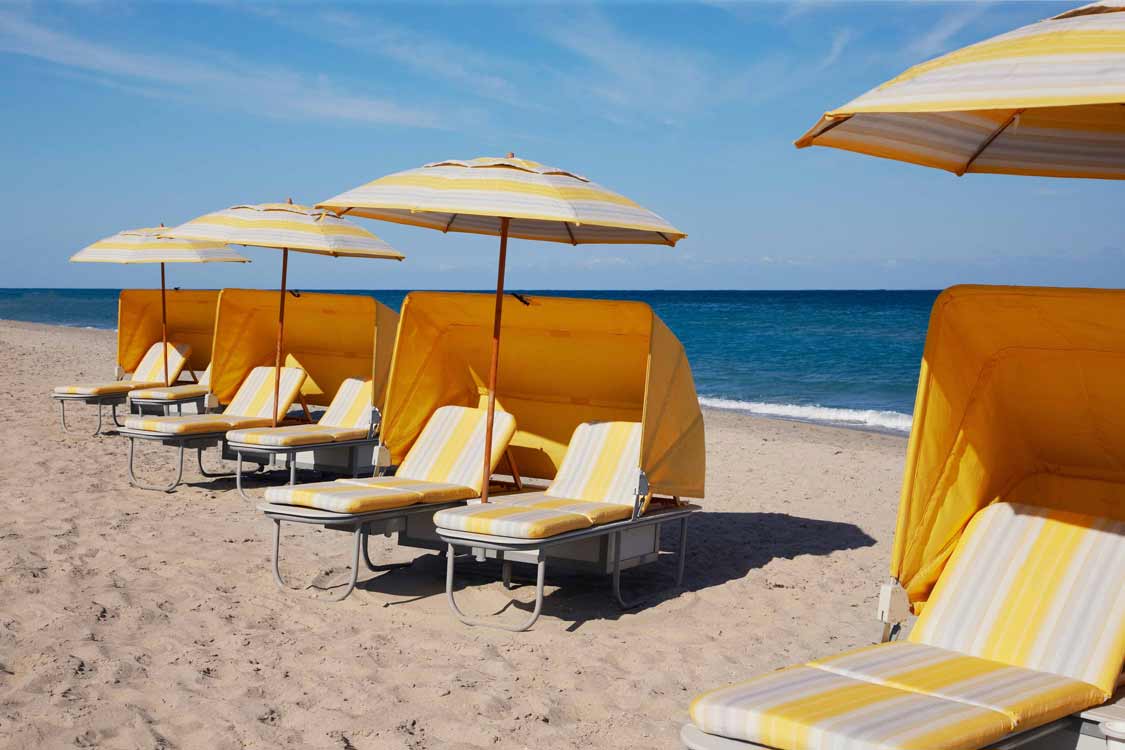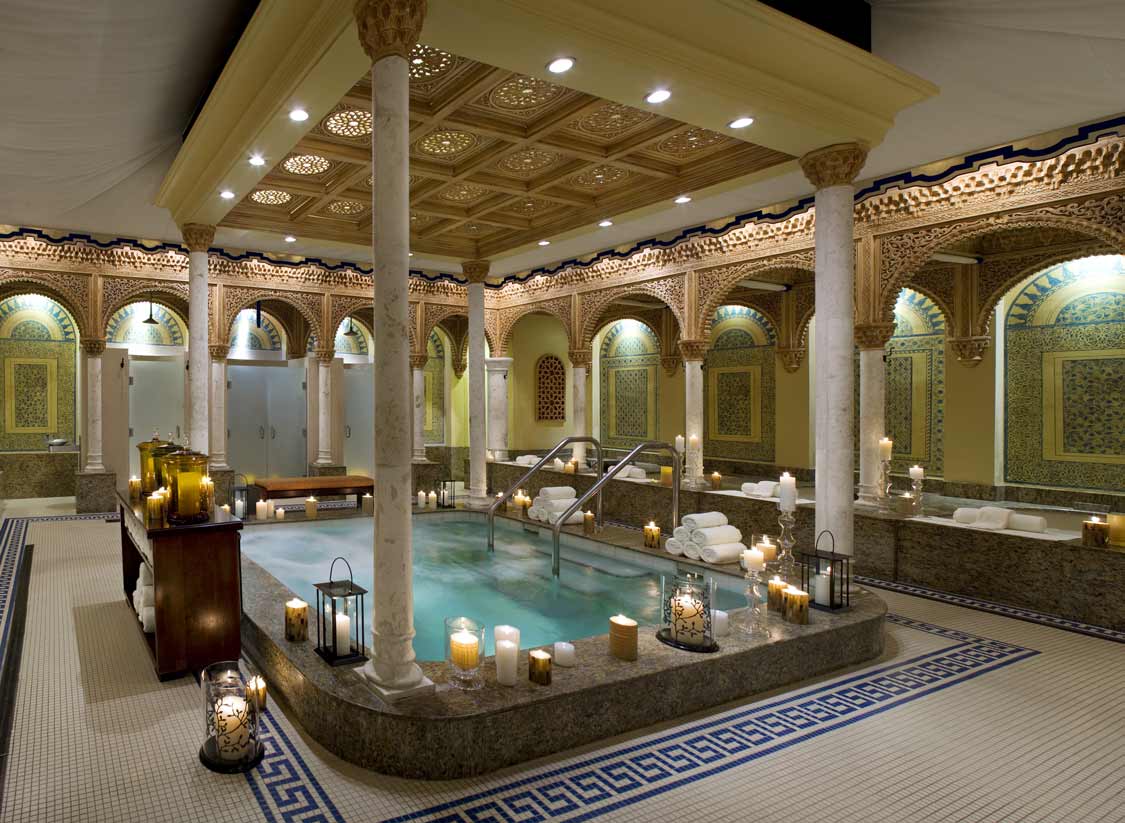 Photo courtesy of Hilton

7. Waterstone Resort and Marina
Boca Raton, Florida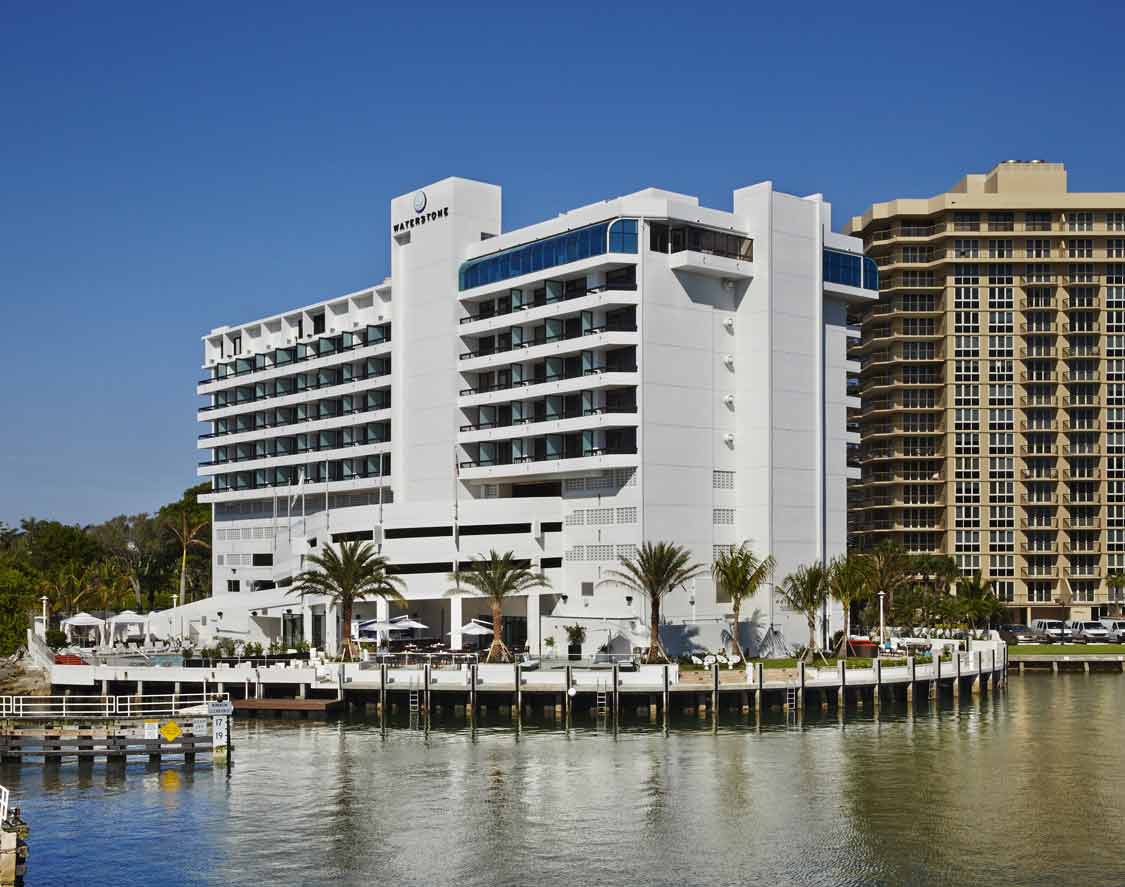 The Waterstone Resort and Marina is a lovely boutique hotel in Boca Raton, Florida. Water sports are offered directly from their private marina. Enjoy dining right on the water at this highly-rated resort. Diamond members receive free continental breakfast. While they do not have a spa on property, they do have a partnership with a local spa if you are looking for a relaxing in-room massage.
Pool, Fitness Center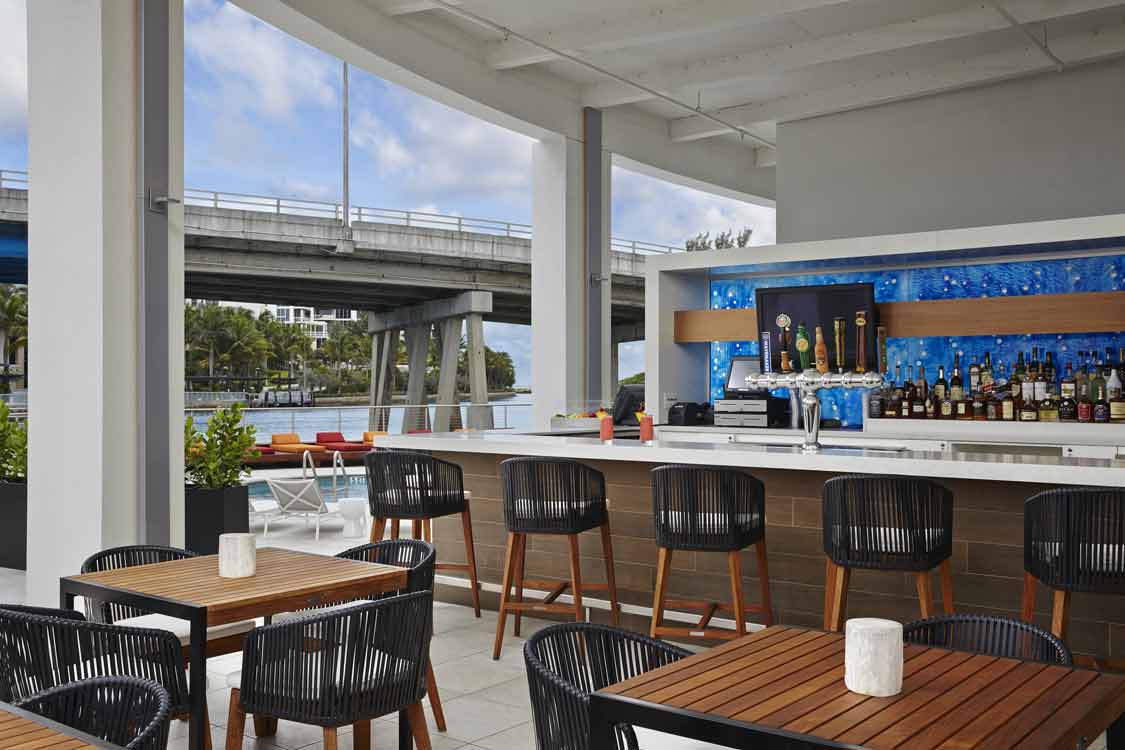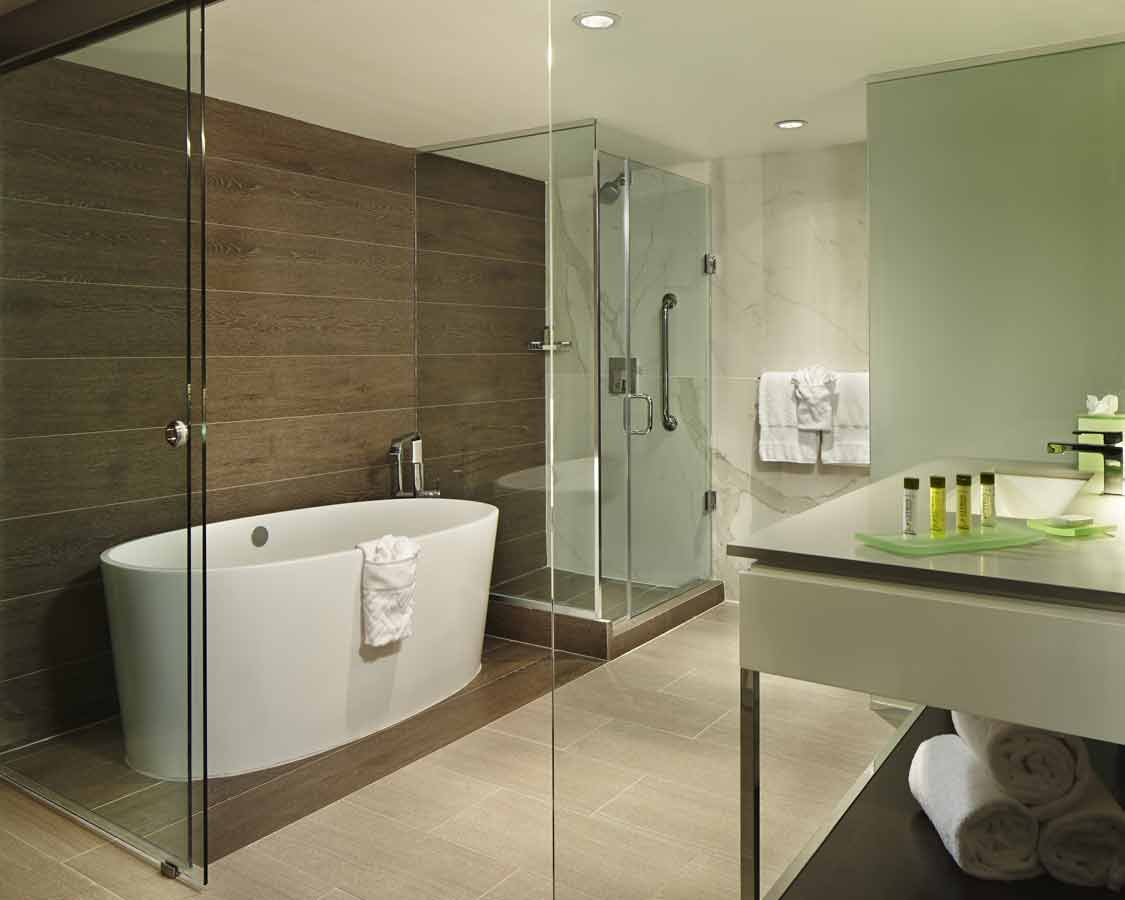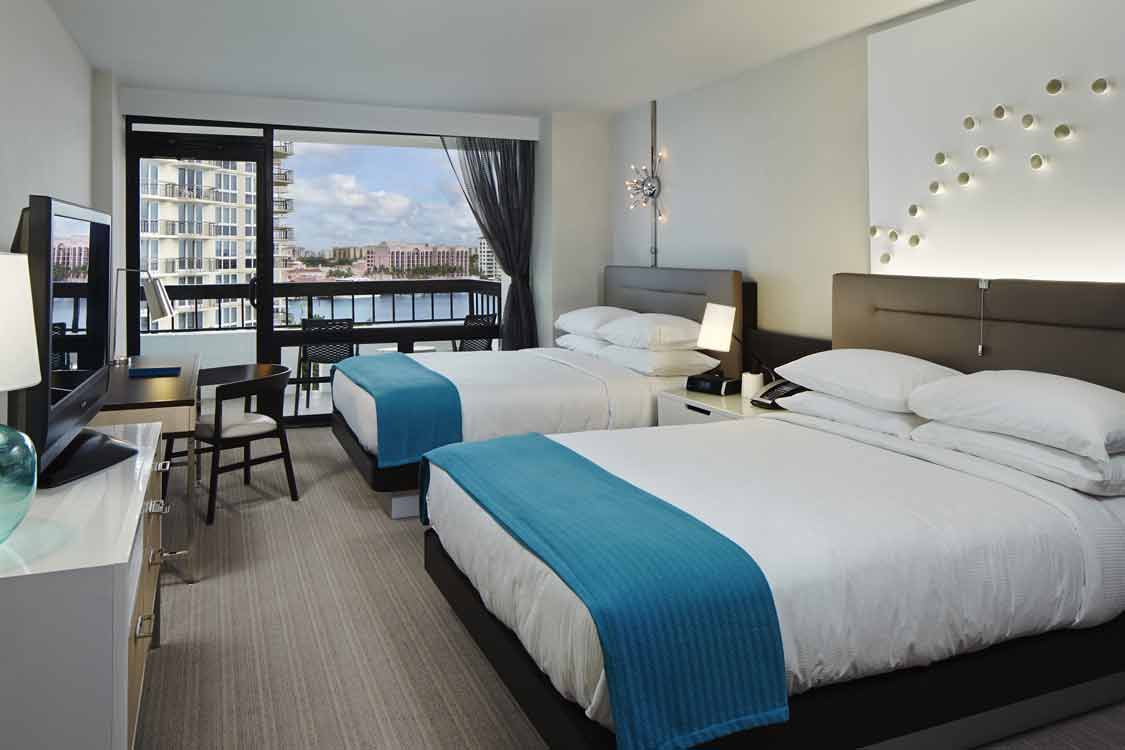 8. Hilton Singer Island Oceanfront Palm Beaches Resort
Riviera Beach, Florida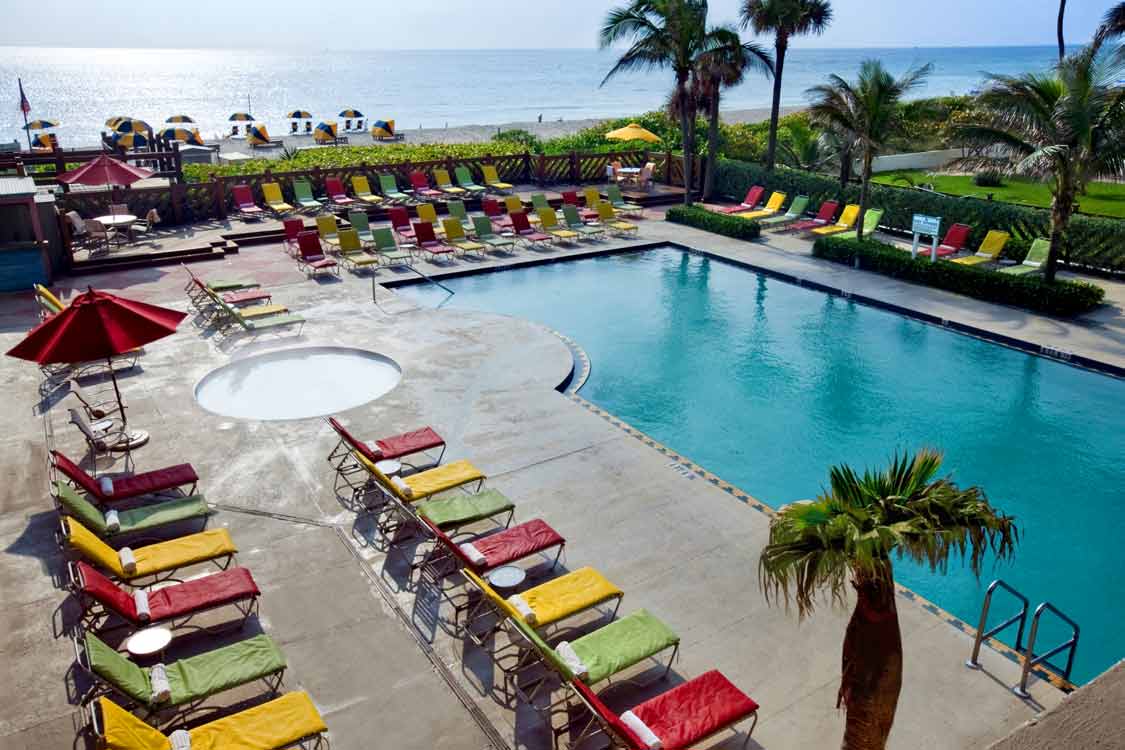 The Hilton Singer Island resort makes for a fine Florida getaway. The hotel is located on a beautiful beach with lovely views of the Atlantic. Your resort fee includes beach chairs and an umbrella, so you can enjoy every minute of the coast.
Pool, Fitness Center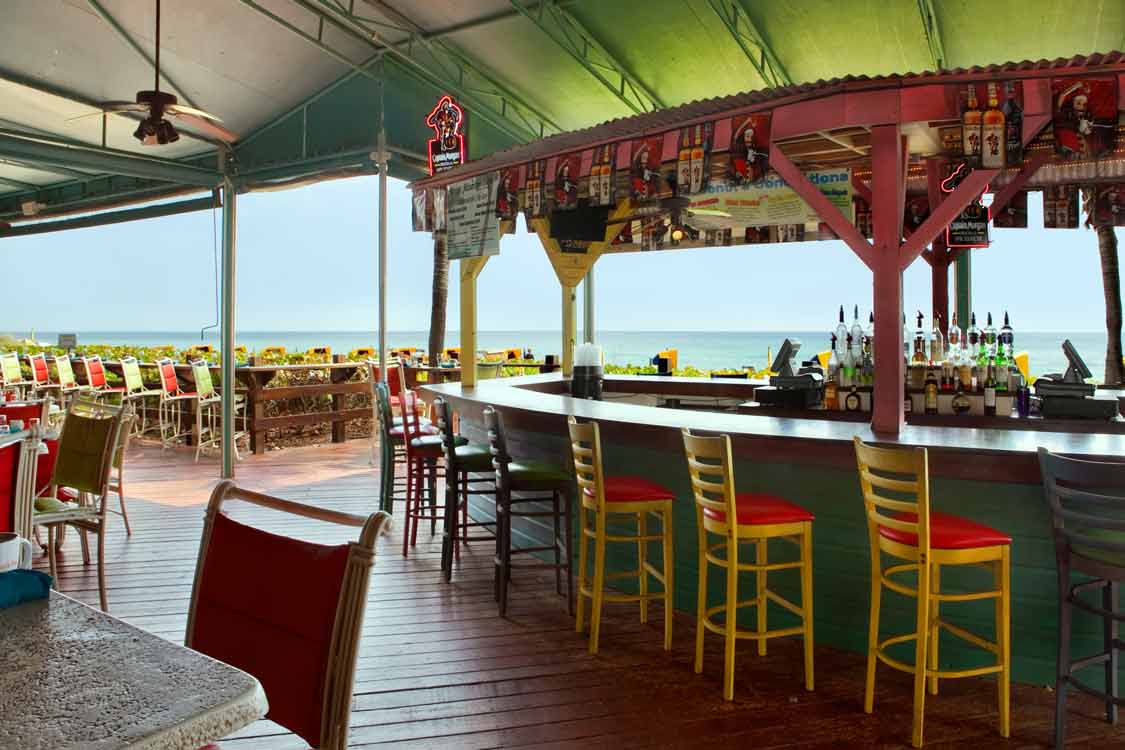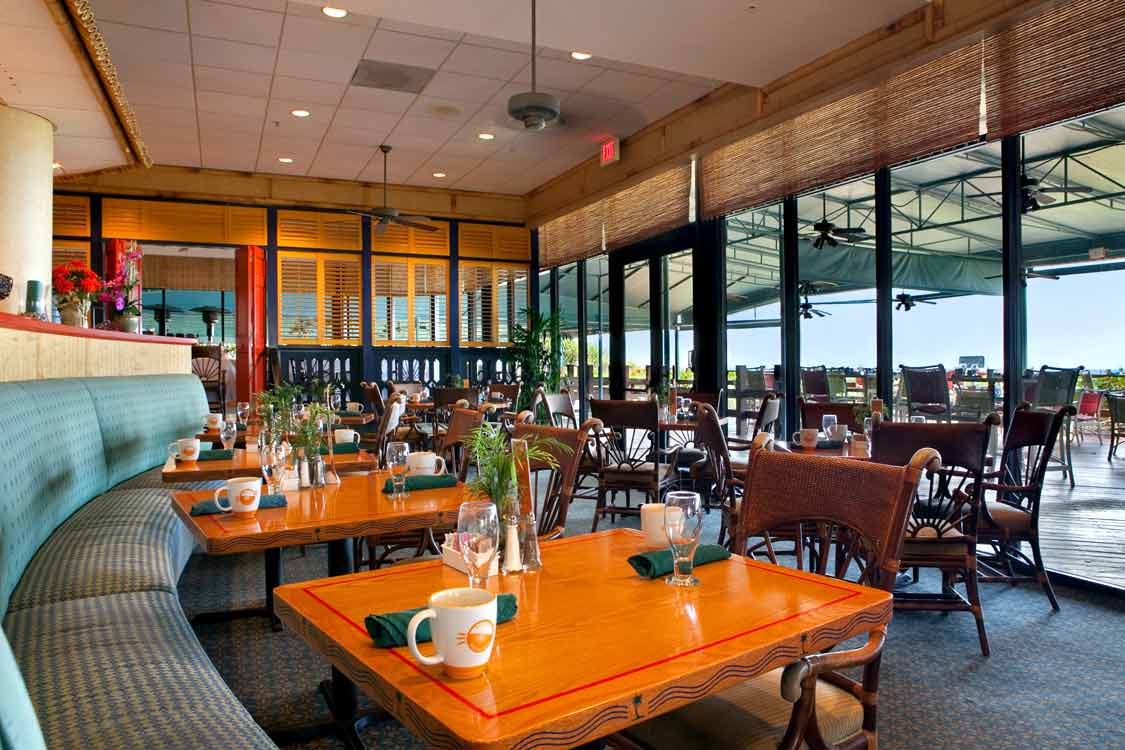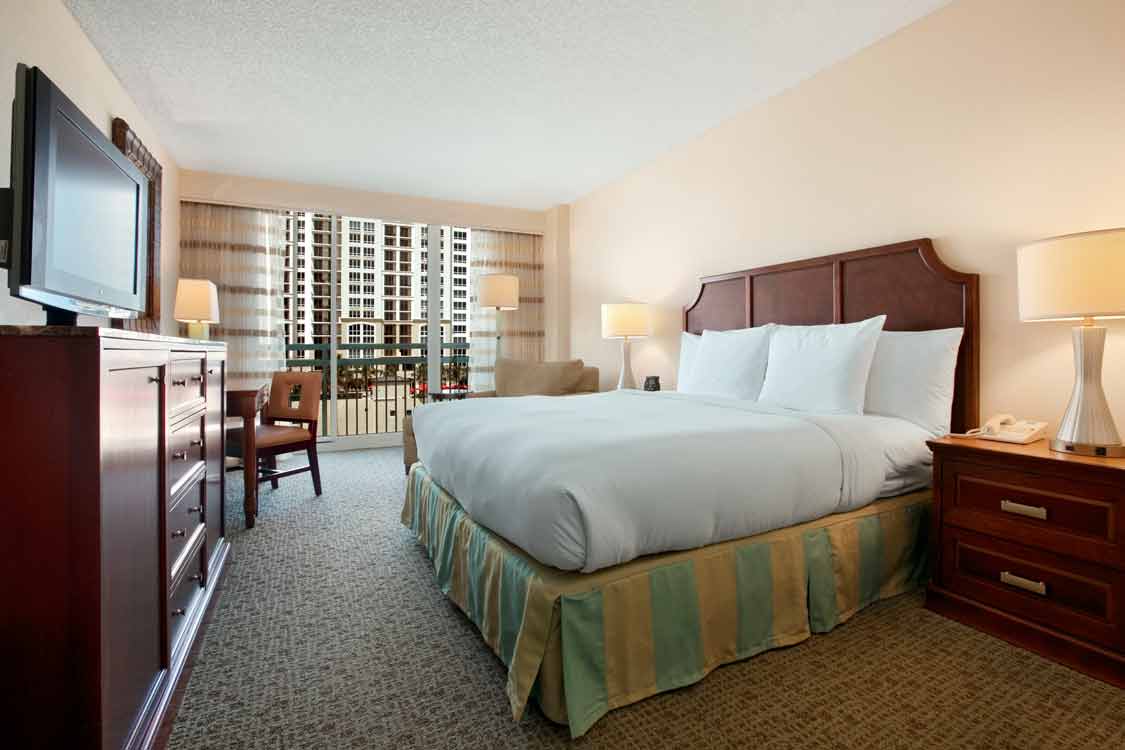 Photo courtesy of Hilton

9. Hilton Clearwater Beach Resort
Clearwater, Florida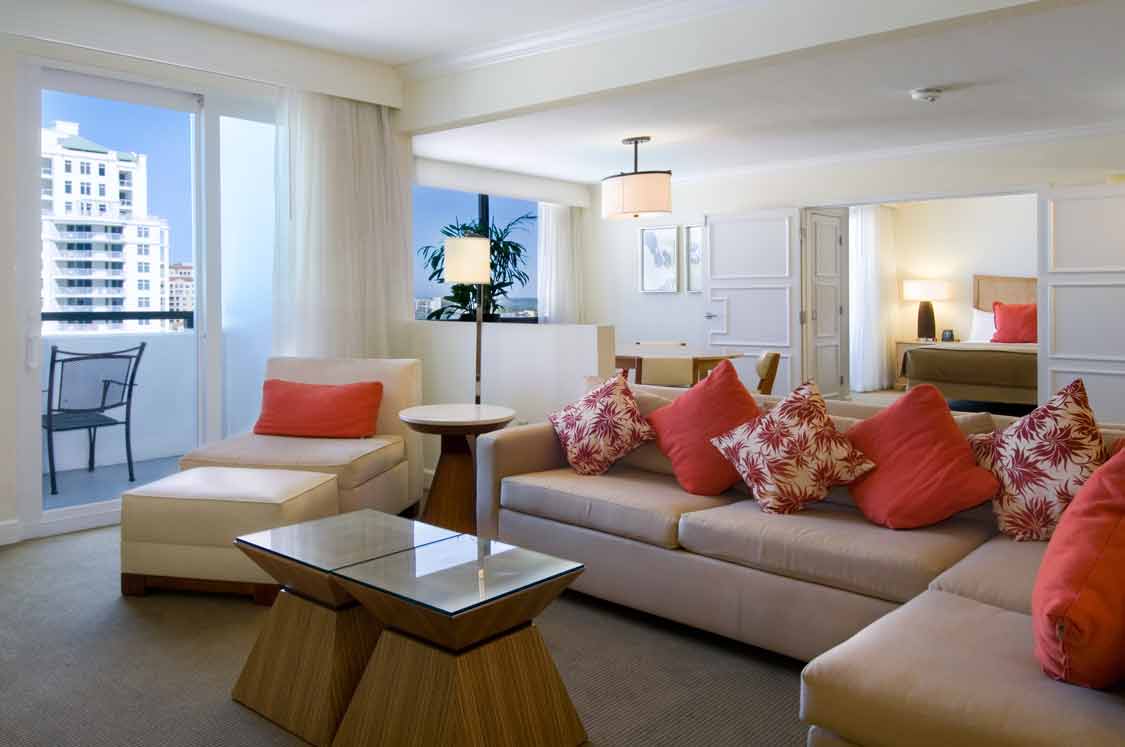 The Hilton Clearwater Beach Resort is another great option for families. Located right next to Pier 60 at Clearwater Beach, you'll have plenty of entertainment nearby. Clearwater is one of the best beach towns in Florida to catch amazing sunsets. Restaurants and attractions are only a short walk away. Hilton Gold and Diamond members receive continental breakfast (2 persons per room, per night.)
Spa, Fitness Center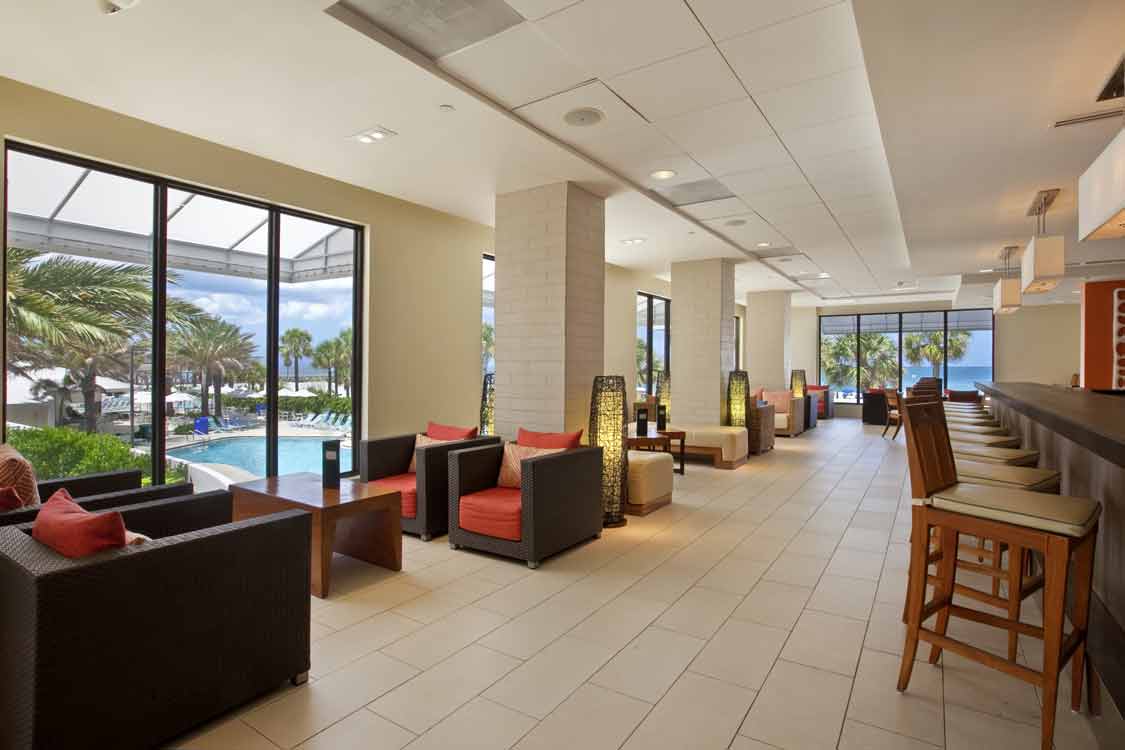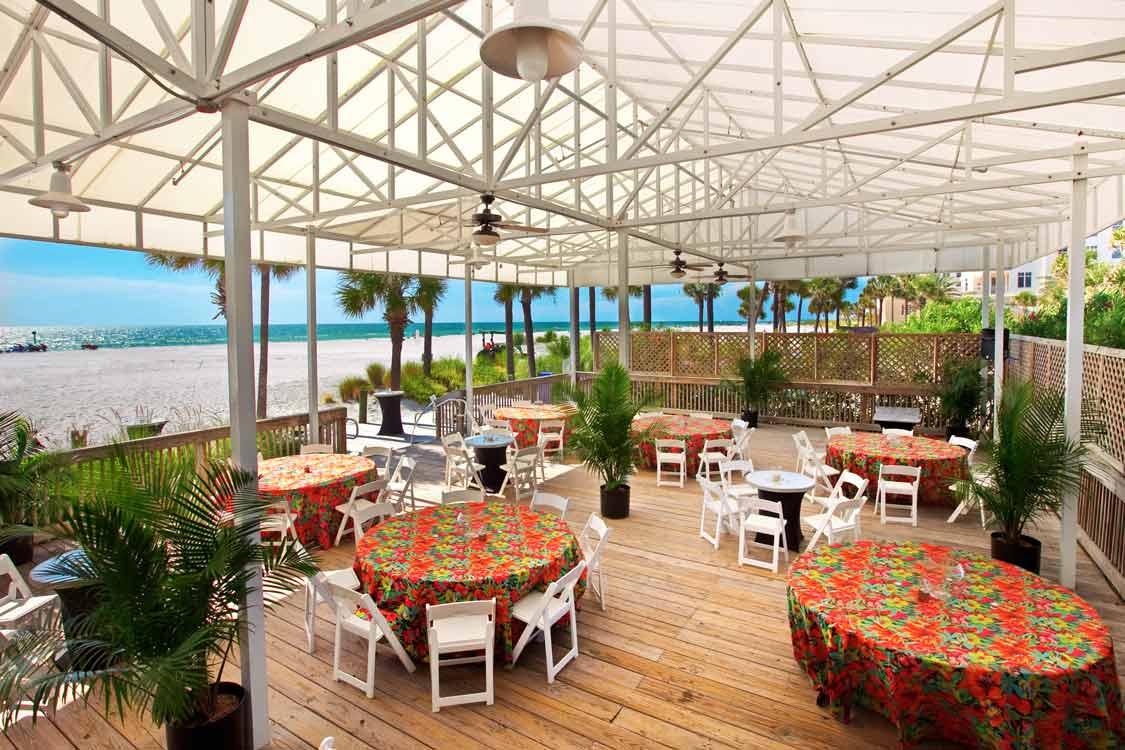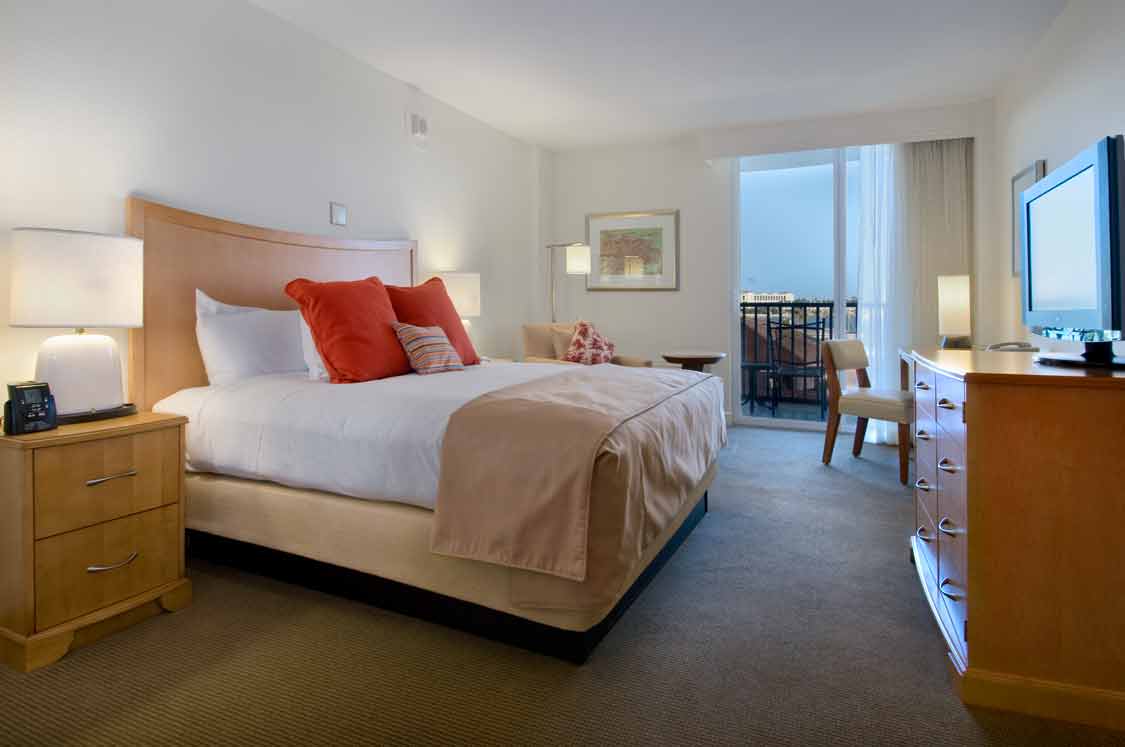 10. Doubletree Beach Resort - North Redington Beach
North Redington Beach, Florida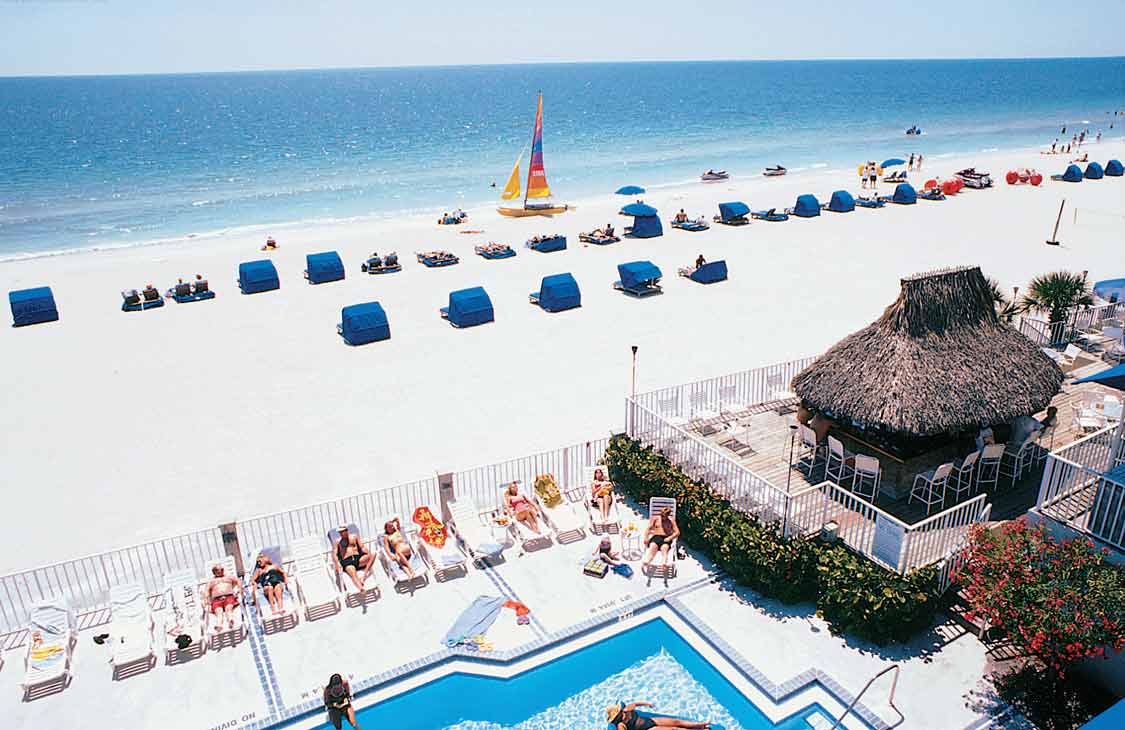 This Doubletree Resort is another fine option located right on the beach. Choose a gulf view room to enjoy the amazing sunsets from your furnished balcony. If you're traveling by car, you'll be happy to know this property offers free parking.
Outdoor Pool, Free Parking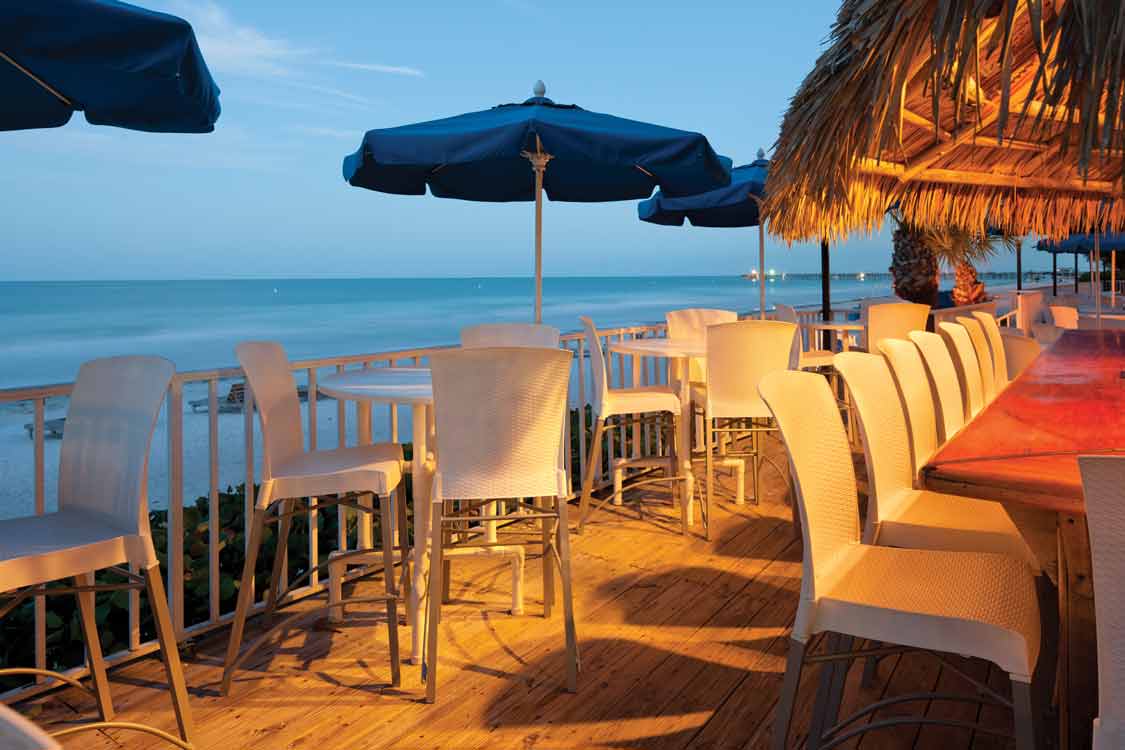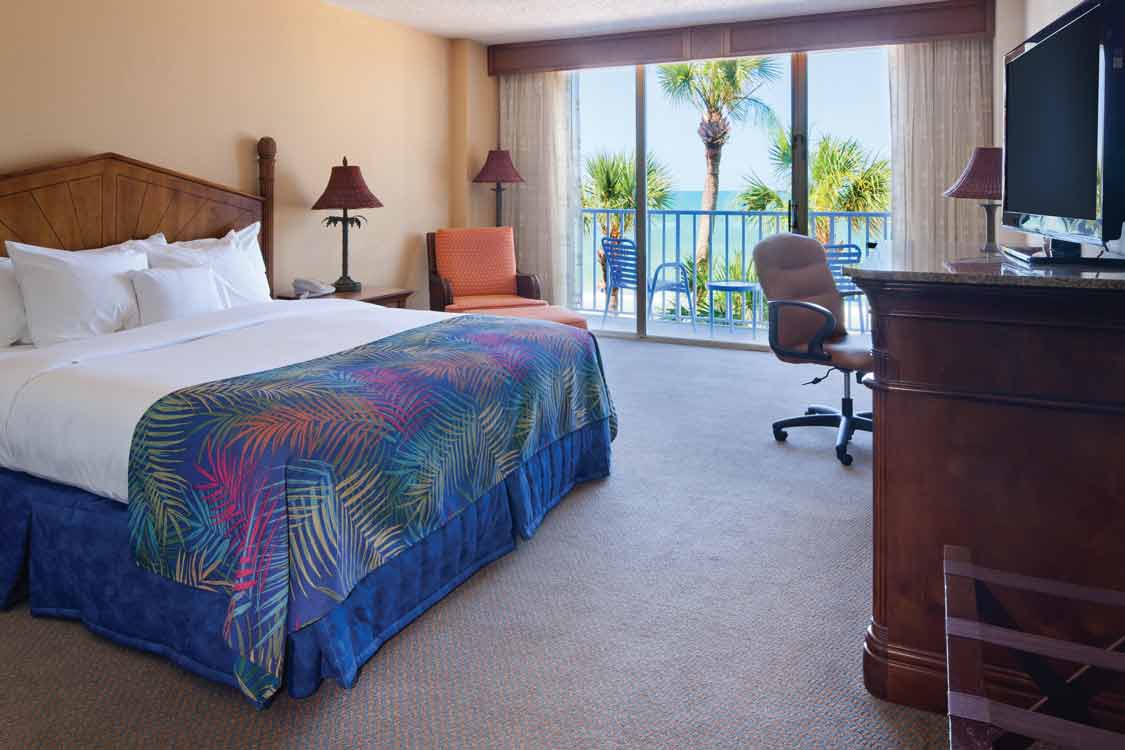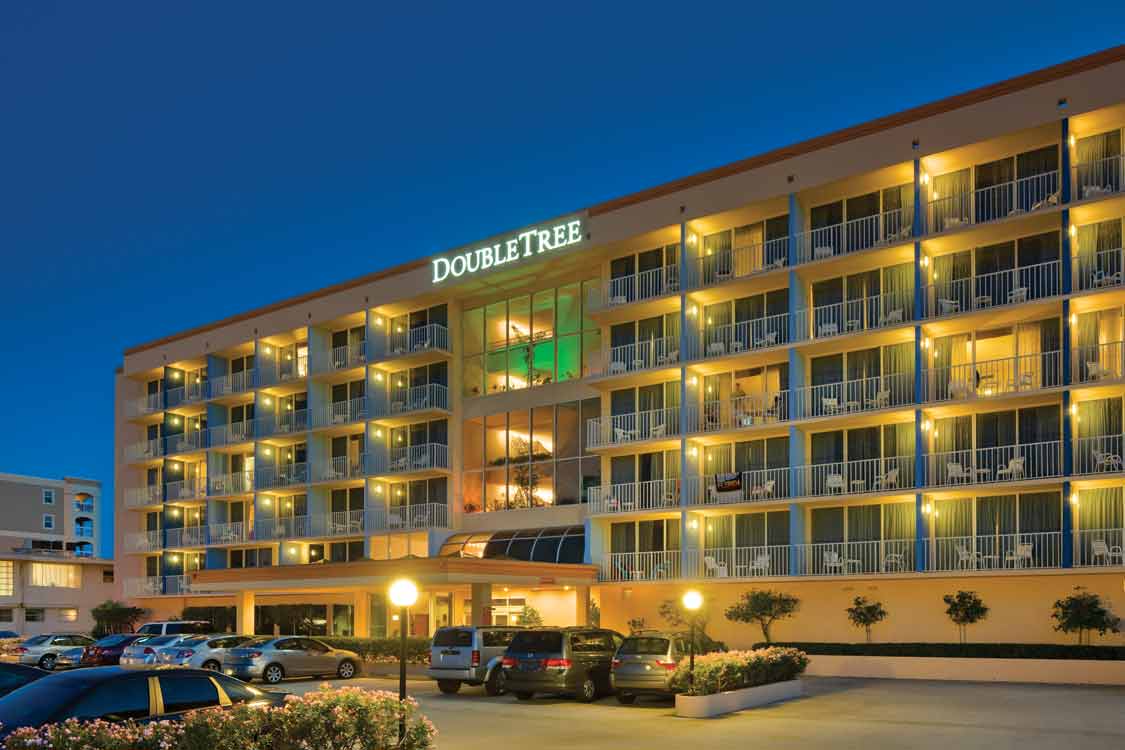 11. Hilton Marco Island Beach Resort and Spa - Top Rated
Marco Island, Florida
Located in Southwest Florida, Marco Island is home to some of the world's most gorgeous beaches. The Marco Island Beach Resort features comfortable rooms with furnished balconies and relaxing views. The property is beautiful and has recently been remodeled. The staff is well trained. It is really a highlight in Florida. Personaly my favorite resort in Florida.
Heated outdoor pool and whirlpool, Spa Services, Fitness Center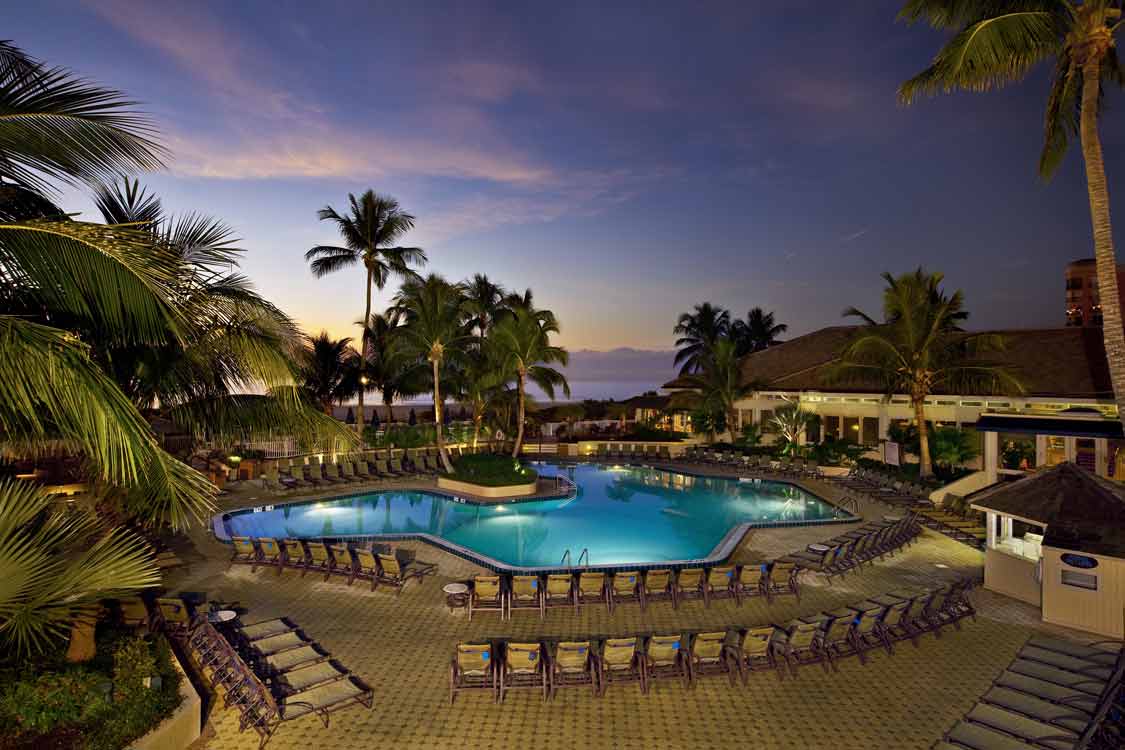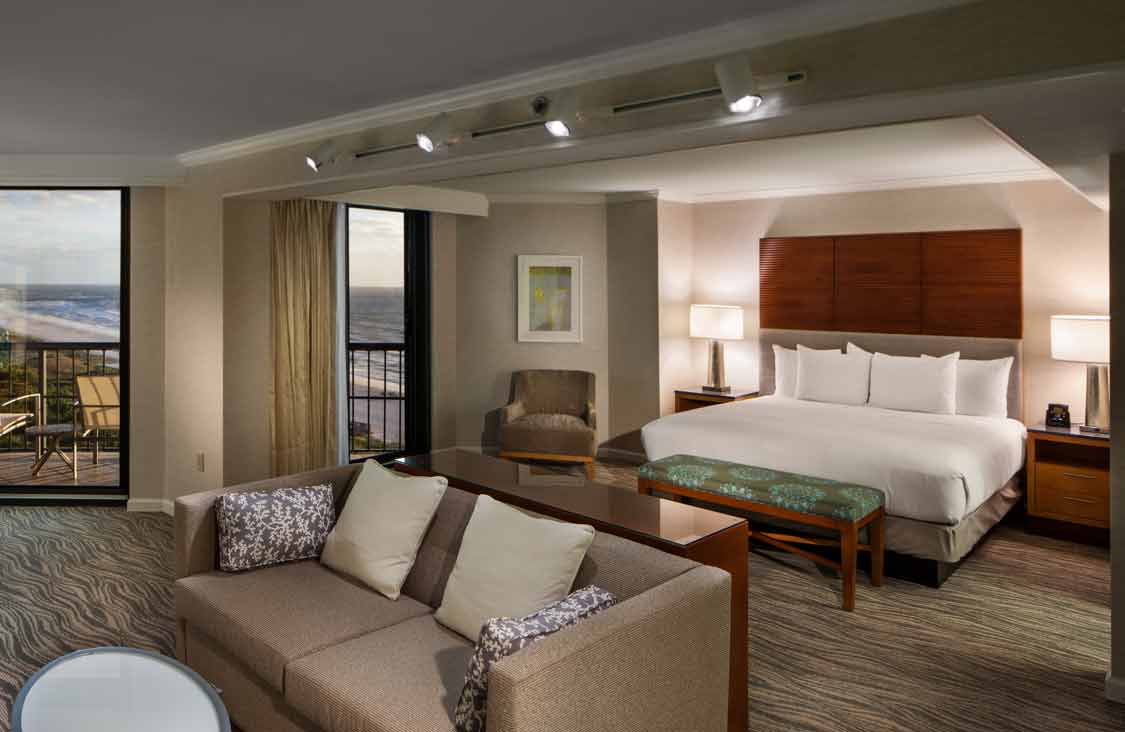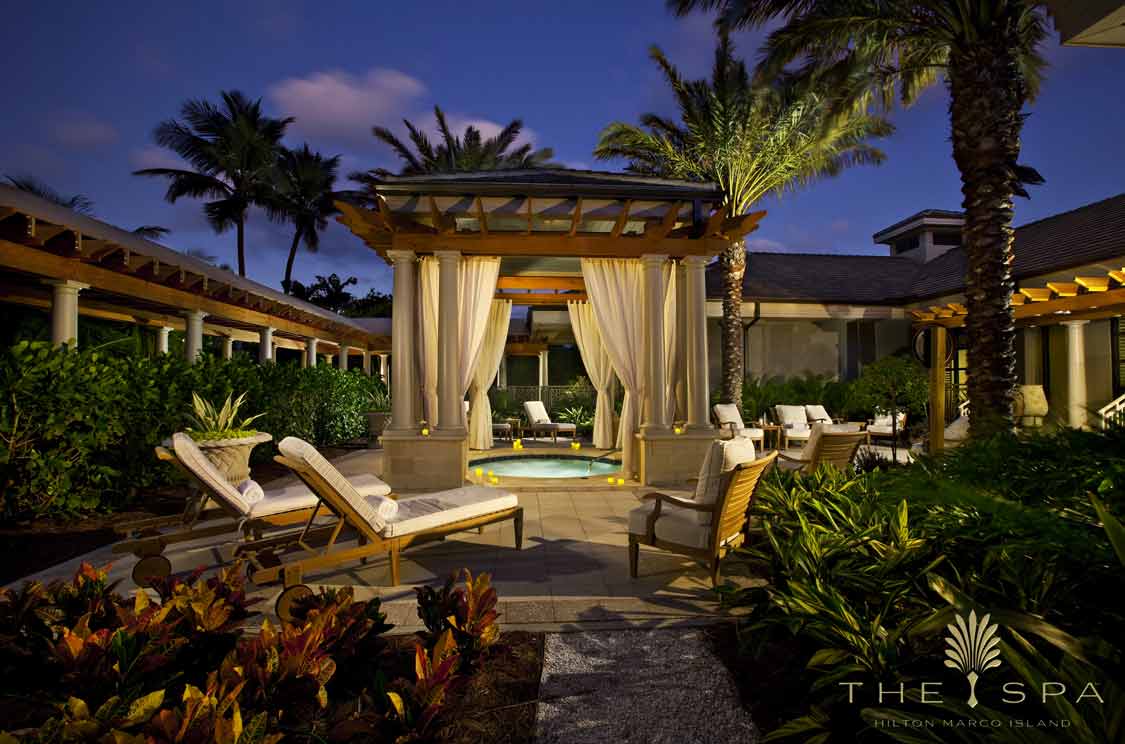 Photos courtesy of Hilton

Have you ever stayed at one of these lovely Hilton beach resorts in Florida? Have you stayed at any that didn't make this list? What did you love about them?
Post Last Updated