5 Lovely Fall Weekend Getaways In New England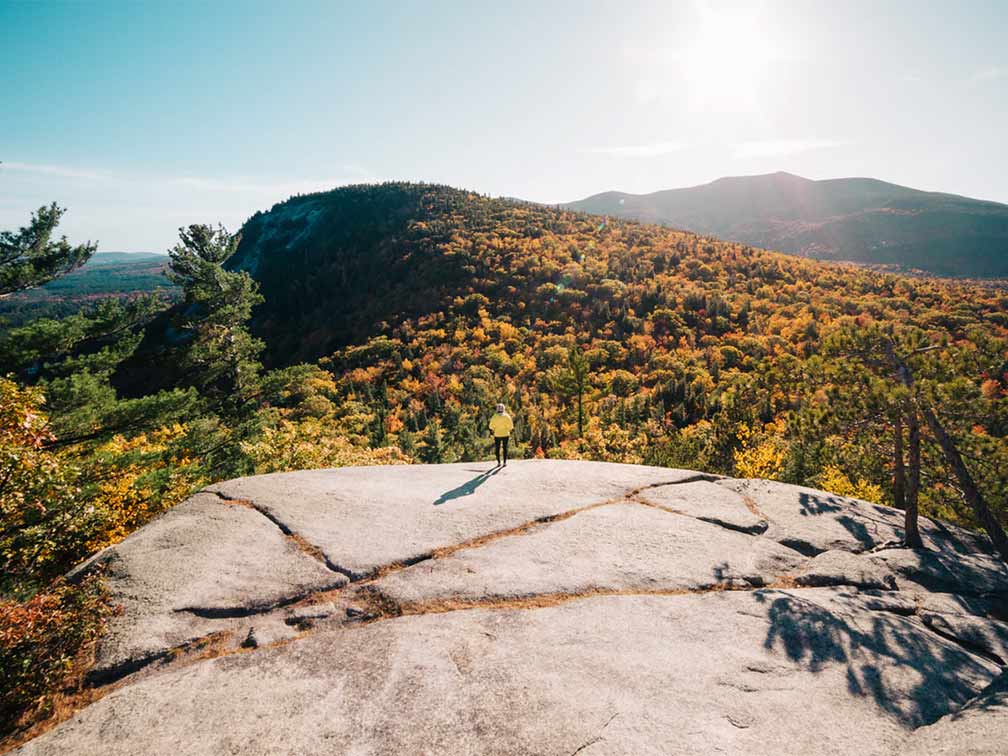 As the sweltering summer comes to an end, fall is a beautiful time to explore New England. With the temperatures dropping, the leaves begin to change colors and the crowds of tourists gradually thin out. Grab your layers and hiking boots and get ready to explore some of these amazing fall weekend getaways New England. You'll want to book reservations as far in advance as possible. Many places fill up quickly with people looking to catch the foliage at its peak!
1. North Conway, New Hampshire
Go hiking, Ride the Conway Scenic Railroad, Enjoy mountain views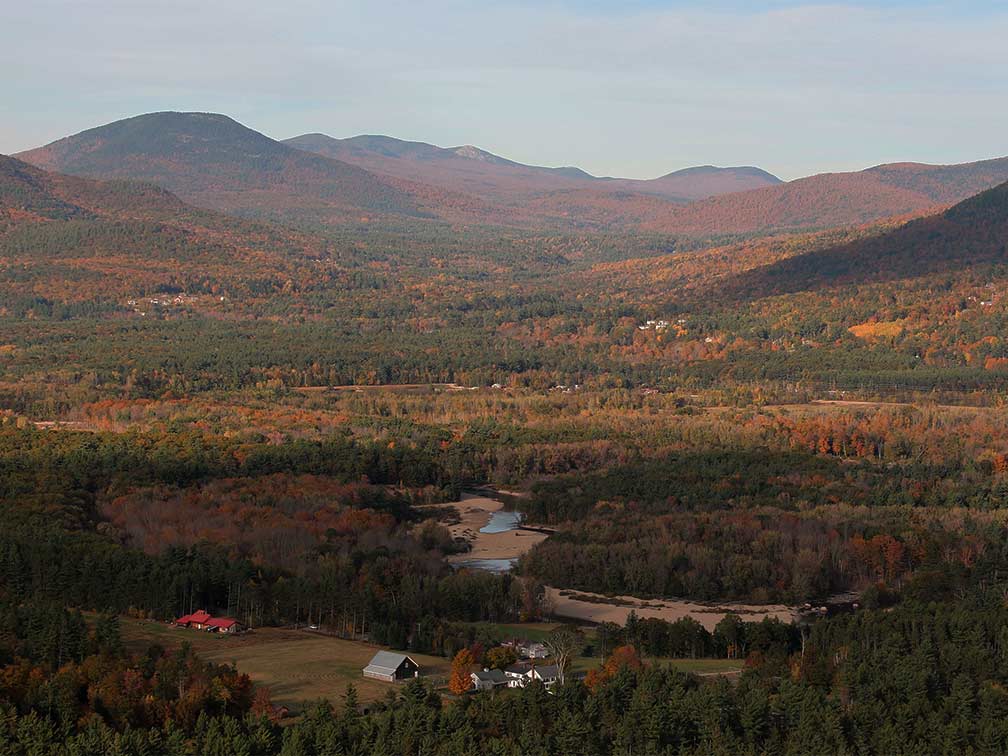 View from Cathedral Ledge in North Conway, NH
Being only a short distance from Mount Washington, you can't go wrong with this fall getaway. Hop on board the Conway Scenic Railroad and catch beautiful mountain views from a vintage passenger car. If you're looking for a short hike with an interesting history, check out Diana's Baths. This series of small waterfalls were once the location of a sawmill operation in the 1800s. For breathtaking views of the mountains and valleys, check out Cathedral Ledge. You can reach the top of the ledge by hiking or walking, or you can take an easy drive to the top. Be sure to bring bug spray, and your camera!
Where to stay in North Conway, NH in the fall:
The White Mountain Hotel and Resort: Beneath Cathedral Ledge, this full-service resort is truly one of a kind. The hotel restaurant provides stunning panoramic mountain views and award-winning cuisine. If you're looking for a romantic getaway as a couple, check out their romance packages and book yourself a massage.
Adventure Suites: A fall weekend at Adventure Suites is anything but ordinary. These themed hotel rooms are incredibly fun and quirky. Where else can you stay in a dragon's lair or a haunted castle? Learn more about the Adventure Suites on our post about themed hotels in New England.
The Stonehurst Manor: Located on 33 private acres, this mansion makes for a magical fall weekend getaway in New England. The rooms boast ornate decor, some with fireplaces and jacuzzis to keep you warm during a brisk fall night. They even have an elegant library lounge if you're looking to get cozy and unwind by the fireplace with your favorite book. You'll love breakfast and dinner at the charming restaurant (which is included in the room's cost!)
2. Manchester, Vermont
Shop at the outlet mall, Tour the Lincoln Family Home, Visit the American Museum Of Fly Fishing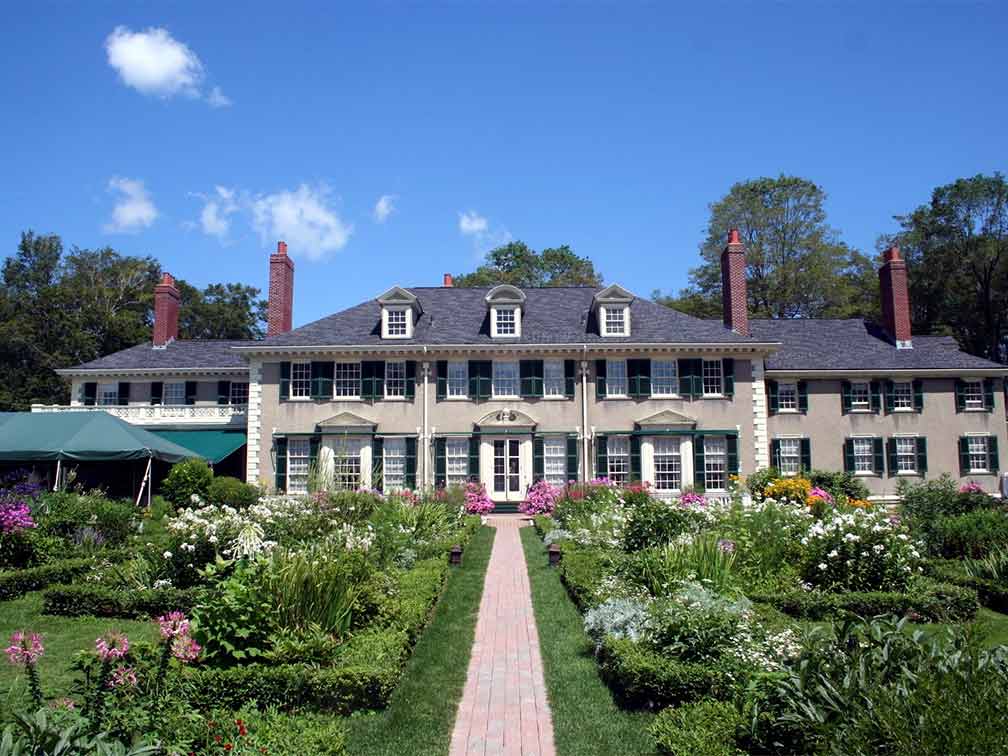 Hildene - The Lincoln Family Home in Manchester, VT
Manchester is a small town nestled in the beautiful Green Mountains. There are plenty of galleries, boutiques, and restaurants to explore during a fall weekend getaway. If you're looking for shopping, check out the Manchester Designer Outlets to score a great deal. Take a tour of the historic Lincoln Family Home and admire the picturesque grounds among the fall foliage. Manchester is also home to the American Museum of Fly Fishing. Even if you're not a fisherman, there's plenty of interesting history to soak in.
Where to stay in Manchester, VT in the fall:
The Kimpton Taconic Hotel: This boutique hotel in Manchester, VT is both elegant and inviting. A spacious porch and the smell of a wood-burning fireplace will welcome you upon arrival. If you have a pup, you'll be happy to know this hotel is dog-friendly!
Casablanca Motel: Located a short distance from the center of town, this motel is actually a group of charming, cozy cottages. Enjoy your own private porch and escape to nature in one of these ultra-adorable cabins. With a small fridge, Wi-Fi, and individually controlled heat/AC, you'll have everything you need for a comfortable fall getaway. The grounds are equipped with fire pits, walking trails, and gardens.
3. Bar Harbor, Maine
Explore Acadia National Park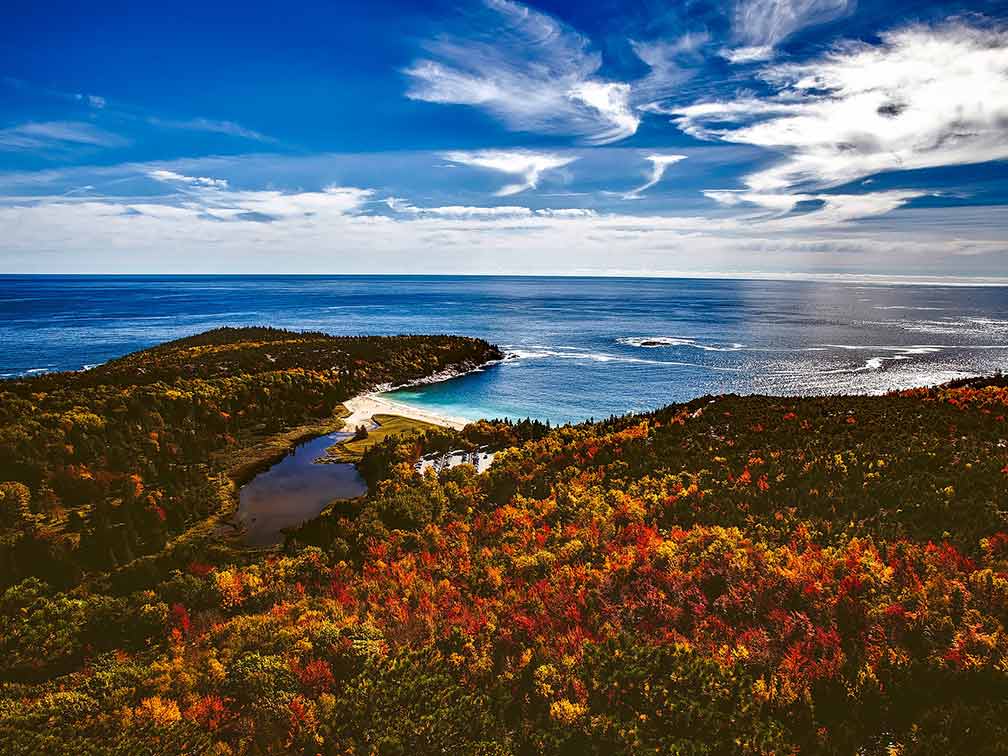 Bar Harbor in the Fall
Bar Harbor draws many tourists in the summer, but this charming town has a lot to offer in Autumn. If you catch the weather and foliage just right, you'll have an incredible time hiking through Acadia National Park. In the fall, you'll enjoy the crisp Maine air and magnificent colors as the leaves change. Crowds thin out this time of the year, so you'll have more space to relax and unwind. Many of the stores close shop as the summer ends, but Bar Harbor still makes for a lovely getaway.
Where to stay in Bar Harbor, ME in the fall:
Hampton by Hilton Bar Harbor: If you're loyal to the Hilton brand, check out the Hampton in Bar Harbor. Overlooking the mountains and ocean, the location cannot be beat. This hotel is more expensive than some surrounding accommodations, but it's a fine way to spend some Hilton points you may have racked up.
Bar Harbor Grand Hotel: Located walking distance to town and a short drive to Acadia National Park, Bar Harbor Grand Hotel provides comfortable lodging for a memorable weekend getaway. Enjoy modern amenities in this centrally located historic property.
4. Rockport, Massachusetts
Bundle up for a whale watch, Visit a brewery, Enjoy the coastline, Drive to Salem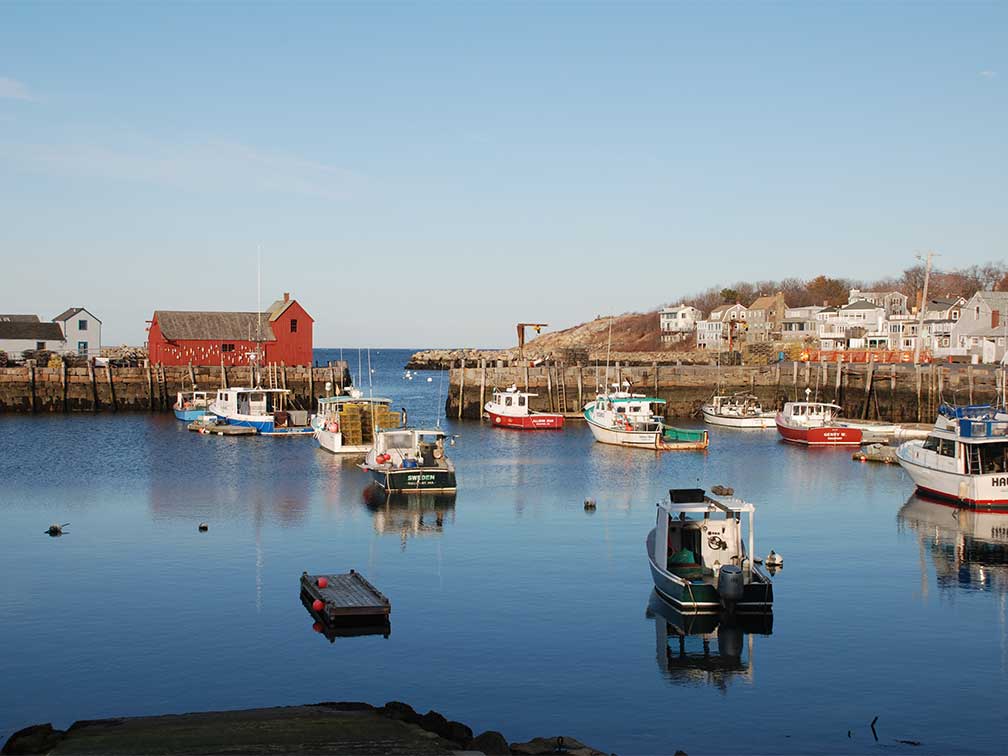 Rockport, MA
Rockport is another popular destination in the summer, but the activities don't stop when the temperatures drop. Bundle up for whale watching followed by a guided brewery tour or a fresh plate of seafood. Rockport is also situated about 40 minutes from Salem, MA. Home to the historic witch trials, you can spend an entire October day wandering the streets and admiring Halloween costumes. Be sure to read our other post about romantic day trips in Massachusetts - Rockport is one of them!
Where to stay in Rockport, MA in the fall:
Bearskin Neck Motor Lodge: Don't let the words "motor lodge" deter you. Located right in town, you'll enjoy gorgeous ocean views at this highly rated motel in Rockport. Wake up to the sounds of the Atlantic Ocean and layer up for a peaceful fall walk along the shore.
The Rockport Inn and Suites: The Rockport Inn has been recently been renovated, so you can enjoy updated accommodations close to downtown. Stay cozy when the sun goes down with the outdoor firepit after taking a dip at the indoor pool.
5. Essex, Connecticut
Take tour on the Essex Steamtrain and Riverboat, Explore the CT River Museum, Drive to Gillette Castle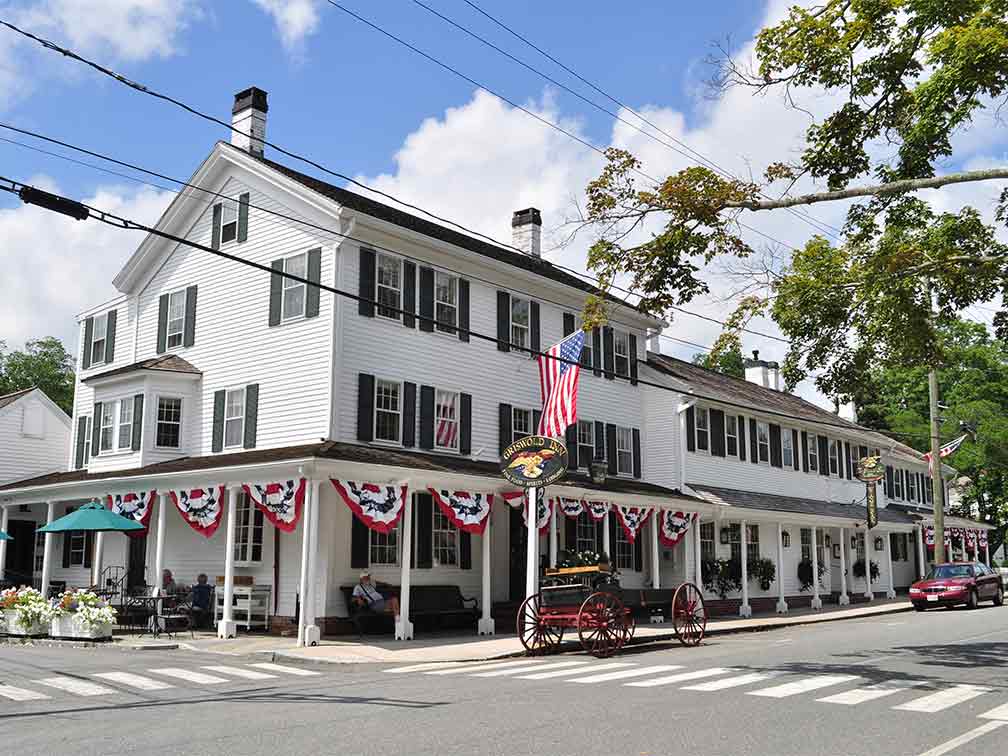 The old Griswold Inn in Essex, CT
The historic village of Essex makes for a lovely getaway on a crisp fall weekend in New England. The Essex Steamtrain and Riverboat offer multiple excursions during the year, including a Fall Foliage Tour! From there, you can also explore the Connecticut River Museum. Essex is a short drive from Haddam which is home to the stunning Gillette Castle State Park. After taking a tour of the historic property, be sure to spend some time exploring the surrounding grounds. There are many walking trails which become lined with gorgeous trees changing color in the fall.
Where to stay in Essex, CT in the fall:
The Griswold Inn: Opening its doors in 1776, The Griswold Inn is one of the oldest operated inns in the country. Each of the 34 rooms are unique and decorated with antiques to showcase the rich history of the inn. Book a room with a fireplace to stay extra cozy during the fall.
What is your favorite place for a fall weekend getaway in New England? Have you ever stayed in one of these lovely places?
Read Next: 6 Romantic Getaways In Vermont (With Cabins!)
---
Post Last Updated