Best Hiking Trails in Stowe Vermont
Looking for the best hiking experience in Stowe Vermont?
Stowe Vermont is a stunning destination for hikers of all levels. Located in the heart of Vermont, Stowe offers incredible hiking trails that take you to the most beautiful spots in the area. The Notch State Park offers a wide variety of trails suitable for all experience levels, from easy scenic hikes to more challenging treks.
Whether you wander through the lush green forests or take in breathtaking views from the top of Mount Mansfield, a hike in Stowe will be an unforgettable experience. Explore cascading waterfalls and meandering streams as you explore some of the best trails in Vermont.
The Notch State Park also provides access to some of the most remote and untouched areas in Stowe, so be sure to take advantage and embark on an adventure into nature!
The Top hiking spots in and near Stowe, VT
Stowe offers some of the best hiking trails in the region. One of the most popular trails is the Pond Trail which leads to amazing views over Stowe and the surrounding mountains. For more experienced hikers, there is also the Mount Mansfield Summit Trail which takes you up to the summit of one of Vermont's highest peaks. There are also plenty of other less strenuous trails around Stowe where you can enjoy nature and get away from it all for a while. Here is our list for the best spots:
1. Mount Mansfield Trail (Experienced Hikers)
Hiking the highest peak of Vermont at Mount Mansfield is a rewarding experience. It is an iconic symbol of the Green Mountain State and a popular tourist destination. The trail is well-marked and easy to follow, with plenty of opportunities for breathtaking views as you make your way up the mountain. From the 4,395 foot summit, you can see across Vermont and into neighboring states like New Hampshire and New York. Whether you are out for an afternoon hike or looking for a multi-day trek, Mount Mansfield has something for everyone. No matter what type of adventure you seek, you'll be rewarded with stunning views and memories that will last a lifetime.
2. Stowe Recreation Path (Easy)
The Stowe Recreation Path is a great place to witness some of the most gorgeous views around. This trail, which is suitable for hiking, biking and skating, features more than five miles of paved paths with scenic views of the Lamoille River and the surrounding mountains. As you meander along the trail, you'll come across several bridges that cross over streams and rivers. You can also find plenty of places to stop and take in the beauty of nature. Whether you're looking for a relaxing stroll or an invigorating hike, Stowe Recreation Path has something for everyone.
3. Sterling Pond Trail (Experienced Hikers)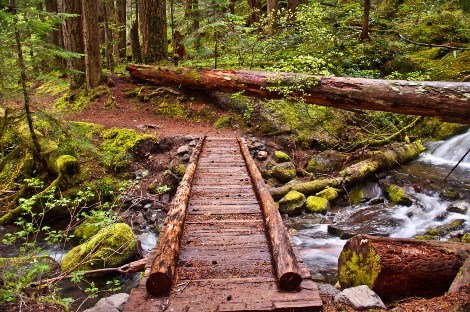 The trail stretches over 5 miles and offers hikers great views of the surrounding area, including Mount Mansfield and Sterling Pond. Along the way, hikers can take in the lush forests and meadows that are so characteristic of Vermont's terrain. There are plenty of opportunities to spot wildlife, as well as several different types of trees, plants and flowers. The trail is rated moderate in difficulty, making it an ideal choice for those who want something more challenging than a simple stroll. All in all, the Sterling Pond Trail is a great way to get out into nature and experience all that Vermont has to offer.
4. Bingham Falls Trail (Moderate)
It has a moderate rating, making it suitable for both beginner and experienced hikers alike. The trail is 2.3 miles long, with plenty of scenic views and natural wonders to experience along the way. The path leads to Bingham Falls, a beautiful waterfall that cascades down the mountainside. There are several other waterfalls located nearby as well, offering an array of photo opportunities for any hiker. Along the trail there are several benches and picnic tables, perfect for taking a break from the hike and enjoying the serene beauty of nature. With its moderate rating, Bingham Falls Trail is an ideal spot for hikers looking to enjoy some time outdoors without having to tackle too difficult of a path.
5. Stowe Pinnacle (Easy)
Stowe Pinnacle Vermont Trail is a great hike for all seasons. It offers a view to remember from the summit and provides an elevation gain of 1,400 feet. The trail is 3 miles long, so it's not overly strenuous but still provides a good workout. It's open year around, so you can enjoy the beauty of the Vermont landscape in any season. Whether you're looking for some exercise or just want to take in the incredible view from the top, Stowe Pinnacle Vermont Trail is perfect for you. This trek is perfect for anyone wishing to experience the great outdoors. It has a manageable length and elevation, making it an easy-to-follow path. During winter, it may be a bit slippery in certain areas, but spikes are not necessary.
6. Sunset Rock Trail (Easy-Moderate)
The Sunset Rock Trail in Vermont is a 2.4 mile trail with about 500 feet of elevation gain, making it an easy to moderate hike. The view from the top of the trail is has a panoramic view of the surrounding area. The trail is well-marked and easy to follow, so hikers of all levels can enjoy the journey. Along the way, you will pass through forests, meadows and wetlands that are full of wildlife and plants. The trail ends at Sunset Rock, where you can take in the breathtaking views of the countryside below.
7. Moss Glen Falls Trail (Hard)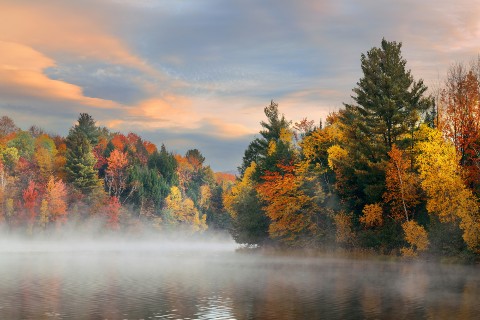 The Trail is a difficult but rewarding hike. Located in the Green Mountains of Vermont, this trail takes you on an adventure through lush forests and past the beautiful Moss Glen Falls. This 2.3 mile loop trail is rated as difficult due to its steep terrain, rocky pathways, and exposed roots. The trail is recommended for experienced hikers as it can be quite challenging. You will be rewarded with stunning views of the falls and surrounding mountains while also getting a great workout!
8. Sunset Ridge Trail (Easy)
It is a popular trail for hikers, mountain bikers, and horseback riders alike. The trail is easy hike to navigate with clearly marked sections for each activity. There are plenty of benches along the way to take a rest or simply enjoy the view. At the top of the ridge, you can take a break from your trek and enjoy an even more spectacular view of the sunset over the Green Mountains. With its breathtaking vistas and peaceful atmosphere, Sunset Ridge Trail in Stowe is a great place to spend some time outdoors.
9. Sterling Gorge Trail (Moderate)
Is an incredible hiking experience. With an elevation of over 2,000 feet, the trail offers stunning views of the surrounding countryside and mountains. The beauty of this trail is unmatched, and it's a great way to take in the natural sights and sounds of Vermont. The distance of the trail varies depending on which route you take, but it can range from 4-8 miles. While the distance may be difficult for some hikers, there are plenty of rest stops along the way so that everyone can enjoy their time on this scenic trail.
What is the most beautiful hike in Stowe, Vermont?
The most beautiful place to hike in Stowe is the Sterling Gorge Trail. This trail offers spectacular views of Sterling Pond and the surrounding mountains, as well as a variety of terrain including rocky paths, wooded areas, and open meadows. The trail also passes by several waterfalls, providing an additional element of beauty.
What to Pack For Stowe Hiking?
When it comes to packing for a hike in Stowe, Vermont, it is important to consider the season. For example, if you are hiking during the winter months, make sure to pack spikes for your boots so that you can have better traction on the icy trails. Additionally, no matter what season you are hiking in, be sure to bring a backpack with plenty of water and snacks. Depending on the length of your hike and the time of year, you may also want to bring extra layers of clothing such as a hat and gloves or an extra pair of socks. It's also a good idea to bring along any necessary items such as sunscreen and insect repellent depending on where you are hiking and when. Finally, don't forget your camera so you can capture all of your beautiful memories!
Post Last Updated