10 Awesome Things To Do In Burlington, VT In The Winter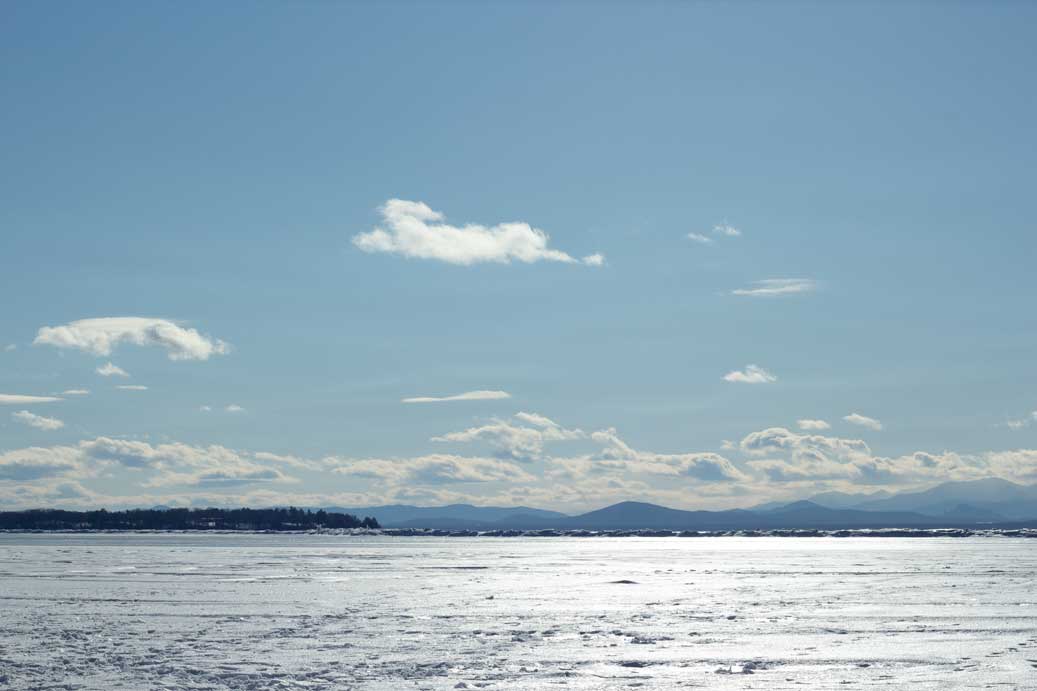 It's no secret that Burlington, VT gets cold in the winter. Luckily, there are still plenty of things to do when the temperatures drop. Burlington makes for a lovely weekend getaway anytime of the year. Here are some of the best things to do in Burlington, VT in the winter.
1. Catch A Show At The Flynn
If you're looking for a good place to stay warm and catch a show, you'll want to visit the Flynn Center for the Performing Arts. This iconic theater hosts a variety live performances year-round. Check out their calendar to see what's happening during your stay. Another option for live music is Higher Ground.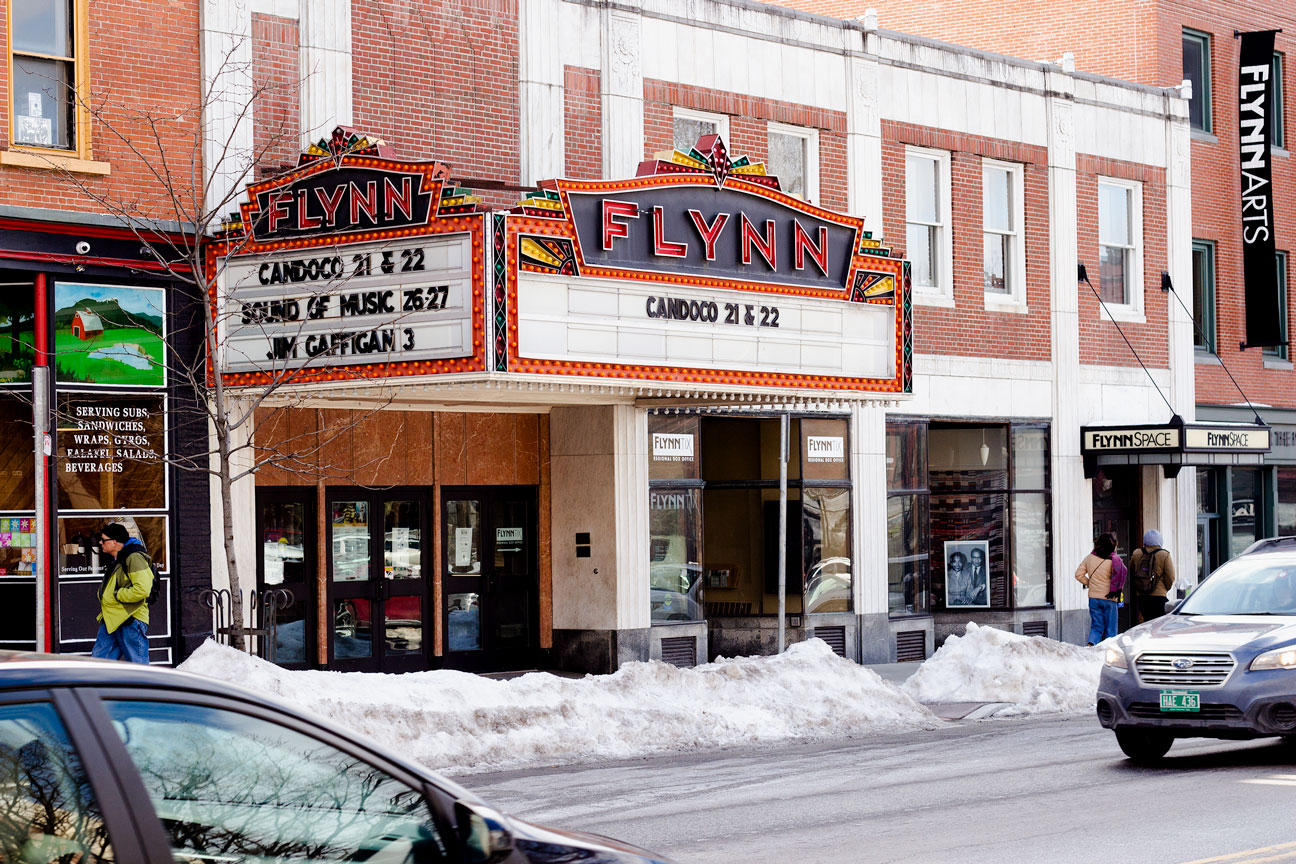 The Flynn Theater Burlington VT
2. Visit One Of The Many Breweries or Distilleries
There is no shortage of places to drink in Burlington, VT. Have yourself a craft beer at one of the many breweries around town. If beer is not your speed, pop into a distillery and try some spirits. Don't forget to pick something up to enjoy at home!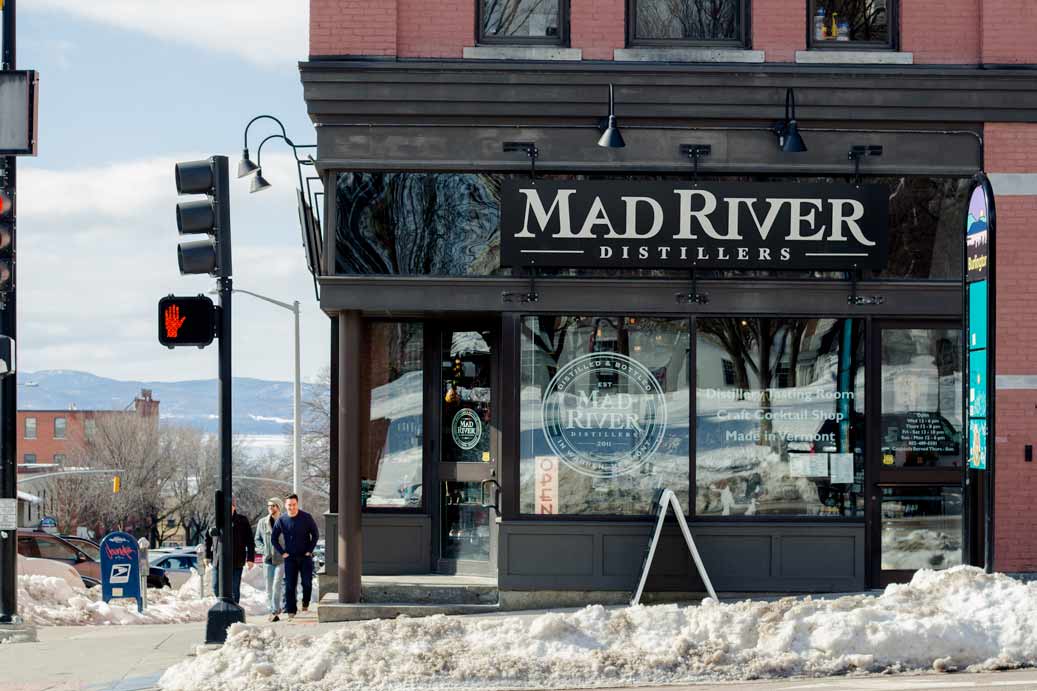 Mad River Distillers In Burlington VT
Top Breweries And Distilleries In Burlington, VT
Switchback Brewing Company: 100% employee owned and operated, Switchback has been brewing it up since 2002. Be sure to check their events page if you're going to be in town.
Zero Gravity Brewery: Located in Burlington's art district, this brewery makes for a lovely stop. Check them out on Pine Street, or grab them on tap at American Flatbread.
Foam Brewers: Located on the Burlington waterfront, Foam Brewers has live music, cheese plates, and outdoor seating in the summer. In the winter you'll want to stay cozy inside.
Magic Hat Brewing Company: Take a free self-guided tour of this funky, eclectic brewery. It's more than a brewery, its an experience.
Mad River Distillers Burlington: Award-winning spirits in Burlington. Try a tasting flight to find one you love.
Smugglers Notch Distillery and Tasting Room: More award-winning spirits blended with the finest ingredients.
Book A Brewery Tour 4-hour Burlington, VT brew tour with Lunch or Dinner
3. Treat Yourself To A Spa Day
Escape the cold and treat yourself to a relaxing massage or spa treatment. Jivana Green Spa and Salon is located right on Church Street in Burlington. Another option nearby is the Spa At The Essex. Try upgrading your massage with CBD oil for a unique relaxation experience.
4. Eat, Eat, and Eat Some More
Burlington, VT is home to several fantastic restaurants and eateries. You may have difficulty choosing where to go. Be sure to make reservations for dinner far in advance. Many places can fill up quickly and you don't want to be waiting too long when dinnertime comes around.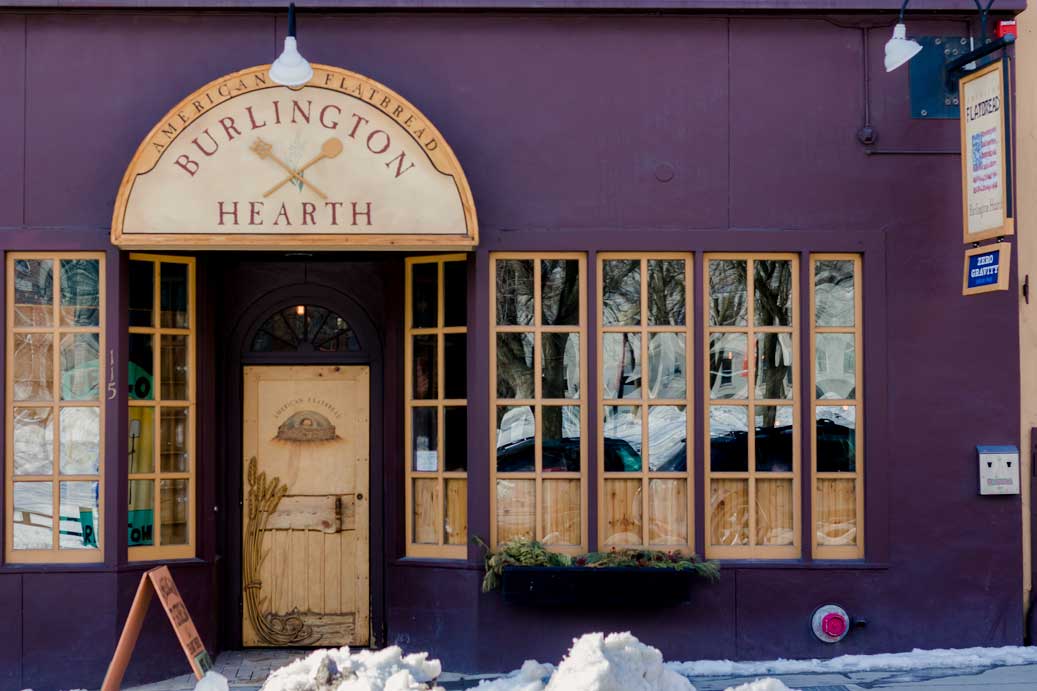 American Flatbread Burlington Hearth - Burlington VT
5. Head Out To The Slopes
In order to enjoy the slopes in Vermont, you'll have to head out of Burlington for the day. Ski Vermont is a great resource to check out snow conditions at various resorts. Some of the hotels in Burlington even offer room and slope packages.
6. Wander Church Street Marketplace
You'll have to layer up, but Church Street is where all the action is in Burlington, VT. The cobblestone street is bustling during the day and the trees are beautifully lit at night. Duck in and out of shops and grab a cup of tea to keep warm.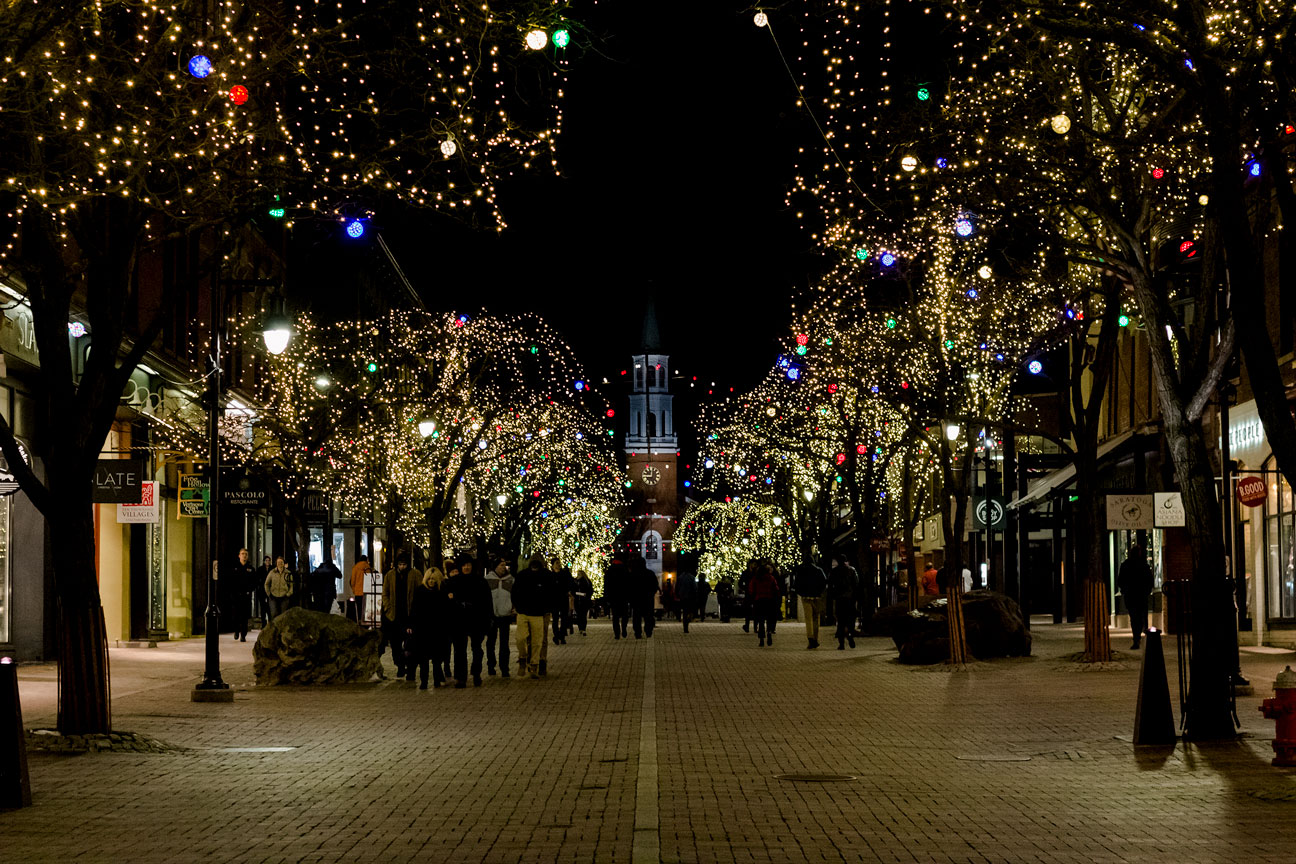 Church Street Marketplace At Night
7. Try Your Luck At The Archives
If you're a fan of vintage arcade games, you'll definitely want to stop into The Archives. Enjoy a carefully crafted cocktail and try your luck at Ms. Pac-Man, Galaga, or one of the many pinball machines available. This is a great place to meet up with some friends.
8. Walk Down To Lake Champlain
Lake Champlain is beautiful when it freezes over for the winter. If you're traveling with kids, they'll love the ECHO Science and Nature Museum located right on the waterfront.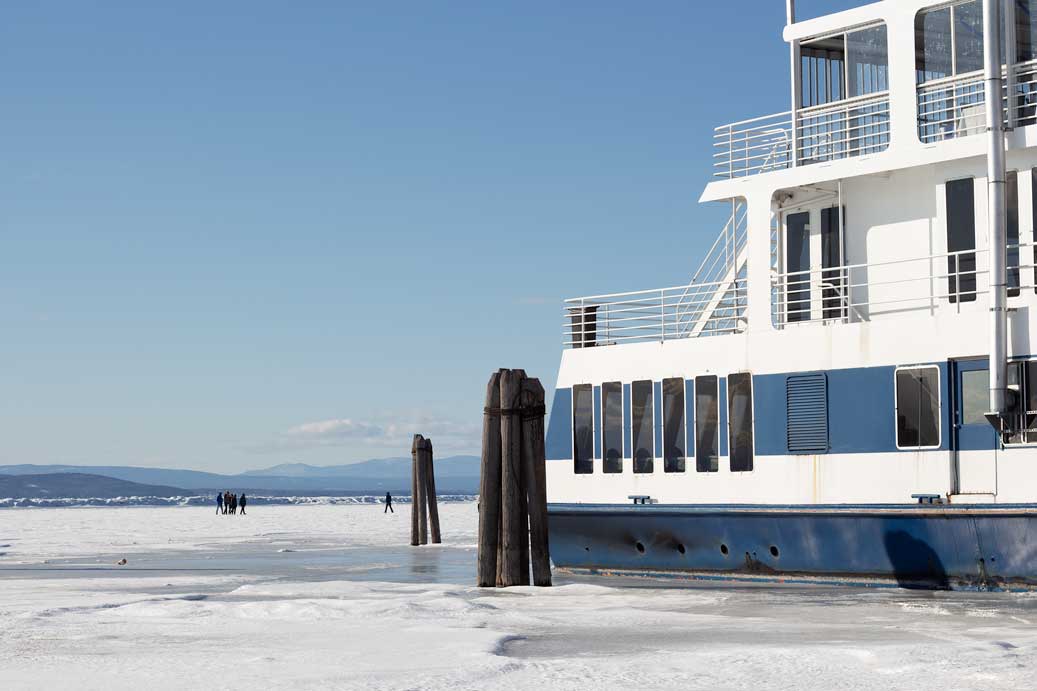 Frozen Lake Champlain
9. Visit The Fleming Museum Of Art
The Fleming Museum of Art is worth a stop if you're in the neighborhood. Located on the University of Vermont campus, the museum features a comprehensive collection of art and artifacts. It's not a huge place, but it makes a for a good indoor activity - especially if its raining out.
10. Enjoy A Winter Festival
Burlington hosts several annual festivals, even during the winter months. From the Winter Lights to the Penguin Plunge, you'll want to know if there is an event happening during your stay. Check the Church Street Events Calendar to see what's going on.
---
Where To Stay In Burlington, VT In The Winter
The Marriott Courtyard Burlington Harbor
Located right next to Lake Champlain and walking distance to Church Street Marketplace, the Marriott Burlington Harbor is in a prime location. You can cozy up in the lobby next to the fireplace or enjoy dinner in their restaurant. I suggest booking a room with a whirlpool to relax after walking around in the cold all day.
What are your favorite things to do in Burlington, VT in the winter? Have you ever been to one of the amazing breweries or festivals? Leave a comment and let us know!
Read Next: 5 Perfect Winter Winter Getaways In New England
---
---