Things to Do in Fort Worth, Texas (TX)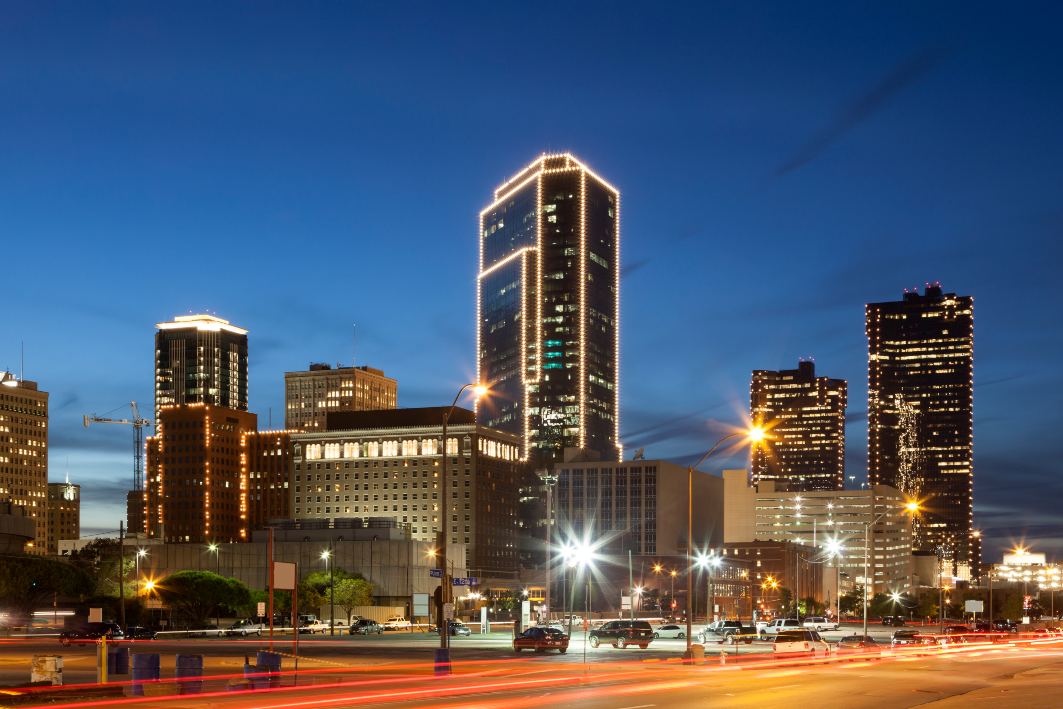 Downtown Fort Worth
Fort Worth is a city in north central Texas. By the end of the 19th century, Fort Worth was turned into a trading post of significance for cowboys, which is one of the many reasons the concept of rodeos and cowboys is pivotal to the city. To date, Fort Worth is a fully modernized city, with world-famous institutions like the Kimbell Art Museum, and many other attractions, adding to the city's tourism-worthiness for nationals and foreigners alike.
This city of cowboys and culture is the 13thlargest city in the United States and the best tourist attraction in Texas. It welcomes around almost 10 million visitors on a yearly basis. While it has been named after its deep association in cattle and ranching as Cowtown, Fort Worth possesses a diverse, cultural history and has more to offer than just what meets the eye. It is also a magnificent home to the celebrated Stockyards National Historic District and has plentiful of old-west style entertainment spots and shopping areas.
If one were truly to go wild-wild-west, or its north counterpart, Fort Worth is where they should head.
Nightlife at Fort Worth
Unlike most surrounding cities, Fort Worth doesn't sleep at night. The city has a rather colorful, active nightlife. You get to enjoy a number of fun activities and fulfilling ambiance. Among the various activities and entertainment available to visitors, there is the Cowtown Cycle Party, in which sixteen people gather and hire a bar on wheels, driving through the entirety of the town, enjoying the night away with drinks and other fun activities.
With drinking, comes a lot of hunger. In case it really comes at you, gnawing away at your insides, you can head to any one of the countless eateries of the town that offer the best in homemade food and delicacies to a number of people who prefer vegetarian diets or own a more diverse food palate. To name some dishes, there is baked chicken with spinach stuffing, pot beef chili, spaghetti and lasagna, tomato basil soup, mac and cheese, scalloped potatoes, and much more. The food is sure to help you achieve the ultimate satisfaction and you are sure to talk about it with friends and family alike later.
There a number of places you can visit, too, like the Hangman's House of Horrors, which has all types of assortments and scenes for your delight and a lot of fun activities. There is a Secret Chambers Escape Room Challenge, a Hyena's Comedy Night Club, live music at Twilite Lounge, and much more.
Fun Places to Go
There are a number of fun places one can go at Fort Worth. We will mention only a few and let you excitingly discover the rest!
Let's start with the Neon Moon Saloon nightclub, for instance?
Neon Moon Saloon club, situated at Rodeo Plaza offers the best bluegrass music for large groups, along with extraordinary drinks. Outside food is permitted inside the club. The spot is ideal for looking for sports, bar games, open air seating, unrecorded music, and party-time drinks. Some of the main highlights of the club that are worth referencing include an exceptionally cool nursery, pool tables, and more. The staff is so amicable without any issues. You can bring your vehicle along, there is abundant spacefor bicycles as well. Come and book the comfortable porch in the back end and appreciate quality time with your companions. Neon Moon Saloon dance club is an overall spot to pause and have a beverage or two.
Next up is Velvet Taco. Velvet Taco is a five-star eatery providing inventive tacos with house-made corn tortillas in a hip arrangement. A portion of the suppers on the menu incorporate wild ox chicken, hot tikka chicken, Cuban pig, singed paneer, and some more. Aside from the scrumptious suppers, they additionally offer liquor, a light meal, comfort food, lager, and sound choices. The climate is easygoing and comfortable with high seats, making it ideal for gatherings, understudies, and sightseers. The bistro additionally includes a wheelchair-open vehicle leave, passageway, seating, and latrine. Come in and have a nibble of the delicious tacos with family or companions.
Historic Buildings
We have finally arrived at the crux of this blog post: the Historic Buildings of Fort Worth that are the actual tourist's treasure! In this list, we have some of the city's most aged yet booming spots where you are sure to have the time of your life.
Sundance Square
Downtown Fort Worth and Sundance Square brag many free destinations for guests. The JFK Tribute in General Worth Square denotes the spot and event of President Kennedy's noteworthy visit to Fort Worth. Appreciate the accolade which incorporates an 8-foot bronze sculpture, visuals, and web base showing guides at the Southeast corner of Main and eighth Street.
About recent events, the establishment of the 2020 Fort Worth Christmas Tree at Sundance Square is currently finished. Because of the pandemic, the Sundance Square Plaza stays shut to the general public and Santa Claus is doing his part to help forestall local area spread, avoiding his yearly residency in the Plaza. Guests and visitors of Sundance Square cafés and shops, and families out heading to see all of Fort Worth's vacation adornments, can see Sundance Square's glorious tree from downtown roads and walkways with the most fantastic perspectives here and there Main Street between the Fort Worth City Convention Center and the Tarrant County Courthouse.
While the Christmas tree is new, a number of restaurants have been there for you since forever. Like Del Frisco's, Texas De Brazil, Mi Cocina, P.F. Chang's, Razzoo's, and Riscky's. As for what to do in Sundance square, there is the Scatt Jaaz Lounge, Pete's Dueling Piano Bar, Silver leaf Cigar Lounge, and the bars around the square.
Texas Cowboy Hall of Fame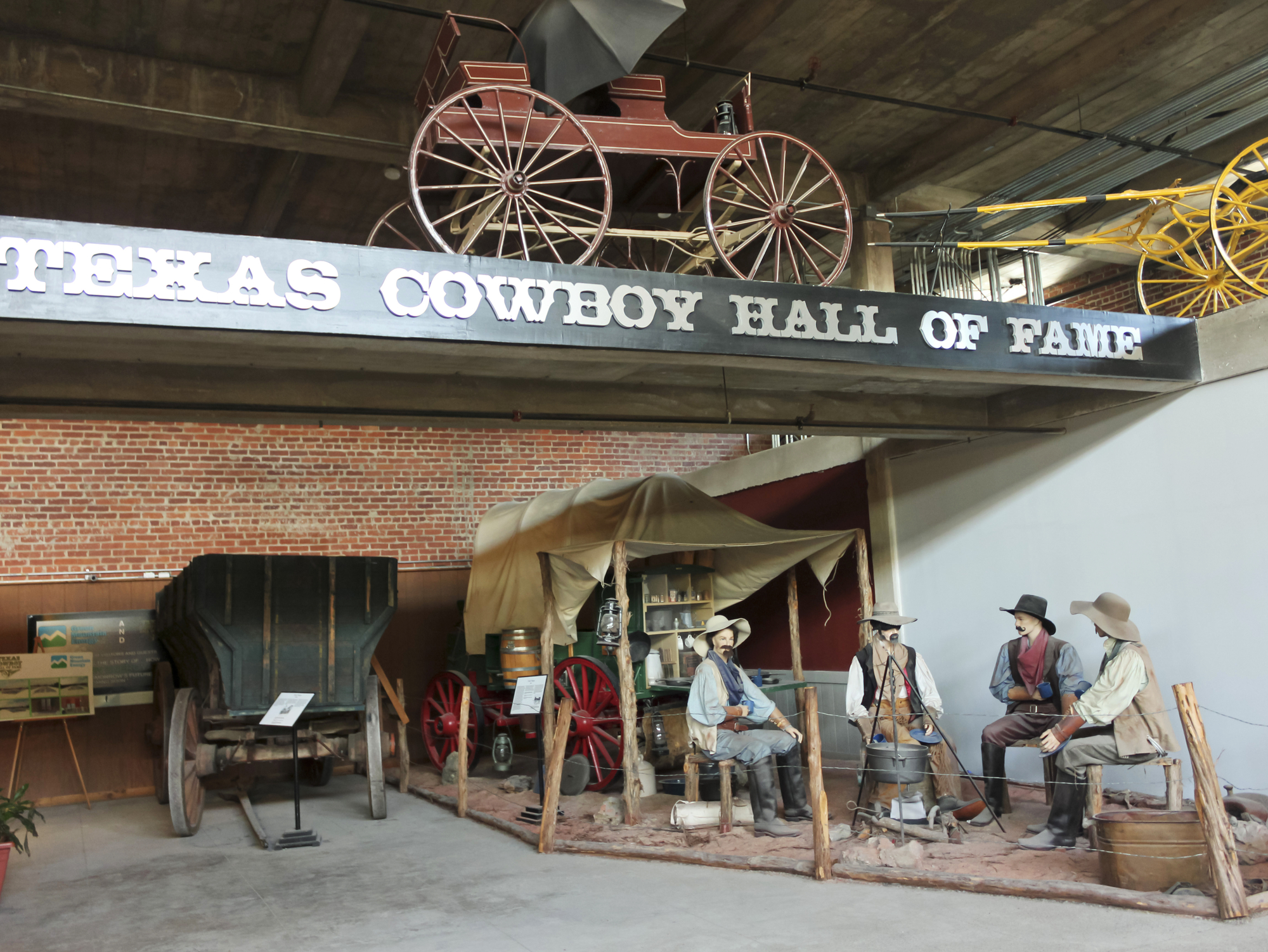 Texas Hall of Fame
The Hall of Fame honors all of the great cowboys of US history with assortments and displays made to look like scenes from the cattle driving days of these people.
The gallery is situated in the Exhibits Building in the core of the Fort Worth Stockyards National Historic District. The office highlights numerous incredible shows, alongside a Western Gift Store and the Jersey Lilly Old-Tyme Photo Parlor all under one rooftop. The displays you'll discover are The Texas Cowboy Hall of Fame, The Sterquell Wagon Collection, The John Justin Trail of Fame, and Amon G. Carter's vintage 1933 Cadillac complete with the specially crafted gun holder for his pearl-took care of handgun. Presently, under redesign – the Sterquell Wagon Collection and Amon G. Carter Cadillac are off show.
The Texas Cowboy Hall of Fame respects those people who have dominated in the game. Its more than 145 inductees include Don Edwards, Nolan Ryan, Red Steagall, and more.
John F. Kennedy Tribute Modern Art Museum
Washington D.C. has numerous commemorations to past presidents. In any case, just one wakes up with more than 2,000 occasions every year: The John F. Tribute Modern Art Museum. He was a legislator who perceived that culture and craftsmanship are the genuine signs of a society doing
well. In a broadcast discourse from 1962, President Kennedy persuasively clarified the force of workmanship to assemble spans between people groups, advising usthat the powers that join are more profound than those that break.
Home to various exhibits, it takes around 90 minutes, according to local tour-guides to go through the museum. However, you will want to spend more time at the wonderous place for it is twice as exquisite on the inside as it is on the outside. The place is also perfect for photography and getting Instagrammable shots that are sure to boost your profile views.
Such is the impact of the tribute museum, or anything JFK, really.
Texas Civil War Museum
Inaugurated in 2006, the Texas Civil War Museum professes to be the biggest Civil War exhibition hall west of the Mississippi. Also, with 15,000 square feet of a room loaded with a huge number of recorded items, relics, and instructive freedoms, it most likely is. You get to start your excursion with the half-hour film, Our Home, Our Rights: Texas in the Civil War, which plays persistently in a 75-seat theater. At that point adventure over to the Victorian dress' assortment, where in excess of 200 dresses and adornments are put on a pivoting show. At that point track down the United Daughters of the Confederacy assortment, which holds period articles and the biggest assortment of Texas regimental banners in the state.
Be that as it may, the fundamental fascination is the Ray Richey Civil War Collection, where in excess of 3,000 things honor the situation and history of the two sides. See Union and Confederate regalia, instruments, clinical apparatuses, and different curios. The gallery likewise houses remarkable things, for example, General Grant's introduction sword and the primary version of Uncle Tom's Cabin.
Vintage Flying Museum
Situated on the grounds of Fort Worth's Meacham International Airport, the Vintage Flying Museum honors America's aeronautics history with an assortment of curios, displays, and airplanes. Meander through a room loaded up with complementary and fly motors, look at a variety of extraordinary model planes, or examine memorabilia from World War II. Be that as it may, most great is the in excess of 20 airplanes in plain view, including "Chuckie," one of the last flying B-17s left on the planet. Despite the fact that Chuckie actually sets aside to the skies from effort to time, a portion of the planes in the gallery's assortment—many were inherent in the 1940s—won't ever fly again.
The Vintage Flying Museum offers various instructive related to the FAA, from camps for center and secondary school understudies to workshops for educators. The gallery likewise has a Living History bunch committed to respecting WWII pilots and airplanes through aviation expos, reenactments, and different capacities in period garbs.
Restaurants and Other Places
Apart from its rich cultural history, Fort Worth is known for its food and entertainment. Here are our picks for the restaurants and "other places" in Fort Worth you need to visit.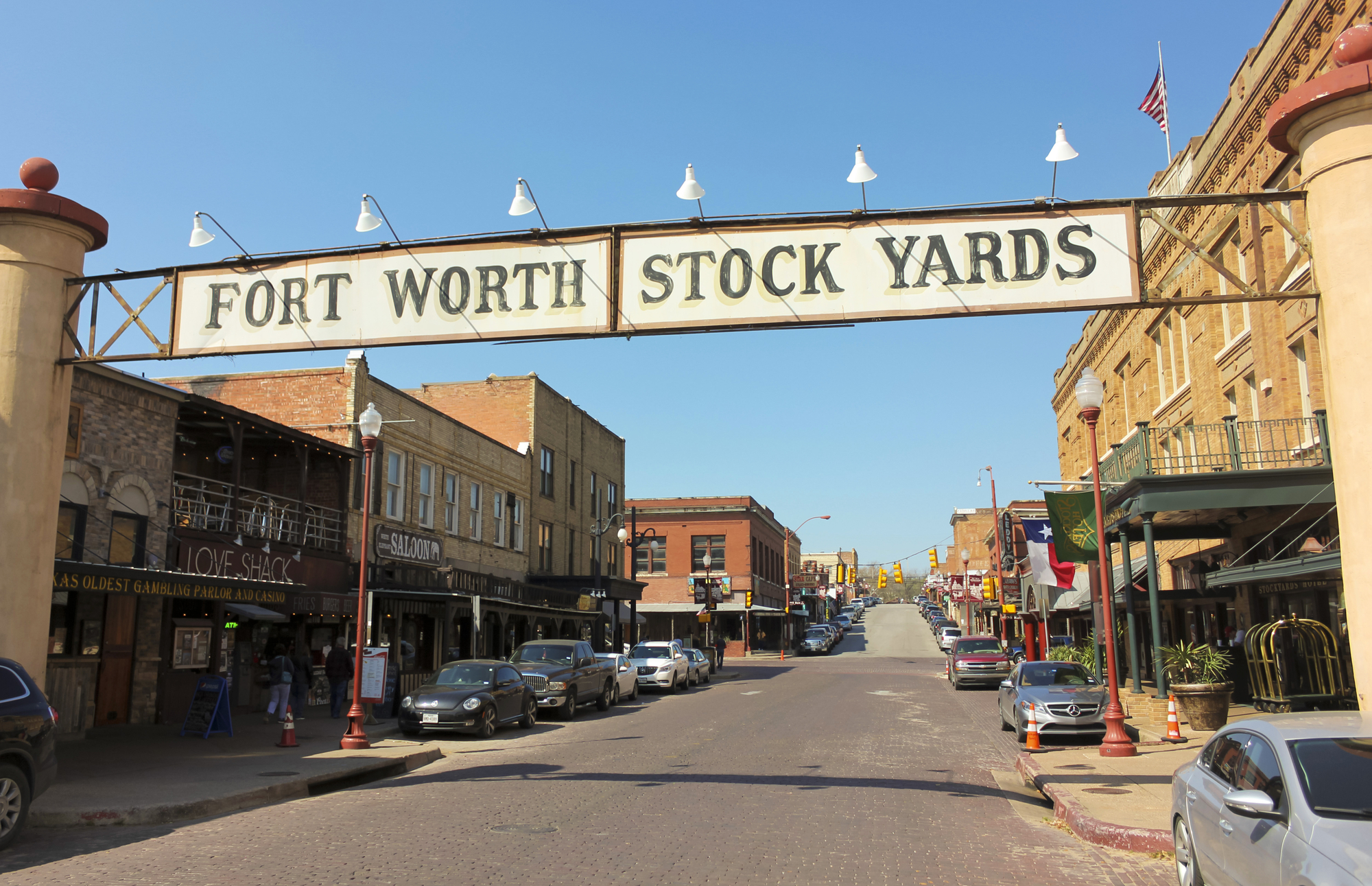 Fort Worth Stockyard Texas
Fort Worth Zoo
Numerous occupants in DFW accept the best zoo experience is Fort Worth, which has a larger number of creatures than Dallas, requiring an entire day to visit. Furthermore, there are numerous new shows that are going to be available to general society, with more than 10 sections of land of extra space for additional displays and energizing exercises to be included along with everything else. There are two elephant calves at present living at this zoo, Belle and Bowie, each brought into the world in the year 2013, and there are currently three ages of elephants living at the zoo prepared to flaunt group elements in a manner that is difficult to witness elsewhere.
Another star fascination and another expansion to the zoo group of creatures is an infant gorilla, named Gus, who is the absolute first to be conceived at the zoo. Brought into the world in December 2015, this cute infant is the posterity of two pleased guardians. Outstanding, the Fort Worth Zoo is the solitary zoo in the country to highlight four Great Ape species —orangutans, chimpanzees, gorillas, and bonobos.
Cooper's Barbecue
Cooper's keeps on soldiering on—a gutsy old folk, a grill sturdy that has shown up on each and every one of these rundowns. In the first place, eyeball the inconceivable exhibit of meats in the monstrous serving pit—brisket, sirloin steak, pork slashes, hamburger and pork ribs, cabrito, chicken, hotdog. This is the most difficult piece of the Cooper's insight, since you need to pick the bits of meat you'll before long be eating, and the display of that abundance has been known to overpower guests and cause them to freeze up. Stay centered. The must-have is the pork hack, a two-inch-thick delicious chunk, yet get a portion of the smoky brisket, as well, and in any event one of the fat and fun meat ribs, which are covered in a thick, dark, chewy outside layer. The chicken is soggy and peppery, and the pork flank is excessively lean. The best hotdog is the one with jalapeño in it.
Having chosen your meats, head down the line for sides (the jalapeño macintosh and cheddar is amazing) and handcrafted treats (apple, blackberry, peach, and walnut shoemaker). Get a cup of sauce from the toppings table—you will not really need any on your meat, yet the slight, tart blend merits a plunge. At last, head into the extensive lounge area and sit down at one of the long outdoor tables. This is, similarly as the name recommends, bygone era pit grill at its best.
Thompson's Bookstore Bar
A bookstore and a bar? That's pretty cool, isn't it? Indeed, it is.
We are without a doubt not in the forbiddance period any longer but rather there is something in particular about the mysterious bars of that time that actually fills us with fervour. The most amazing aspect of today is that you can in any case go to these speakeasies where presently it's absolutely legitimate to have a beverage. Perhaps the coolest speakeasy in the Mextorplex is presumably Thompson's Bookstore.
The bar requires a secret phrase to get in and it's taken cover behind a mysterious shelf entryway! The main floor is a bar on its own that is available to general society. The mysterious speakeasy, nonetheless, is situated in the cellar showed with shaded light. You'll feel like you're truly during the 20s with the entirety of their speciality deco-motivated stylistic layouts. Beverages are continually changing yet a portion of their more acclaimed drinks incorporate the fantasy of Persephone, Grapes of Wrath, and Breakfast of Champions. Their manifestations are frequently decorated with things like Cinnamon Toast Crunch. However, they likewise have your customary top picks like old designs. Via online media, the speakeasy is frequently alluded to as the RX and their image is a mixed drink curve on the customary clinical image. You can discover the secret word of the night on their Facebook page, yet you may need to do some perusing to uncover the secret key, as it is frequently under an extensive post on their social.
Shopping for Western Clothes
In the City of Cowboys and Culture, you'll find some of the best Western-themed shops in Fort Worth. Whether you're looking for a pair of custom-made boots or a cowboy hat for the weekend, no trip to Fort Worth is complete without picking up a piece of Western flare.
Step into M.L. Leddy's, and be transported back in time. Leddy's (as it's referred to by locals) is an 85-year-old, family-owned business in the Stockyards National Historic District. Leddy's is best known for its custom, handmade boots, belts, buckles, saddles, and more.Other Stockyards favorites include Maverick Fine Western Wear and Fincher's White Front Western Wear. At Stockyards Station, shoppers can browse several unique shops for one-of-a-kind goods like jewelry, teas, and spices, rare gemstones, wine, and vintage records.
Explore the newly renovated Mule Alley lined with one-of-a-kind stores by Lucchese Bootmaker, Wrangler, and MB Mercantile. For a custom-made Western hat, head to Peters Bros. Hats in downtown Fort Worth, around since 1911. Looking for authentic Western boots, but don't want to break the bank? Visit Justin Boots Outlet in the Near Southside for great savings on over 15,000 pairs of Western, work, and casual boots.
Spa Castle
After all the fun you will have, it is mandatory to relax the next day. This is where Spa Castle comes in. A spa day implies giving up to sweet fatigue in environmental factors not any more invigorating than cucumber water. Getting a charge out of waterslides, calamity motion pictures, and kimchi stew close by medicines is how Spa Castle helps you. Horde societies embrace the advantages of a common shower or a decent perspiration—from the Mexican temezcal to the Japanese sento—and hold them dear to their public characters. South Korea's numerous jimjilbangs, where de-focusing on long distance races are supported by food courts, beguilements, and resting rooms, are available at Carrollton's Spa Castle and more.
Fort Worth Botanic Garden
The Fort Worth Botanic Garden is a beautiful place to visit. With over 2,500 different species of plants, it is one of the largest botanical gardens in the United States. The garden has something for everyone, with gardens dedicated to native Texas plants, roses, butterflies, and more. The Fort Worth Botanic Garden is a great place to spend a day exploring nature.
That was it for our Things to Do in Fort Worth Texas. What comes next are days full of fun and excitement, pictures and selfies, and enjoyment.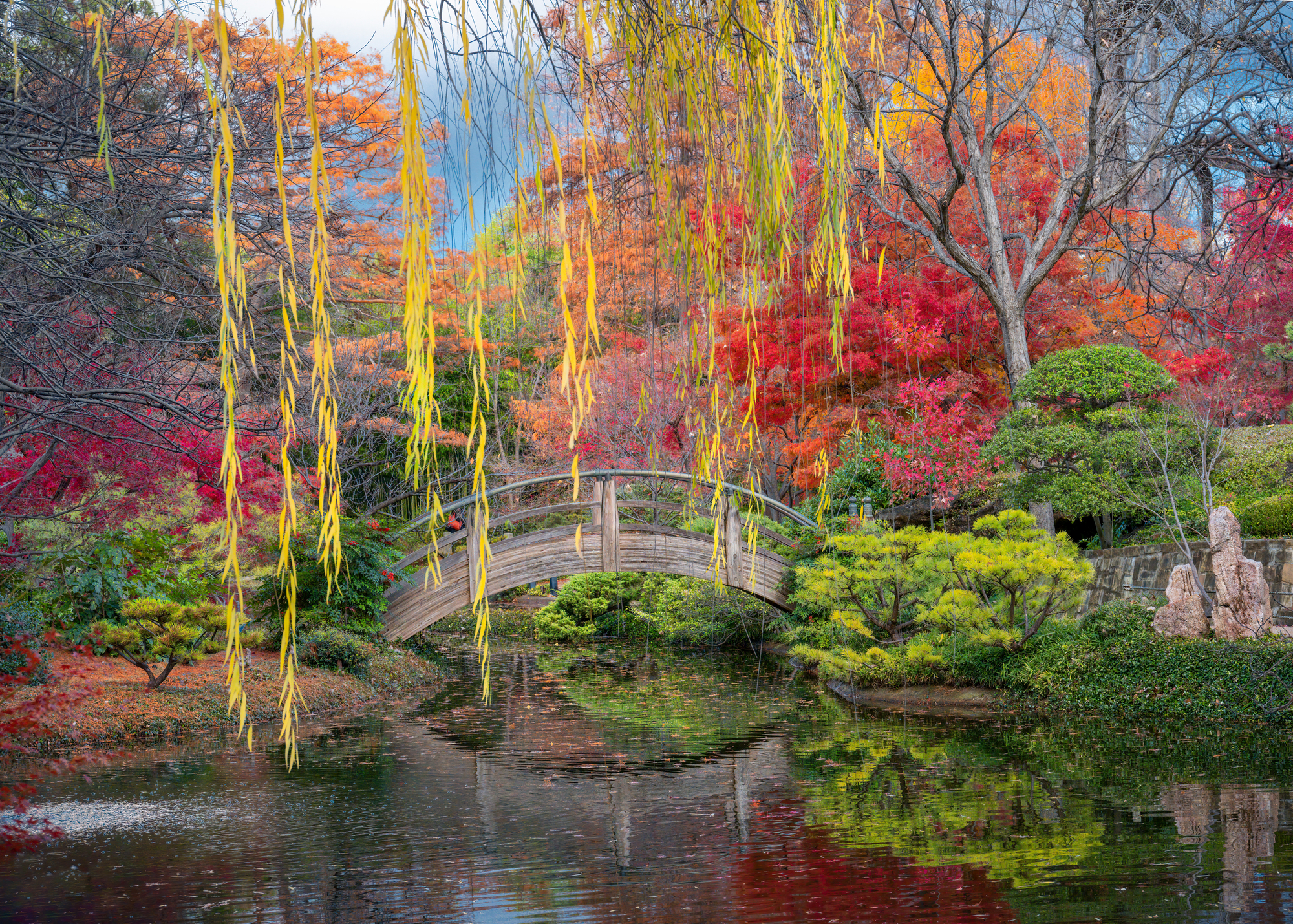 Japanese Garden Park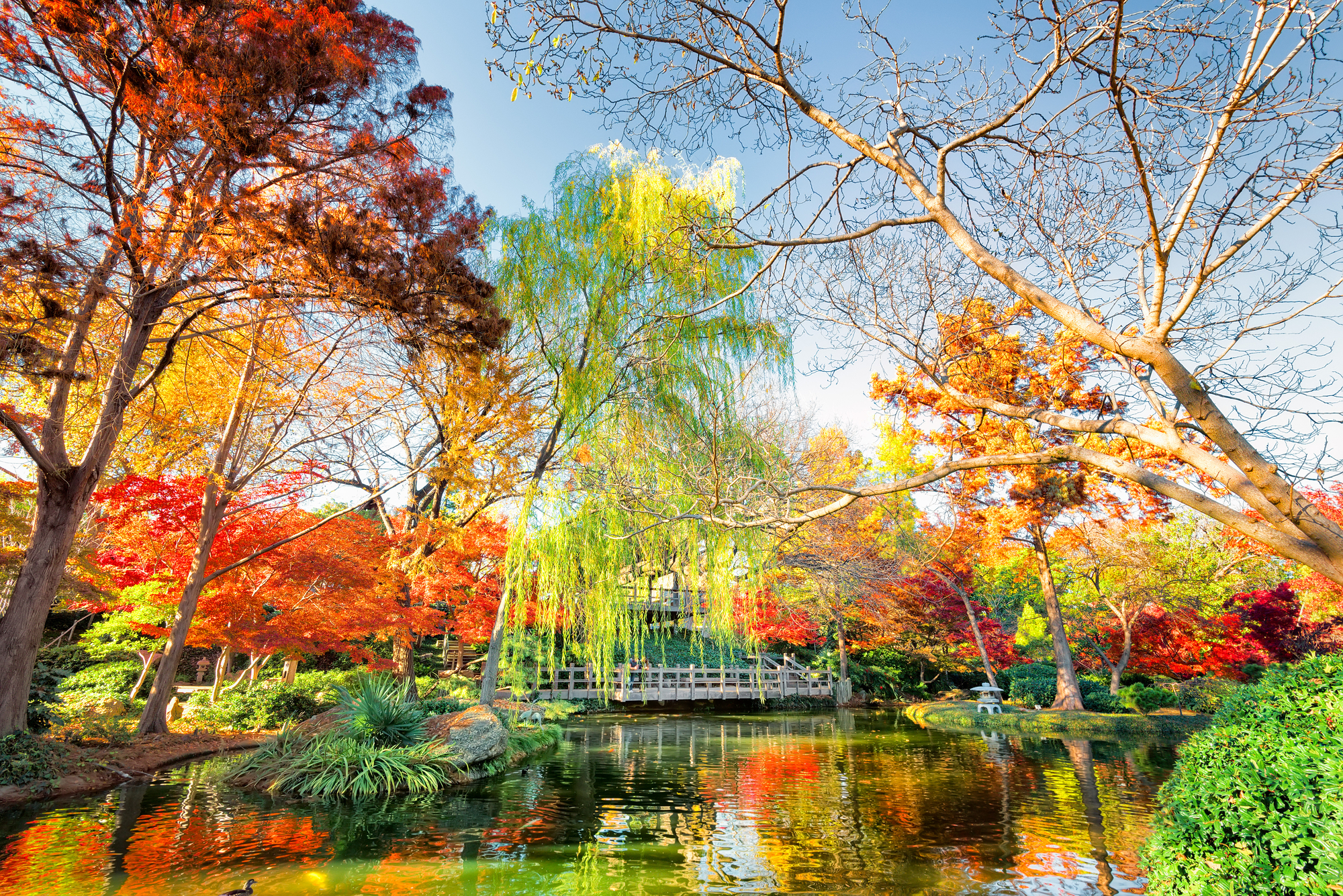 DFW Park Fall
Post Last Updated