7 Awesome Comic Book Shops To Visit in NYC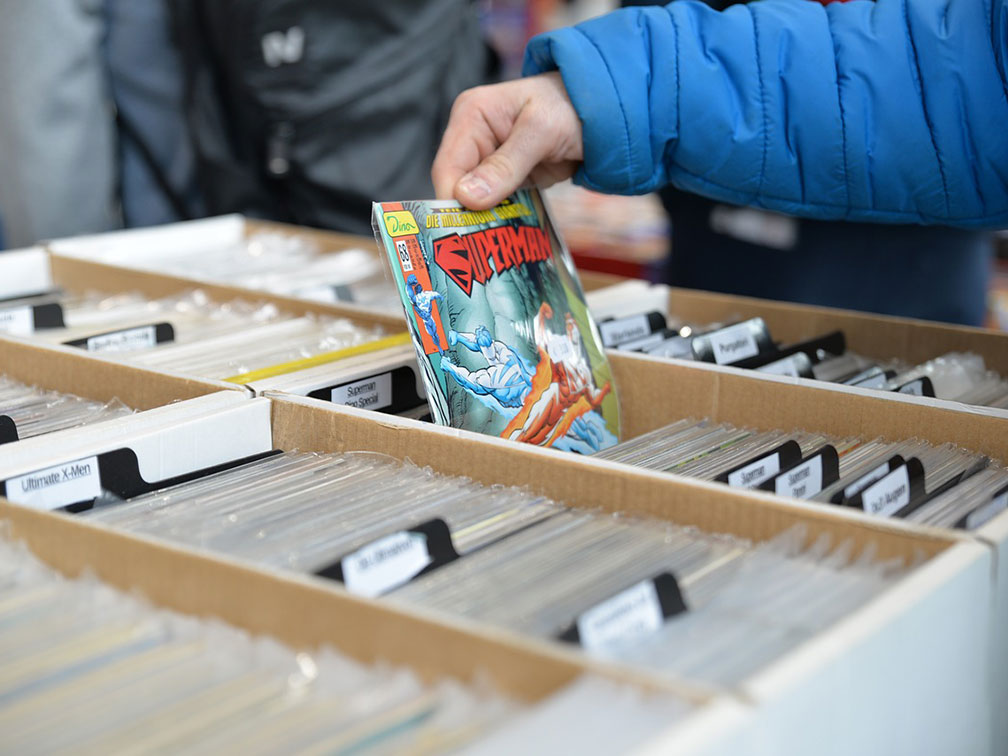 Is there anything more nostalgic than flipping through old comics? Comic books have come a long way over the years, and there is no better place to browse collections than New York City. The Big Apple is rich in comic book history. Many popular cartoonists were born and worked in the city when their comic careers took off. Even your friendly neighborhood Spider-Man swings from tall skyscrapers in Manhattan. If you're an avid collector, or just enjoy the occasional read, comic shops are a great place to pass the time. Here are some of the best places to buy comics in NYC.
1. Midtown Comics
Downtown: 64 Fulton Street, New York, NY 10038 | (212) 302-8192 | midtowncomics.com
Grand Central: 459 Lexington Avenue, New York, NY 10017 | (212) 302-8192
Times Square: 200 W. 40th Street, New York, NY 10018 | (212) 302-8192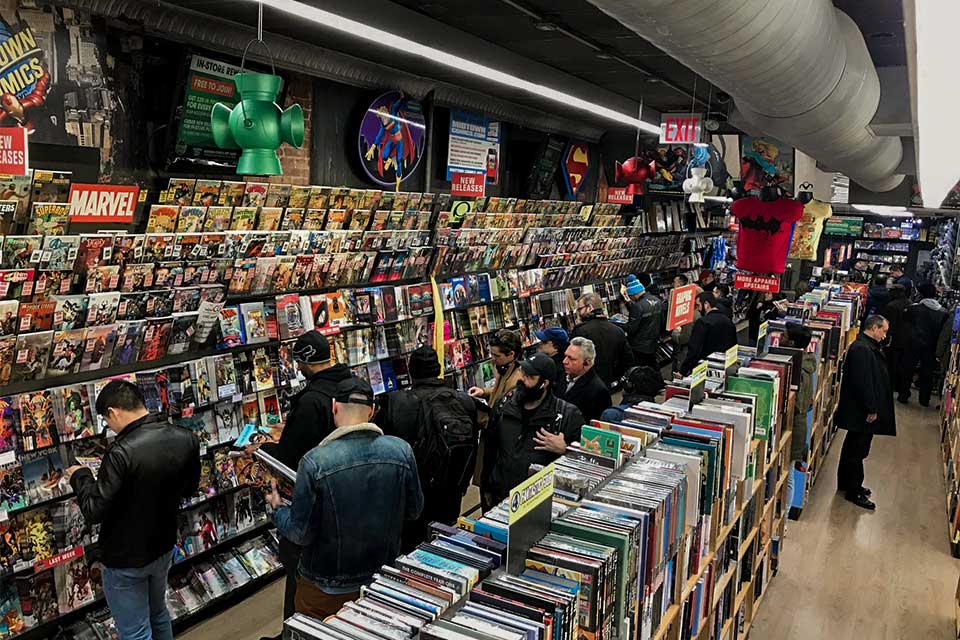 Midtown Comics / Photo Courtesy of Midtown Comics
Midtown Comics is the largest comic book store in the country. The shop has been running strong since they first opened their doors in 1997. They have an extensive collection of new issues, action figures, and graphic novels. If you're on the hunt for back issues, check out the second floor. That's right, this is a multi-level comic book shop! You can easily spend a couple hours browsing here. A must-see in the city for any comic buff. They have three locations in NYC.
2. JHU Comics
East 33rd Street, 481 3rd Ave #5503, New York, NY 10016 | (212) 268-7088 | jhucomicbooks.com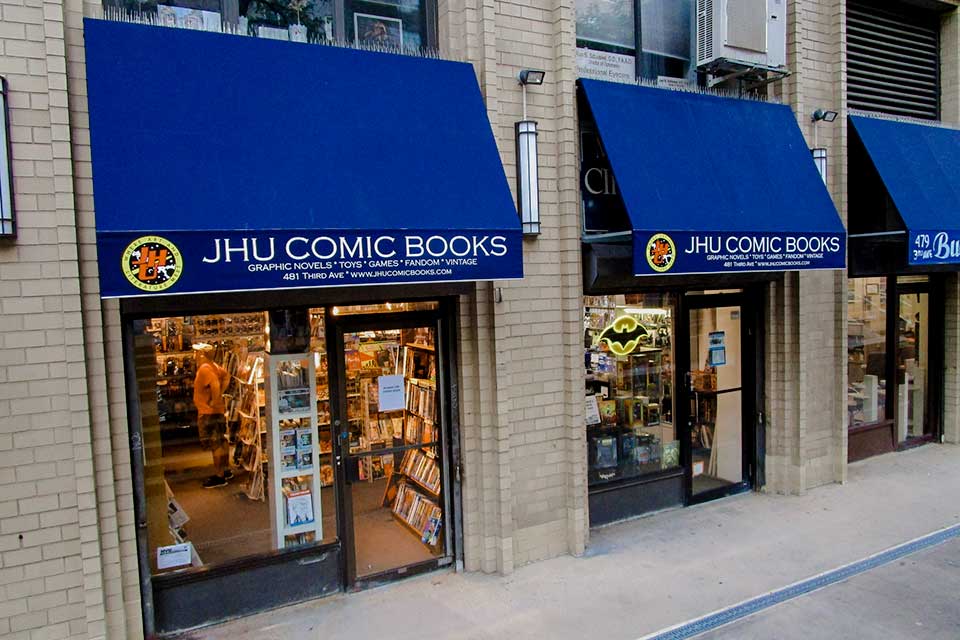 JHU Comics / Photo Courtesy of Brecht Bug / Flickr
JHU comics was once known as Jim Hanley's Universe, a long-standing player in the city's comic community. You can visit the original Staten Island store which has been serving comic geeks since the 1980s. JHU Comics opened a brand spankin' new shop in April 2018. At JHU you'll find everything from mainstream to mini comics, gaming supplies, action figures, trading cards and more. If you'd rather play Magic The Gathering or Pokemon, their Staten Island shop has sanctioned gaming tournaments. The staff is knowledgeable, passionate, and ready to help find what you're looking for.
3. Forbidden Planet
832 Broadway, New York, NY 10003 | (212) 473-1576 | fpnyc.com
Forbidden Planet Comics / Photo Courtesy of Alistair McMillan / Flickr
Named after the classic 1956 Fantasy film, Forbidden Planet is a must-see for any Sci-Fi geek. The shop is located right next to the popular Strand Bookstore near Union Square. At Forbidden Planet, you'll find a large collection of graphic novels, comics and games. They even have an awesome blog if you're looking to kill time at work, I mean… on the subway.
4. Royal Collectibles
9601 Metropolitan Ave # 1, Flushing, NY 11375 | (718) 793-0542 | royalcomicsnyc.com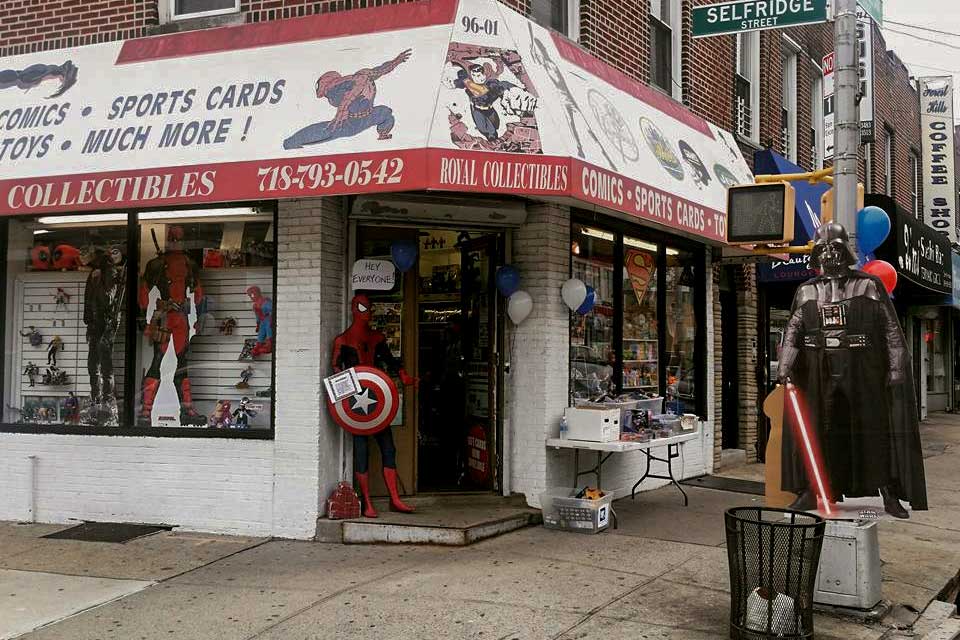 Royal Collectibles / Photo Courtesy of Royal Collectibles
Royal Collectibles is your friendly neighborhood comic shop. The personable staff will treat you like family as you browse the varied collections of books, cards, and collectibles. They also have a very impressive assortment of Funko Pop Figures. If you subscribe to their free pull list service, you'll save 10% off the cover price of new issues. When you shop at Royal Collectibles, you're supporting a true mom and pop business. Recently, they even donated comics to the children's ward at a local hospital! Be sure to take a photo in front of their outside mural, it's beautiful.
For sports memorabilia or gaming cards, you'll want to visit their second location, Royal Sports and Entertainment.
5. Alex's MVP Cards and Comics
1577 York Ave, New York, NY 10028 | (212) 831-2273 | alexsmvp.com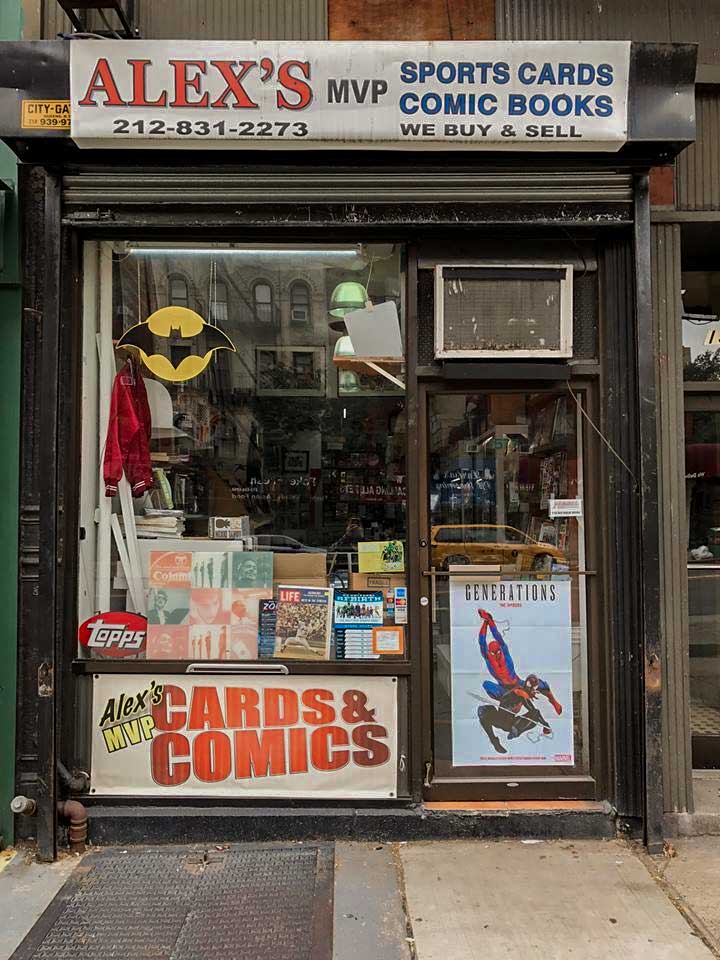 Alexs MVP Comic Book Shop / Photo Courtesy of Alexs MVP
This family-owned shop is small, but it's packed with interesting memorabilia. A must-see stop if you're a collector of vintage sports cards. Please don't eat any of the gum that many accompany the vintage cards though! They have been long-standing since 1988 and continue to serve the community with their vast assortment of items.
6. Carmine Street Comics
34 Carmine St, New York, NY 10014 | (646) 656-1022 | carminestreetcomics.com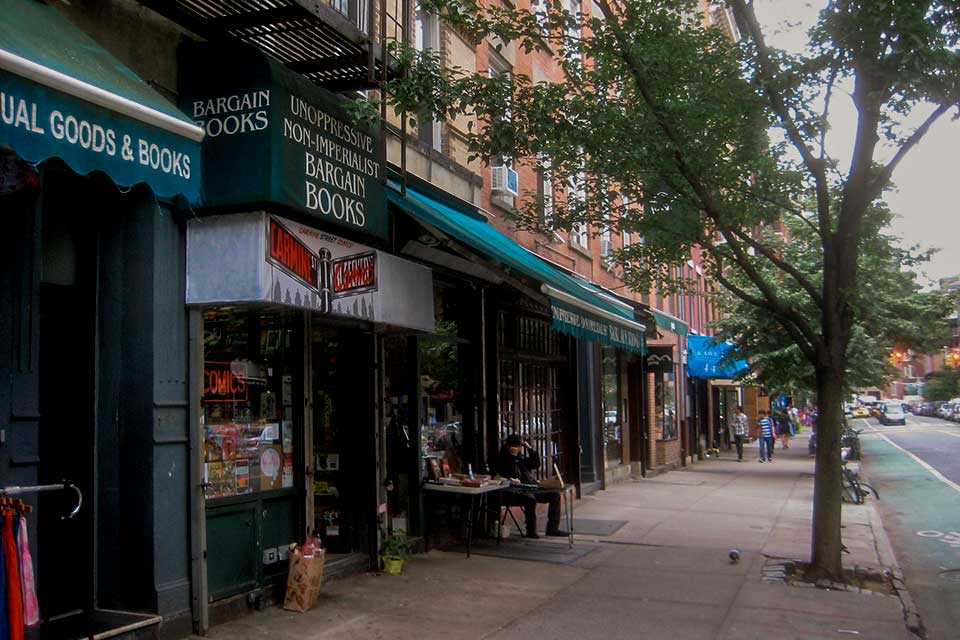 Carmine St Comics / Photo Courtesy of Brecht Bug / Flickr
Carmine Street Comics is unique because it's not only a comic shop, it's also a studio. They host an open mic every weekend and regular comedy shows in their intimate, cozy space. This comic store is more than a place to purchase books, it's a community of awesome people. Stop in for signings, stand-up, or just your weekly comic.
Check out their calendar of events to see what's happening at Carmine Street Comics.
7. Kinokuniya New York
1073 6th Ave, New York, NY 10018 | (212) 869-1700 | usa.kinokuniya.com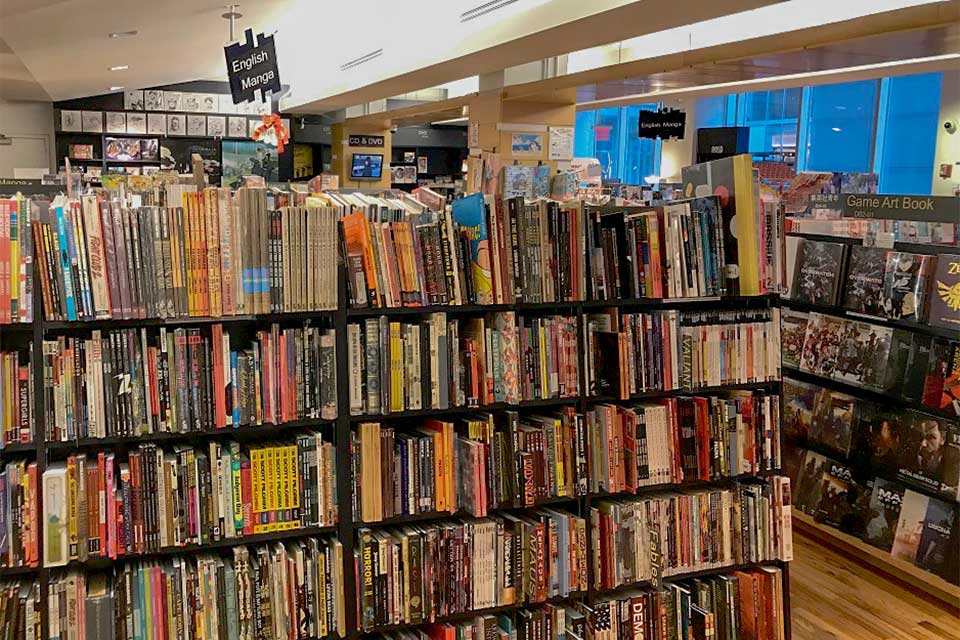 Kinokuniya NYC / Photo Courtesy of Kinokuniya
Kinokuniya is a Japanese-based retailer specializing in manga, Asian books, stationary, and gifts. To be honest, it's an amazing Japanese version of Barnes & Noble. Right across the street from Bryant Park, it's easy to find and well worth the visit. Grab a bubble tea in their cafe and wander through. They also have an amazing selection of pens and stationary. A great place for unique gifts and Japanese goods.
Where are your favorite places to buy comics in NYC? Did I forget one of your favorite comic shops? Leave a comment and let me know. I'll pay a visit on my next trip to the Big Apple!
---
Post Last Updated