Where To Find The Best Vegan Food In Boston 2023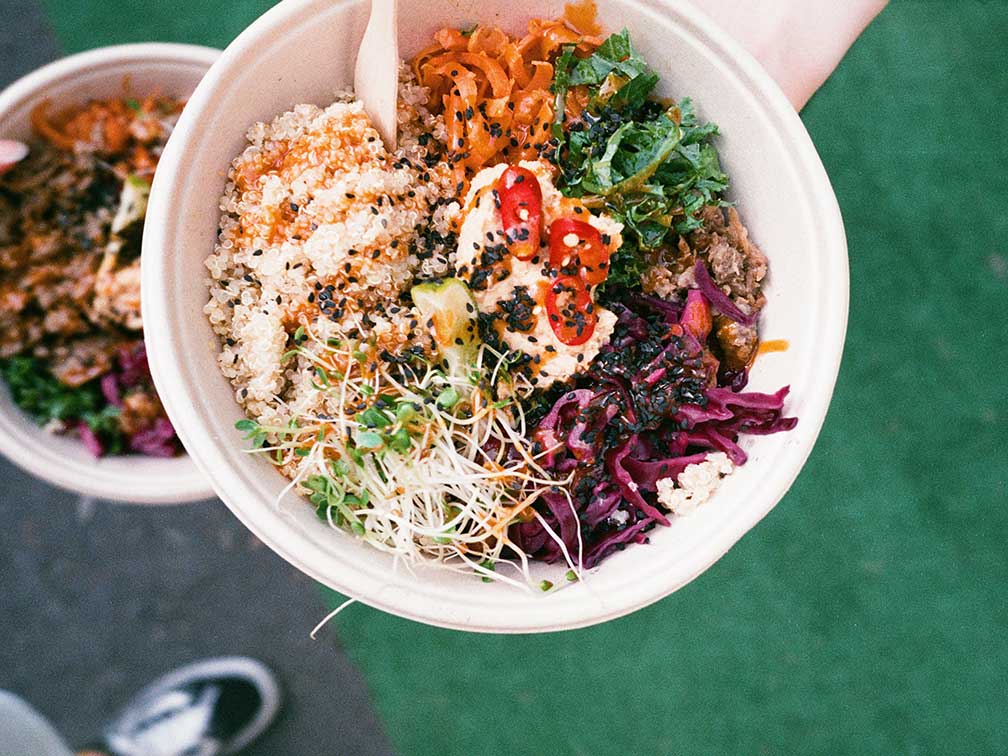 If you're on the hunt for good vegan food in Boston, you're in luck. There is no shortage of healthy vegan dining options in the city. From casual Asian eateries to retro diners, you'll have plenty of delicious dishes to choose from. You don't have to be an herbivore to enjoy everything these restaurants have to offer. Dig in! Here's the best vegan food in Boston.
Best Vegan Restaurants In Boston
If you're looking for the best vegan restaurants in Boston, look no further. With a variety of delicious vegan options.
From vegan poutine to soy-based dishes, there is something for everyone. Whether you're looking for a quick lunch or a sit-down dinner, these eateries offer plant-based meals that will make your taste buds dance.
No matter what kind of cuisine you're looking for, there's sure to be a vegan restaurant in Boston that will satisfy your cravings.
Veggie Galaxy
450 Massachusetts Ave, Cambridge, MA 02139 - VEGGIEGALAXY.COM
Veggie Galaxy is a bustling diner with some seriously delicious vegan comfort food. Open 7 days a week, the diner serves breakfast all day. They have a 100% vegan bakery, so you can enjoy a slice of cheesecake after your tofu benedict. Veggie Galaxy has an extensive menu packed with mouthwatering options. This diner makes for an amazing vegan experience. They even serve boozy frappes and space-themed cocktails if you're looking for a late night indulgence. Be sure to grab a couple of vegan doughnuts for the road! Veggie Galaxy is a great spot for comfort food like milkshakes, burgers, and donuts all made using vegan ingredients.
Grasshopper
Grasshopper is a casual Asian eatery with large portions and a diverse menu. Every third Sunday of the month they offer an all-you-can-eat buffet. It's a great deal and the best way to try everything that Grasshopper has cooking! If it's your first time dining here, try the "No Name Dish". It may not have a name, but it has a great flavor.
My Thai Vegan Cafe
If you're craving a great dish of vegan Pad Thai, you'll want to stop into My Thai Vegan Cafe. Don't let the shabby exterior of the building deter you. Located up the stairs on the second floor, you'll find that My Thai is a real hidden gem. A great option for takeout vegan food in Boston. Be sure to check out their other spot as well, Cuongs Vegan Sandwiches.
COCOBEET
100 City Hall Plaza, Boston, MA 02108 - COCOBEET.COM
If you're looking for a quick vegan option, Cocobeet is a great choice. They have an extensive menu of fresh cold-pressed juices and smoothies. Healthy vegan salads and sandwiches are all available with grab-and-go convenience. Everything is fresh and plant-based, so you can feel really good about eating here.
VEGGIE CRUST
445 Somerville Ave, Somerville, MA 02143 - VEGCRUST.COM
If we're talking about vegan food in Boston, there needs to be a mention of pizza. Good news vegans, you too can enjoy a crispy, "cheesy" pizza pie on your next trip to the city. Veggie Crust is a 100% vegetarian pizza joint with plenty of creative vegan options. With two locations in Boston and late night hours, you can easily fulfill your pizza cravings.
Zhu Pan-Asian Vegan
166 Massachusetts Ave Arlington, MA 02474 - zhuvegankitchen.com
The restaurant specializes in seitan, which is a wheat-based protein that mimics the texture of meat, and soy products such as tempeh and tofu. All of their dishes are made with fresh ingredients and can be customized to meet your dietary needs. The atmosphere is warm and inviting with friendly staff that are knowledgeable about veganism and eager to help you make the best choice for your meal. The restaurant also offers a selection of sushi rolls and sashimi made with plant-based proteins, as well as several noodle dishes. Whether you're looking for a quick bite or an elaborate meal, Zhu Pan-Asian Vegan Restaurant in boston has something for every palate.
Whole Heart Provisions
Whole Heart Provisions offers creative bowls and street snacks guaranteed to satisfy your taste buds. You can choose one of their signature bowls, or build your own and fill it up with your favorite fresh ingredients. Your heart and your belly will be happy. Whole Heart Provisions is an affordable option for vegan food in Boston. They also offer brunch on Sundays from 10am-2pm, so get ready to dig into some tofu scramble and smashed potatoes.
by CHLOE
107 Seaport Blvd, Boston, MA 02210 - EATBYCHLOE.COM
Upon walking into by CHLOE, you may not realize it's a vegan eatery. Their menu offers a great variety of vegan and gluten-free options, all of which are fantastic. The perfect spot for a tasty vegan lunch and a sweet snack in the city. Be sure to try the guac burger. It's a little messy, but well worth it for how flavorful and filling it is.
Vegan Ice Cream in Boston
Nowdays there are many vegan ice cream shops and restaurants located throughout the city, offering delicious flavors like chocolate, vanilla, strawberry, mint chip and more. Many of these establishments also offer vegan-friendly toppings such as nuts, fruits, sprinkles and other sweet treats.
One of the most popular options is FoMu, a plant-based ice cream shop located in Allston. They offer a wide range of flavors, from classic vanilla and chocolate to seasonal specialties like pumpkin spice and peppermint bark. Additionally, they have dairy-free and gluten-free options available. If you are looking for something more unique, then check out Lulu's Sweet Shoppe in Jamaica Plain. Here, you can find unique flavors such as lavender honeycomb and baklava made with coconut milk ice cream.
What's your favorite place to get amazing vegan food in Boston? Let me know in the comments so I can pay a visit and add them to the list!
---
Post Last Updated