The Best Places To Stay When Visiting Salem, MA 2023
There's no question that Salem, Massachusetts attracts most tourists during the Halloween season. If you're considering a visit to Salem during the fall, you'll want to make reservations as far in advance as possible. Rooms book up quickly, especially on weekends in October. Grab your broomstick and get ready to explore Witch City! Here are some of the best places to stay when visiting Salem, MA.
1. The Morning Glory B&B
22 Hardy St, Salem, MA 01970 - morningglorybb.com
Complimentary breakfast, Free parking, Water views from roof deck, Quiet location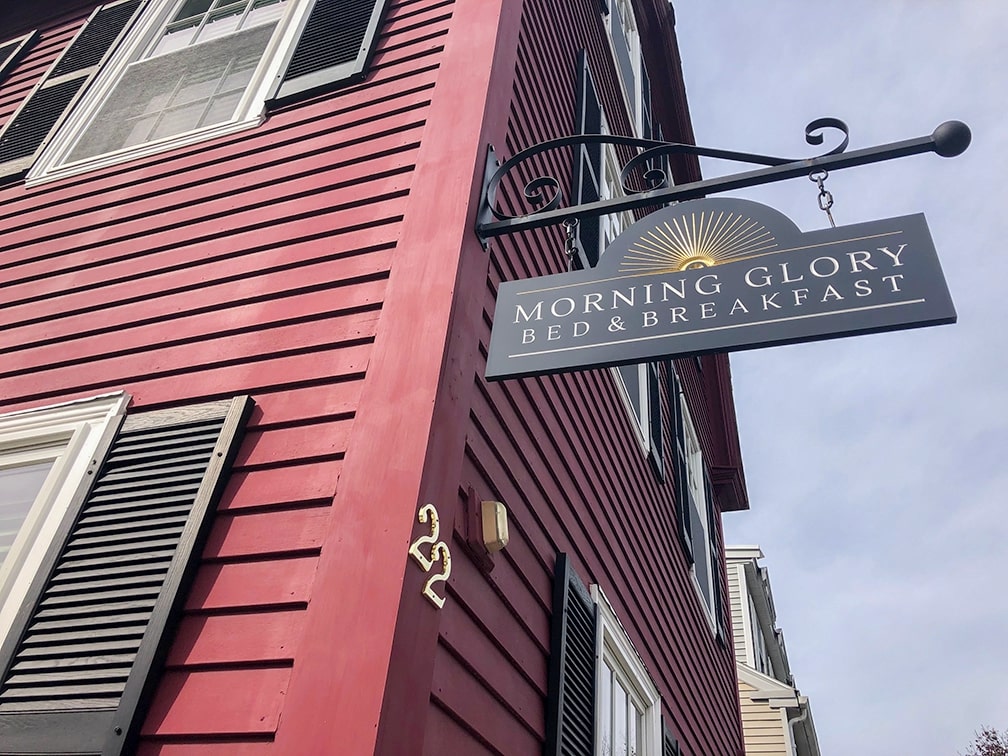 The Morning Glory B&B is a beautifully maintained bed-and-breakfast dating back to 1808. Located on a quiet dead-end street next to the harbor, this charming historic home has three immaculate guest rooms to choose from. The B&B is situated right across the street from The House of Seven Gables. If you're looking to stay close to the action, but still have your peace and quiet, you'll be very happy with The Morning Glory. It won't take long to feel right at home. Enjoy a peaceful stay followed by a delicious homemade breakfast in the morning! Don't forget to try a slice of the famous cheese bread.
2. The Hawthorne Hotel
18 Washington Square W, Salem, MA 01970 - hawthornehotel.com
Free parking, Fine-dining on site, Good location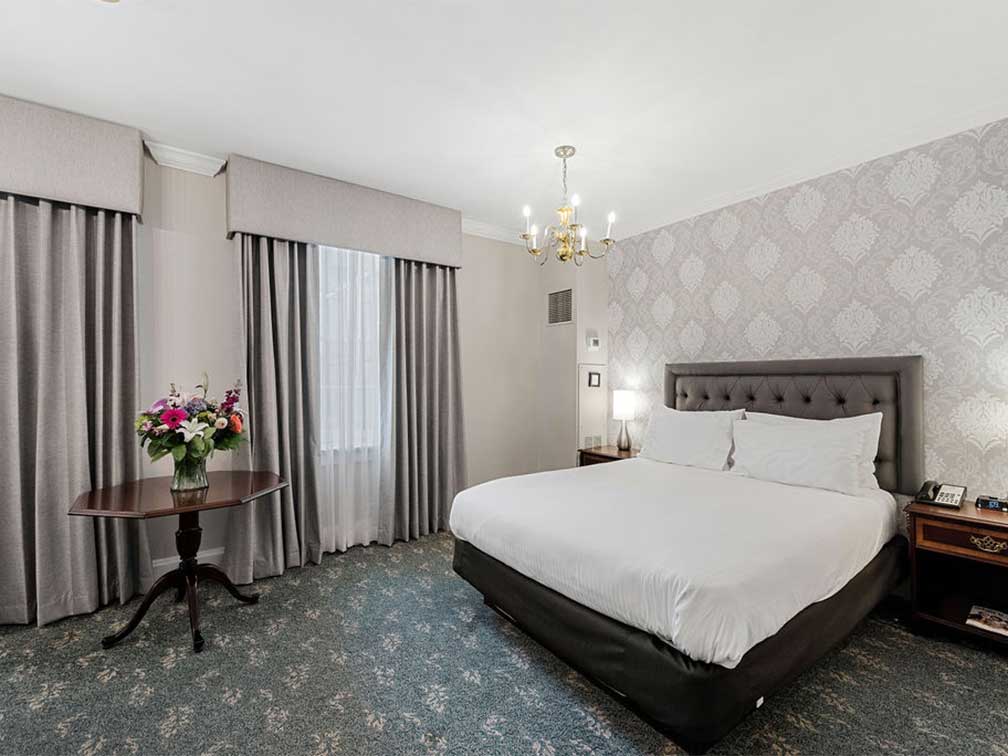 Room at the Hawthorne Hotel. Photo courtesy of The Hawthorne Hotel.
The Hawthorne Hotel may be the most popular hotel in Salem. Established in 1925, this iconic property is located right in the heart of all the action. The Hawthorne Hotel hosts a legendary Halloween party every year, but you must get tickets far advance if you'd like to attend! Is The Hawthorne Hotel haunted? We're not sure, but rumor says it may be. In fact, it even made it on our list of the most haunted hotels in New England. The most haunted room in the hotel is Room 325. It's hard to get any sleep when you're surrounded by so much paranormal activity. Prices may be a little higher than surrounding accommodations (especially in October). Check out their packages, or consider booking off-season for a lower rate.
3. The Hotel Salem
209 Essex St, Salem, MA 01970 -thehotelsalem.com
New hotel, Rooftop bar and dining on site, Right on Essex Street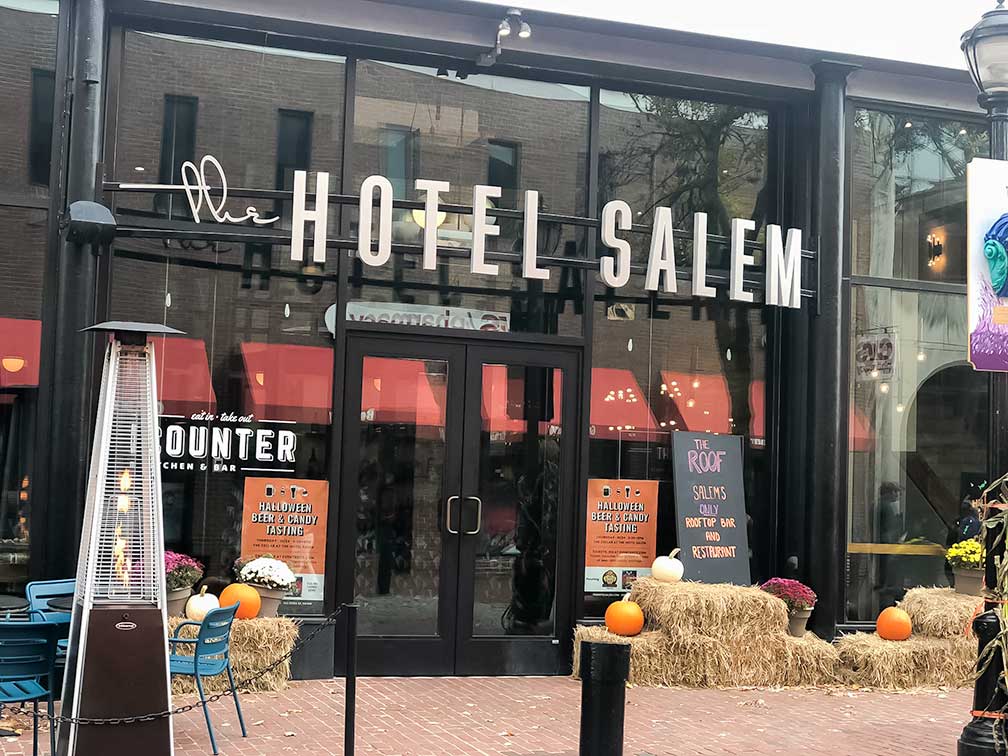 If you're looking for more modern accommodations, check out The Hotel Salem located right on Essex Street. This new boutique hotel features 44 stylish guestrooms. With two restaurants on-site and a rooftop bar, you won't have to go far to find great food and drink. Be sure to check out their event page to see if anything may be happening while you're in town. While the hotel is right on Essex Street and close to the action, you will have to park off-site. This may be a challenge for some, especially during peak season. With its prime location and stylish amenities, The Hotel Salem is a great choice for a younger crowd.
4. The Stepping Stone Inn
19 N Washington Square #4056, Salem, MA 01970 - thesteppingstoneinn.com
Complimentary breakfast, Free parking, Good location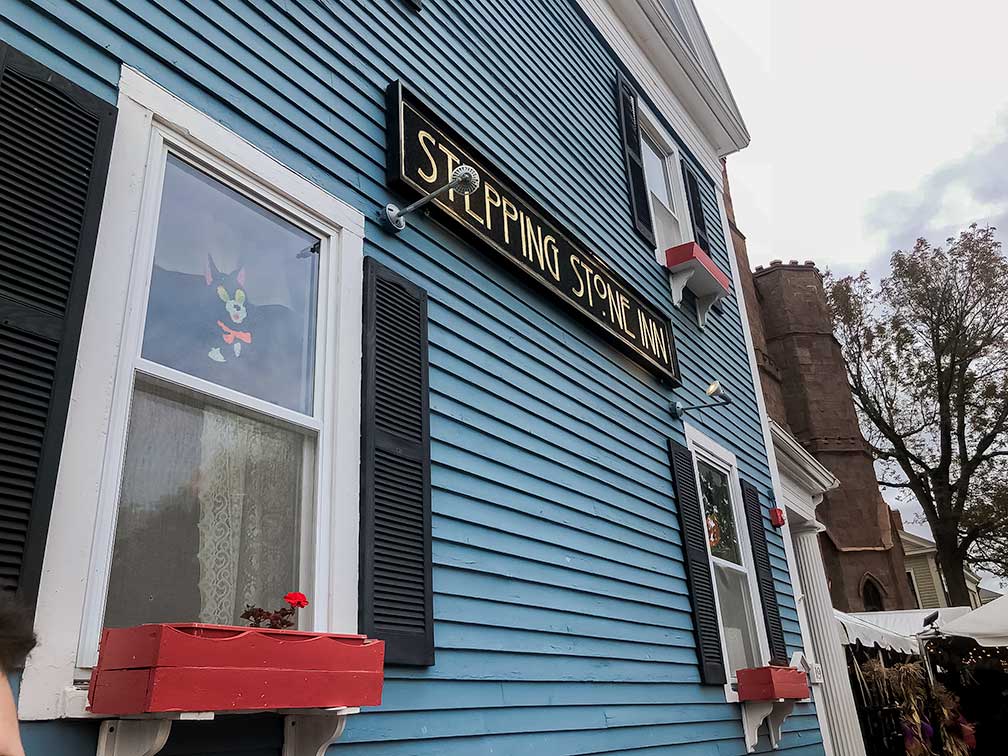 The Stepping Stone Inn is located right next to the Salem Witch Museum. With six cozy, newly renovated guest rooms to choose from, this B&B makes a great base for exploring all the attractions in Salem. The home was built in 1846, so you can sleep soundly and appreciate the historic charm. Another bonus? There are two adorable cats that live on-site!
5. The Salem Inn
7 Summer St, Salem, MA 01970 - saleminnma.com
Complimentary breakfast, Free Parking, Good for families, Good location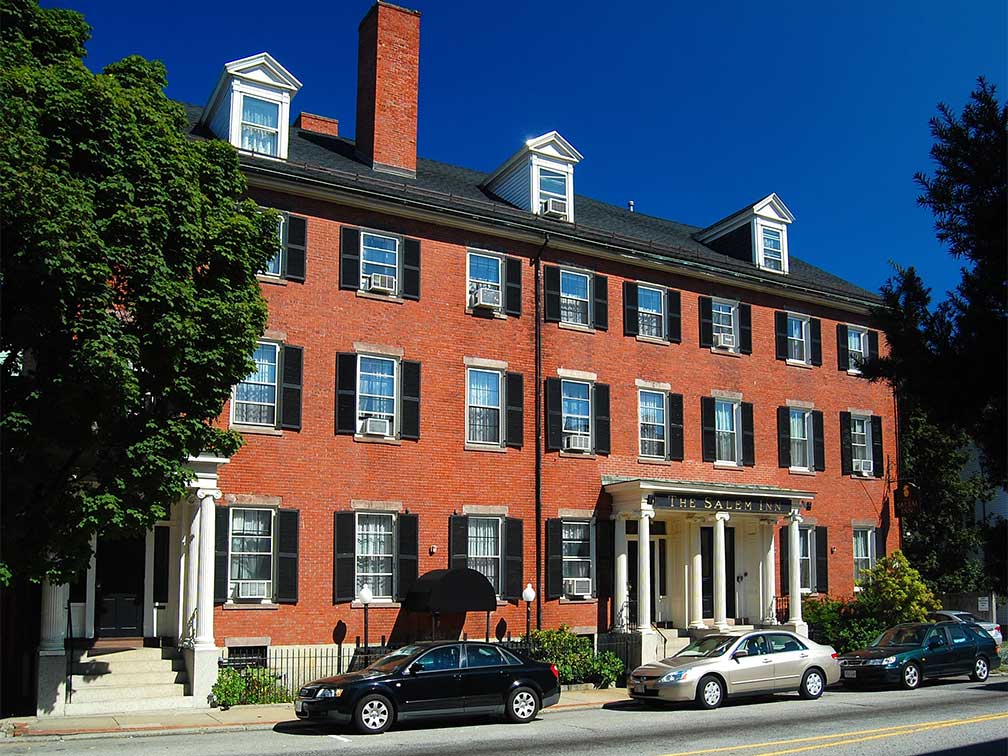 The Salem Inn - Photo courtesy of Wikipedia Commons
With 40 charming guest rooms and suites, the Salem Inn is a unique cross between a hotel and a bed-and-breakfast. The inn is made up of three separate historic homes, all of which were built in the 1800s. They even offer two-bedroom suites, making it a favorite for traveling families. You'll be just a few steps from restaurants, shopping, and attractions.
6. The Merchant
148 Washington St, Salem, MA 01970 - themerchantsalem.com
Complimentary breakfast, Free Parking off-site, Elegant boutique hotel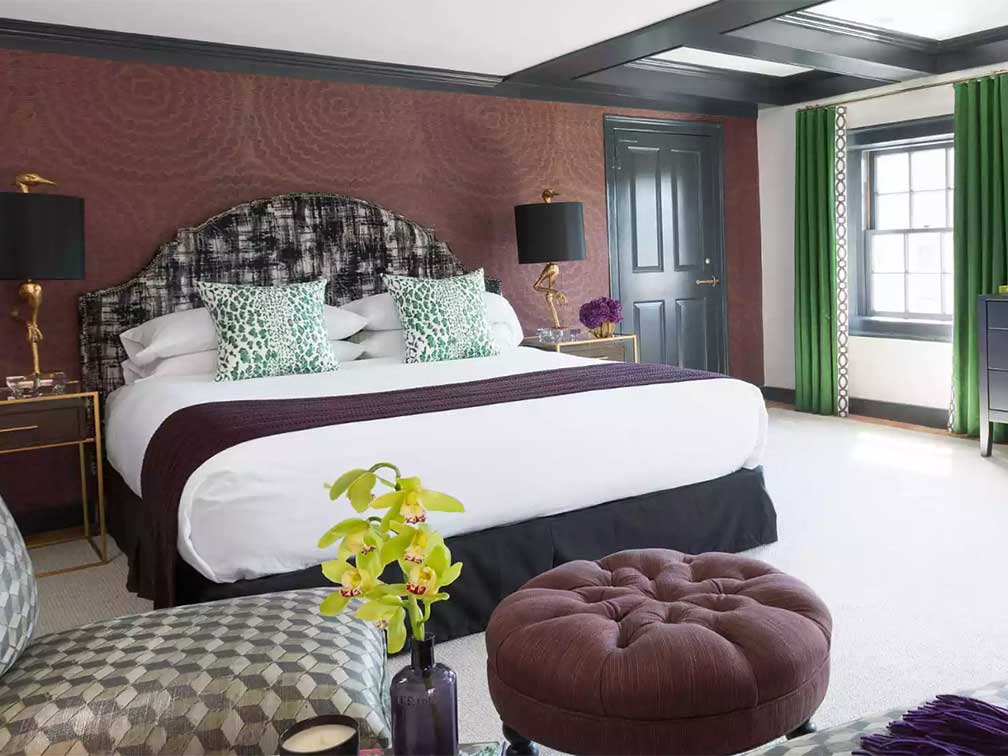 The Merchant Hotel Guest Room - Photo courtesy of The Merchant / Lark Hotels
The Merchant is an elegant and luxurious boutique hotel with 11 unique guest rooms. Parking is complimentary, but it is located off-site about 3 minutes away. (Parking on-site is available for a fee.) For a real piece of history, book the George Washington King Room, where president Washington himself stayed in 1789!
Have you ever stayed at one of these lovely hotels or bed and breakfasts in Salem, MA? Which would you reccomend?
FAQ - Qestions about Places To Stay In Salem, MA
Is Salem MA a walkable town?
The city of Salem is a very walkable city with plenty of ways to get around without using a car.
How many days do you need to see Salem MA?
At least two to three day I would aim for a stay in Salem.
What is the best time to visit Salem MA?
Around September through November. Especially in October the city offers a bunch of activities around Halloween.
Post Last Updated