Best Beaches in Florida With Clear Water (2023)
Florida, the Sunshine State, is a true paradise for beach lovers. With over 1,200 miles of coastline, it offers a wide variety of sandy shores, ranging from bustling hotspots to serene and secluded getaways. But for those in search of the clearest and most pristine waters, some beaches stand out above the rest. In this comprehensive guide, we'll explore the best beaches in Florida with crystal-clear waters, perfect for swimming, snorkeling, and soaking up the sun.
What Makes Ocean Water Clear?
The clarity of ocean water is influenced by various factors, including the presence of microscopic organisms, dissolved minerals, and suspended particles. In areas with clear water, these components are present in lower concentrations, allowing sunlight to penetrate more deeply into the water. This creates the stunning turquoise hues and impressive underwater visibility that beachgoers adore. Ocean currents and water temperature also play a role in maintaining water clarity. In Florida, the warm Gulf Stream current sweeps away many impurities, while the state's subtropical climate encourages the growth of coral reefs, which naturally filter the water. Water clarity is also affected by the season. In Florida, the spring and fall seasons are known to have clearer waters. All this combined, Florida's beaches offer some of the clearest and most inviting waters in the world.
Now that we understand this information, let us determine which beaches in Florida have the clearest water.
Explore the Emerald Coast's Exquisite Clear Water Beaches
The Emerald Coast in Florida boasts an array of breathtakingly beautiful beaches with crystal-clear blue waters that will surely captivate your senses. As you embark on your journey along the scenic 30A Highway, a delightful coastal drive awaits, leading you to a collection of pristine shoreline gems. Allow me to present you my carefully curated list of the absolute best clear water beaches along the illustrious Emerald Coast, where the tranquil waves gently kiss the shores, creating a picture-perfect paradise.
Destin Beach: A Gem of the Emerald Coast
Destin Beach, often lauded as the beach with the clearest water in Florida, is truly a spectacular destination for beach lovers. Located along the state's famed Emerald Coast, Destin's shoreline is characterized by fine, powdery white sand that contrasts beautifully with the stunning emerald-green waters. The clarity of the water here can be attributed to several factors, including the unique geological makeup of the area. The nearby underwater sand dunes, formed by centuries of currents and waves, help to filter impurities from the water, giving it its distinctive crystal-clear appearance.
The exceptional water quality in Destin not only enhances its visual appeal but also makes it an ideal destination for a variety of water-based activities. Snorkeling and scuba diving enthusiasts can take full advantage of the underwater visibility, which often extends up to 100 feet, to explore the vibrant marine life that thrives beneath the surface. The area is home to an array of colourful fish, sea turtles, and other marine creatures, as well as artificial reefs and shipwrecks that provide fascinating underwater landscapes to discover.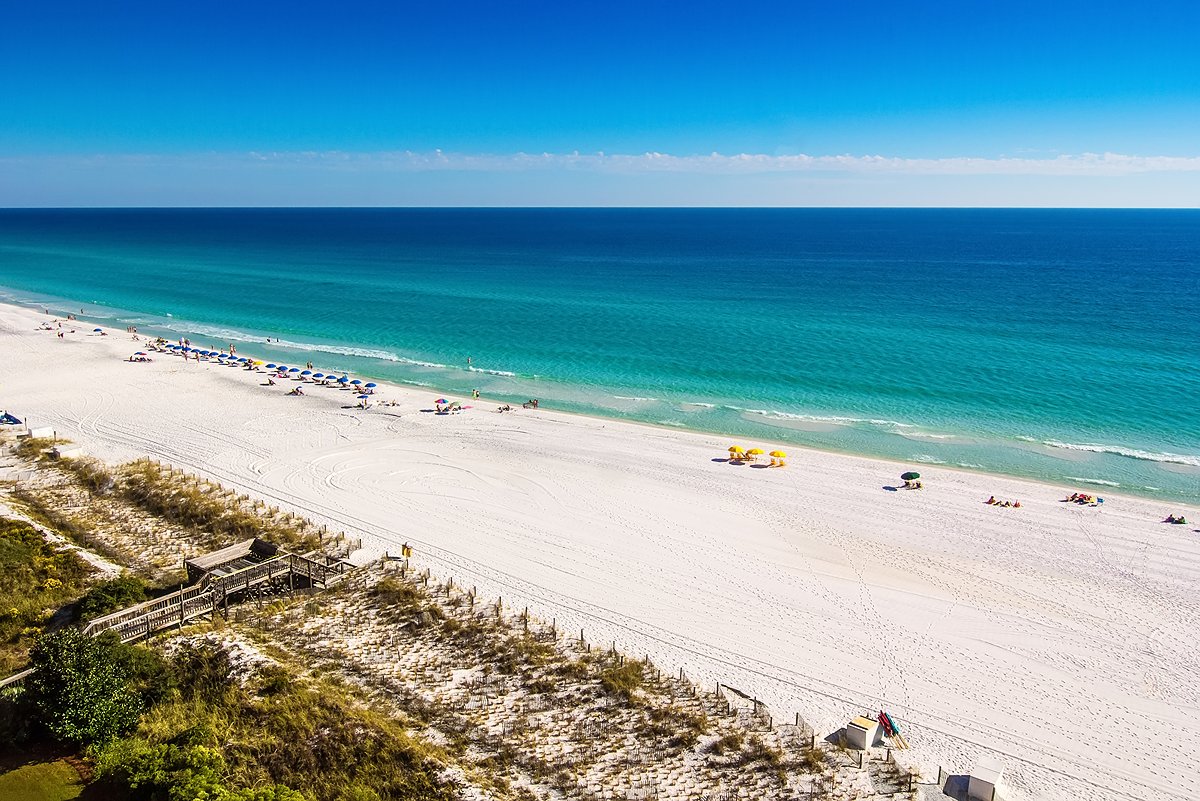 Destin's clear waters also beckon swimmers and water sports enthusiasts, who can enjoy the calm, gentle waves of the Gulf of Mexico. The shallow shoreline makes it an especially safe and enjoyable destination for families with young children. For those seeking a more adventurous experience, the clear waters provide the perfect setting for paddleboarding, kayaking, and even parasailing, offering unobstructed views of the sparkling ocean below.
The breathtaking beauty of Destin Beach, coupled with its unrivalled water clarity, truly sets it apart as one of Florida's most exceptional beach destinations.
During my unforgettable visit to Destin Beach, I was captivated by the remarkable clarity of the water and couldn't resist taking part in several water-based activities. Snorkelling in the vibrant underwater world, I marvelled at the colorful array of fish and coral formations just beneath the surface. Paddleboarding across the calm, emerald waters not only provided a fantastic workout but also offered an unparalleled perspective of the stunning coastline, making my time at Destin Beach a truly memorable experience.
When visiting Destin Beach, make sure to explore its History & Fishing Museum, which displays the town's history, fishing industry, and indigenous marine creatures. In addition, the Air Force Armament Museum, situated near Eglin Air Force Base, showcases the evolution of military aviation and armament.
Panama City Beach, Emerald Coast Florida
Panama City Beach, located along Florida's beautiful Emerald Coast, boasts miles of sugar-white sand and inviting, clear waters. The shoreline's gently sloping seabed and calm Gulf waves make it an ideal destination for swimmers of all ages and skill levels. In addition to swimming, the crystal-clear waters of Panama City Beach offer excellent opportunities for snorkeling, fishing, and dolphin watching, ensuring a memorable beach experience.
Rosemary Beach: A Coastal Sanctuary of Crystal Waters
Rosemary Beach, a quaint beach town nestled along the picturesque 30A corridor, offers a serene escape to those seeking a tranquil coastal retreat. The town's unspoiled shoreline features soft white sands, framed by charming boardwalks and lush greenery. The gentle, clear waters of the Gulf of Mexico provide a refreshing oasis, ideal for swimming, scuba diving, and paddleboarding. As you unwind in the pristine waters of Rosemary Beach, you'll find yourself immersed in the quintessential beach experience that captures the essence of Florida's natural beauty.
Santa Rosa Beach: A Symphony of Sun, Sand, and Crystal Waters
Santa Rosa Beach, an enchanting coastal community along Florida's Scenic Highway 30A, beckons visitors with its breathtaking shoreline and inviting, clear waters. The dazzling white sand beaches provide the perfect canvas for beachgoers to soak up the sun, while the turquoise-hued waters of the Gulf of Mexico offer a refreshing respite from the warm Florida sun. With ample opportunities for swimming, snorkeling, and stand-up paddleboarding, Santa Rosa Beach presents a harmonious blend of natural beauty and seaside recreation that creates an unforgettable, picture-perfect beach getaway.
Florida's Gulf Coast Beaches with Clear Waters
Anna Maria Island
Anna Maria Island, a charming barrier island on Florida's Gulf Coast, is known for its pristine beaches and laid-back atmosphere. The island's clear waters and powdery white sand make it an ideal destination for sunbathing, swimming, and beachcombing. With a slower pace of life, Anna Maria Island is perfect for those seeking a tranquil and serene beach retreat.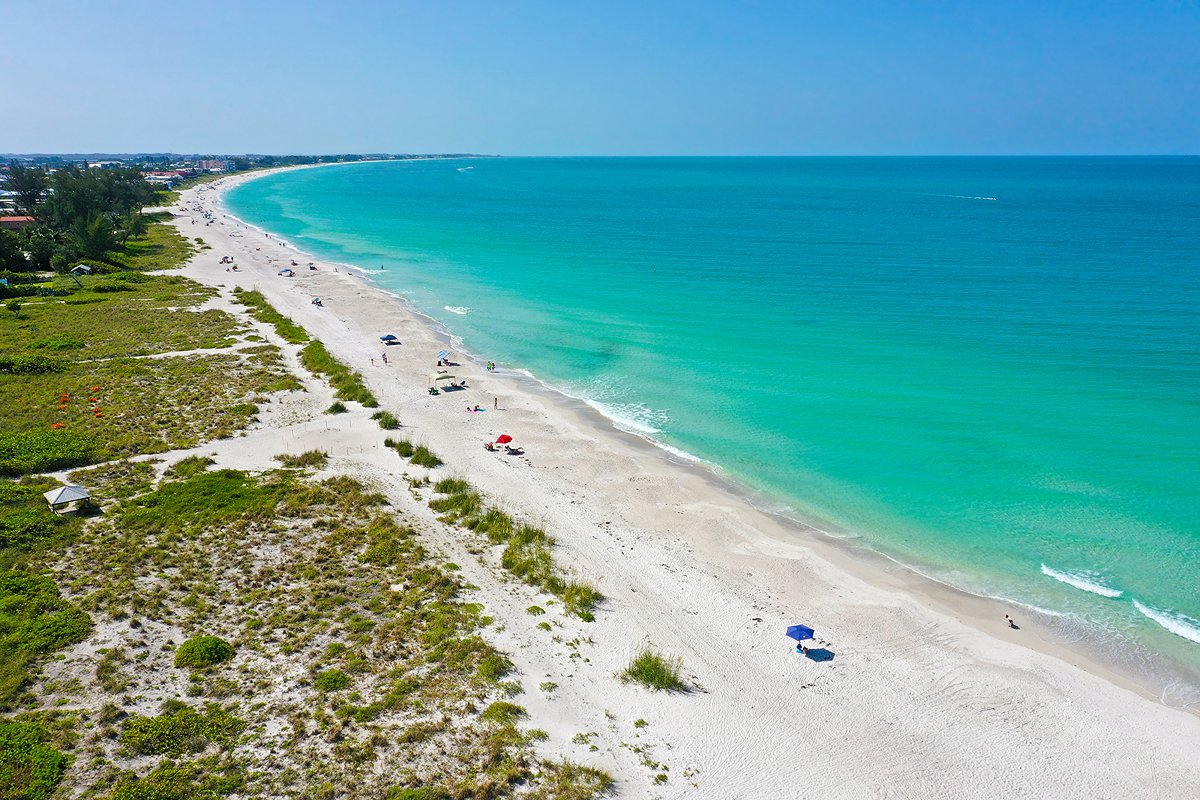 Siesta Key - The Silky Sands of Sarasota
Siesta Key, just off the coast of Sarasota, is renowned for its powdery white sand and calm, clear waters. The sand here is composed of 99% quartz, making it soft and cool to the touch. The stunning shoreline is perfect for families and beach enthusiasts alike. In addition to Siesta Beach, the island also features other beautiful beaches, such as Crescent Beach and Turtle Beach, each offering a distinct beach experience.
Honeymoon Island State Park
Honeymoon Island State Park, located just off the coast of Dunedin, boasts over four miles of sandy beaches, each with its own unique charm. The clear waters of the Gulf of Mexico provide excellent swimming and snorkeling opportunities, while the park's nature trails allow visitors to explore the area's flora and fauna. Honeymoon Island is also a popular destination for birdwatching, with a wide variety of shorebirds and birds of prey calling the island home.
Sanibel Island
Sanibel Island, a subtropical paradise on the Gulf Coast, is celebrated for its shell-strewn beaches and clear, calm waters. The island's unique east-west orientation contributes to the abundance of seashells, making it a top destination for beachcombers and shell collectors. The crystal-clear waters around Sanibel Island are perfect for swimming, snorkeling, and observing the area's diverse marine life, including dolphins, manatees, and sea turtles.
The Bailey-Matthews National Shell Museum is a must-visit for shell enthusiasts, featuring an extensive array of shells and providing education on mollusks and their habitats. Equally enjoyable is the Sanibel Historical Museum and Village, where you can explore the island's history through various exhibits and preserved structures.
Jupiter Beach: A Celestial Retreat of Sparkling Waters
Jupiter Beach, located along Florida's enchanting Atlantic coast, offers a serene and picturesque beach experience. The sun-kissed shoreline is adorned with golden sands, while the clear, sparkling waters beckon you to dive into their refreshing embrace. The captivating beauty of Jupiter Beach is further accentuated by the nearby historic Jupiter Inlet Lighthouse, which serves as a stunning backdrop. Whether you're swimming, paddleboarding, or simply basking in the sun, Jupiter Beach provides a celestial retreat where the allure of clear waters and scenic surroundings create an unforgettable seaside haven.
Honourable Mentions
Clearwater Beach: A Sun-Kissed Haven of Pristine Waters
Clearwater Beach, an idyllic slice of paradise on Florida's Gulf Coast, entices visitors with its powdery white sands and clear blue waters. Known for its wide shoreline and gentle waves, this family-friendly beach offers the perfect setting for sunbathing, swimming, and building sandcastles. The extraordinary clarity of the water, coupled with frequent dolphin sightings, adds to the allure of Clearwater Beach, making it a must-visit destination for those in search of sun-soaked relaxation and unforgettable seaside memories.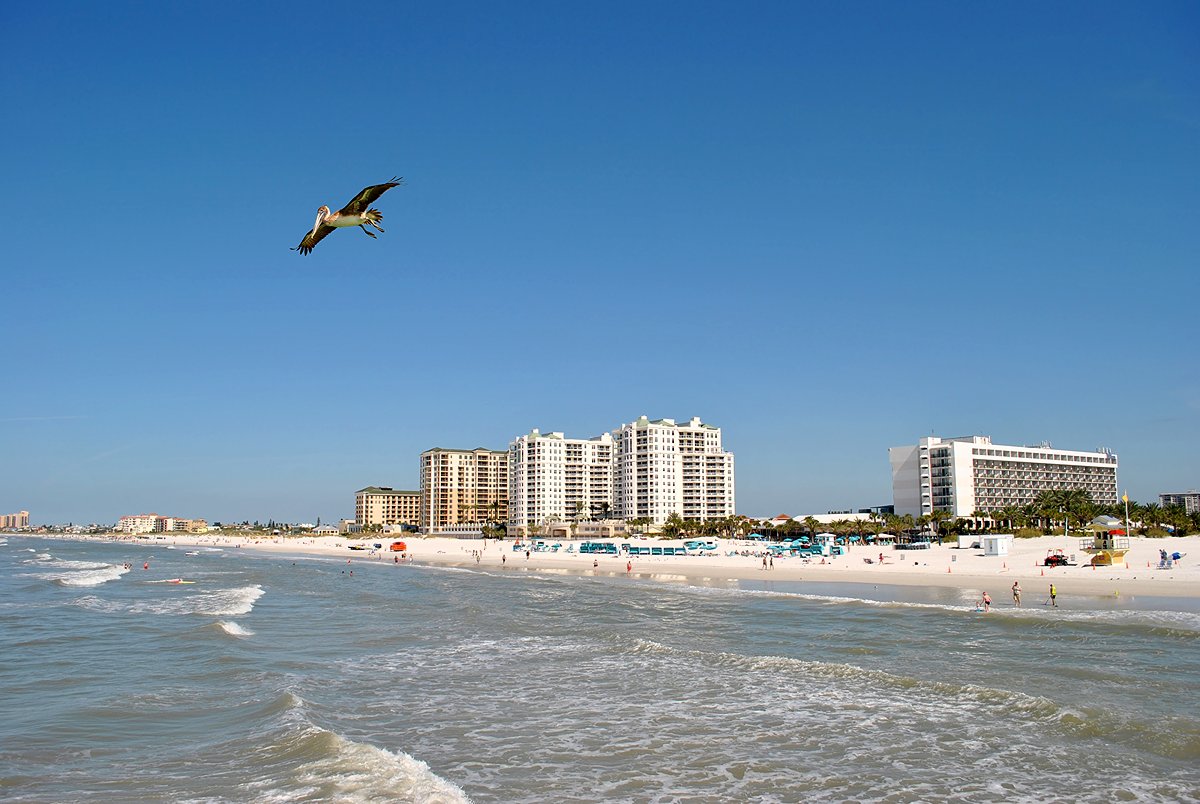 Remember to visit the Clearwater Marine Aquarium, a facility committed to rescuing and rehabilitating marine animals and the residence of Winter, the renowned dolphin featured in the film "Dolphin Tale."
Marco Island Beach: A Treasure Trove of Sunlit Waters
Marco Island, situated off the southwest coast of Florida, is a captivating destination boasting pristine beaches and shimmering, clear waters. The sun-drenched shoreline of Marco Island Beach welcomes beachgoers with soft, white sands and the gentle embrace of the Gulf of Mexico's crystalline waters. Perfect for swimming, sunbathing, and shell collecting, this tranquil island paradise offers an idyllic setting to immerse yourself in the mesmerizing beauty of Florida's coastal gems. Marco Island Beach is a treasure trove of sunlit waters, providing unforgettable memories for those who seek its alluring shores.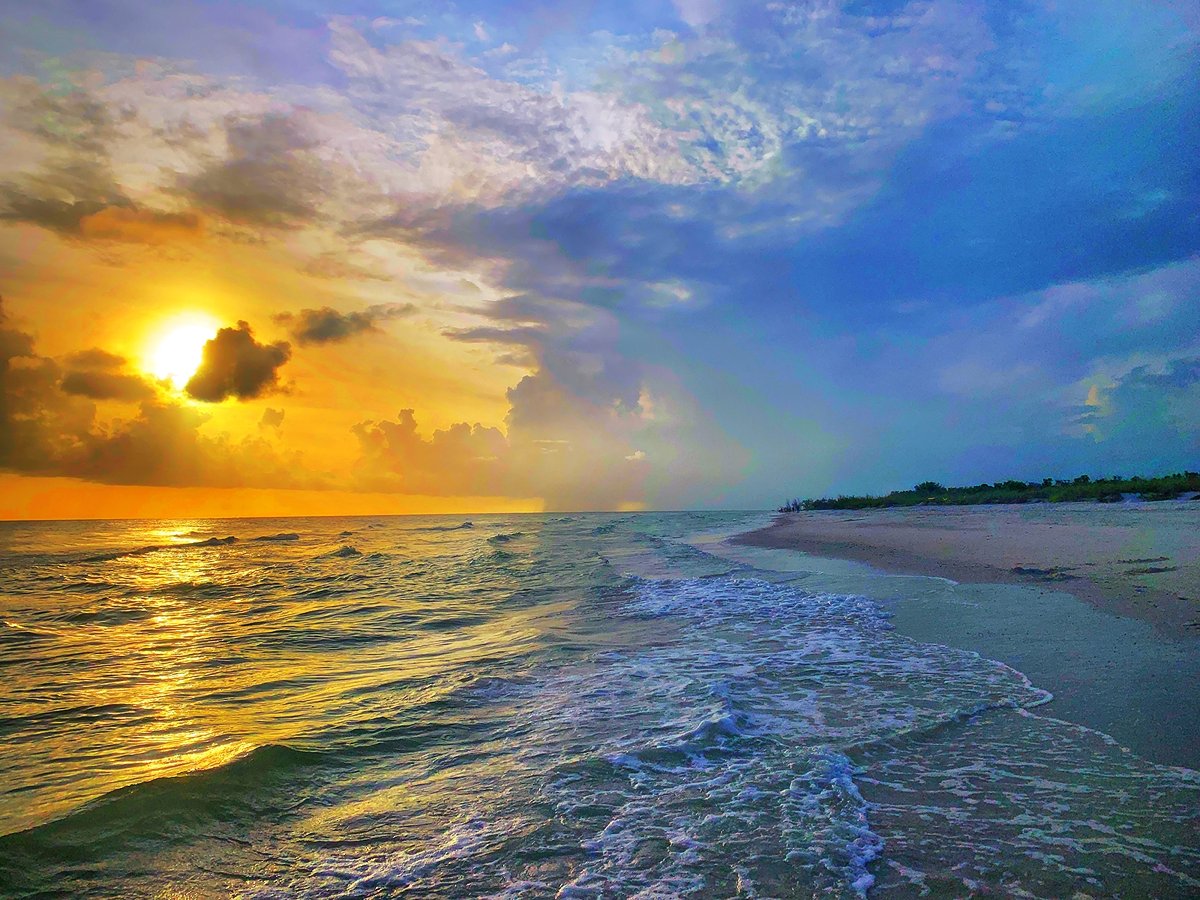 Miami Beach: A Vibrant Oasis of Turquoise Waters
With its stunning coastline and vibrant ambience, Miami Beach is a well-known and beloved vacation spot. The famous South Beach is particularly popular due to its golden sands and warm, blue waters which are perfect for a refreshing dip in the Atlantic Ocean. Amidst the lively beach atmosphere and pastel-colored Art Deco buildings, Miami Beach's waters offer a revitalizing hideaway that's ideal for swimming, paddleboarding, and embracing the quintessential Florida beach experience.
Key West Beach: A Tropical Wonderland of Azure Waters
Key West, the southernmost point in the United States, is a vibrant island paradise famous for its laid-back charm and spectacular shoreline. The beaches of Key West boast powdery white sands, fringed by swaying palm trees, and dazzling azure waters that shimmer under the warm Florida sun. The natural flawless waters of this tropical haven are ideal for swimming, snorkeling, and exploring the abundant marine life, making Key West Beach an irresistible destination for those seeking a blissful escape amidst a colorful and lively atmosphere.
While visiting Key West, be sure to explore the Ernest Hemingway Home and Museum: The renowned writer's previous abode, highlighting his life and accomplishments.
Eco-Tourism and Conservation Efforts Along Florida's Clear Water Beaches
I want to emphasize how important it is to appreciate and support the eco-tourism and conservation efforts that help maintain the stunning beauty of Florida's clear-water beaches. These initiatives not only preserve the pristine conditions of the beaches but also protect the delicate ecosystems that thrive in the surrounding waters. Among the many programs in place are the protection of sea turtles through nesting site monitoring and public education, the restoration of coral reefs to foster marine biodiversity, and the implementation of sustainable fishing practices to maintain healthy fish populations. Beachgoers are encouraged to be responsible visitors by adhering to guidelines such as minimizing waste, respecting wildlife, and using reef-safe sunscreen. By supporting eco-tourism and conservation efforts, visitors to Florida's beaches can contribute to the long-term preservation of these stunning coastal gems and ensure that future generations can continue to enjoy their breathtaking beauty.
Conclusion: Discover Florida's Clear Water Beach Escapes
From the serene shores of Anna Maria Island to the vibrant energy of Miami Beach, Florida's coastline offers a diverse array of clear water beach destinations to suit every traveller's preferences. Destin Beach, with its beautiful clear blue waters, stands out as the epitome of coastal beauty, making it a must-visit location in the Sunshine State. Each beach, with its own unique charm and breathtaking beauty, provides a captivating backdrop for unforgettable memories under the warm Florida sun. Florida's stunning beaches with its unique waters invite you to experience the wonders of this coastal paradise.
---
Post Last Updated